Zorba Brings The Diverse Flavours of the Mediterranean Sea to Clarke Quay
CONTENT: Yiew Kai Jie
With an extensive portfolio in various culinary and entertainment establishments in Singapore, the 1-Group introduces Zorba, The Greek Taverna – a unique Greek restaurant situated along the quiet Singapore River in Clarke Quay. As Singapore is home to very few restaurants that serve diners genuine Mediterranean mainstays, Zorba aims to whisk guests away to the Greek isles of Santorini or Mykonos with its myriad of nourishing dishes while relaxing along the picturesque riverbank.
The restaurant takes pride in whipping up bona fide dishes with age-old traditions that are deeply rooted since the days of Ancient Greece by using recipes passed down from their ancestors and sourcing their ingredients directly from Greek suppliers.
Diners can opt for a quintessential Greek comfort dish that will strike a familiar chord with local diners- the Greek Moussaka ($22) consists of layers of thinly sliced zucchini, eggplant, potato and minced beef topped with a flavourful béchamel sauce and baked to a golden brown colour that ricochets with a pleasing sound when the cheese crust is struck with a utensil. The lasagne-like dish is a definite must order on the menu that makes for a satisfying start to one's Greek experience due to the unmistakable combination of beef and cheese that gives a satisfying rich flavour on the palate.
For a healthier alternative, Zorba's Chef Salad ($20) includes a combination of avocado, cucumber, celery, quinoa, red onion, pistachio, and tomato in balsamico orange dressing. Although it does the conventional slab of feta cheese found in most Greek salads, this variation will act as a delicate palate cleanser that will keep the palate from being overwhelmed by the various heavy meat-focused main courses on the menu. Diners who require a healthy serving of protein to keep to their Keto diets can opt for the Zorba Salad ($22) which comprises of tender octopus marinated in wine and a myriad of spices, accompanied with cucumber, tomato, red onion, Italian parsley and capsicums atop a fava-bean spread.
Zorba's take on one of Greece's oldest dishes, Lamb Kleftiko ($36), is perfect for meat lovers. The dish takes its name from the Klephts, who were a group of bandits living in the mountains in Greece who would steal sheep and cook them in underground pits to stay hidden. This traditional Hellenic dish comprises of the finest New Zealand lamb; marinated in Mediterranean herbs, vegetables, garlic and lemon juice for 24-hours and then slow-roasted until tender and served with crispy oven-roasted potatoes and a side of warm pita bread. This results in a soft chewy texture to the meat without an overwhelming gamey taste to the meat that is balanced by the acidity of the lemon will make for a filling and satisfying meal that can be shared between two to three diners!
Zorba's signature dish has got to be the extensive selection of Greek's Mixed Grill Platter ($88). The hearty sharing platter includes cheese-stuffed bifteki, pork gyros, chicken and beef souvlaki, lamb chops and Loukaniko. Perfect for sharing with friends and family of two to three, this platter, and served with a side of fried potatoes, salad, and tzatziki. Starting off, the lamb's texture will resemble a piece of ngoh hiang and the flavour of the meat will not be as gamey as one is used to find in restaurants. The bifteki resembles an old-fashioned hamburg steak that contains a rich cheesy surprise once cut and bitten into, but the chicken souvlaki might be a tad hard and dry for some diners.
This platter should be ordered with the Dips Platter ($28) due to the excess amount of meat that can be paired with the five home-made flavoured dips (tzatziki, hummus, tirokafteri – spicy sheep feta cheese spread with fresh chillis, melitzanosalata – roasted eggplant and banana peppers simmered for five hours in olive oil, taramasalata – a cured cod roe sauce with olive oil and lemon juice) for a wide roulette of flavour combinations.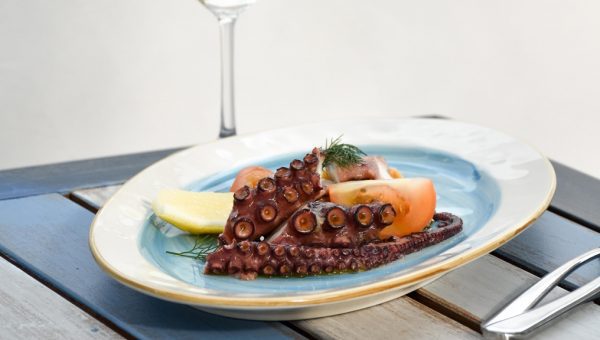 Should diners be looking forward to tasting the abundance of the Mediterranean sea, the Htapothi Sti Skhara ($30) features an octopus tenderised by hand as the chef beats it with a smooth rock, after which it is sprinkled with saltwater and rubbed with the same rock in a circular motion until the tentacles naturally curl up. The octopus is then slow-grilled atop a low-burning charcoal fire with sea-salt and a squeeze of fresh lemon juice, for a delicate smoky char. Despite the tenderness of the protein, it is extremely salty- diners should balance out the salt of the ocean with the fava sauce on the side.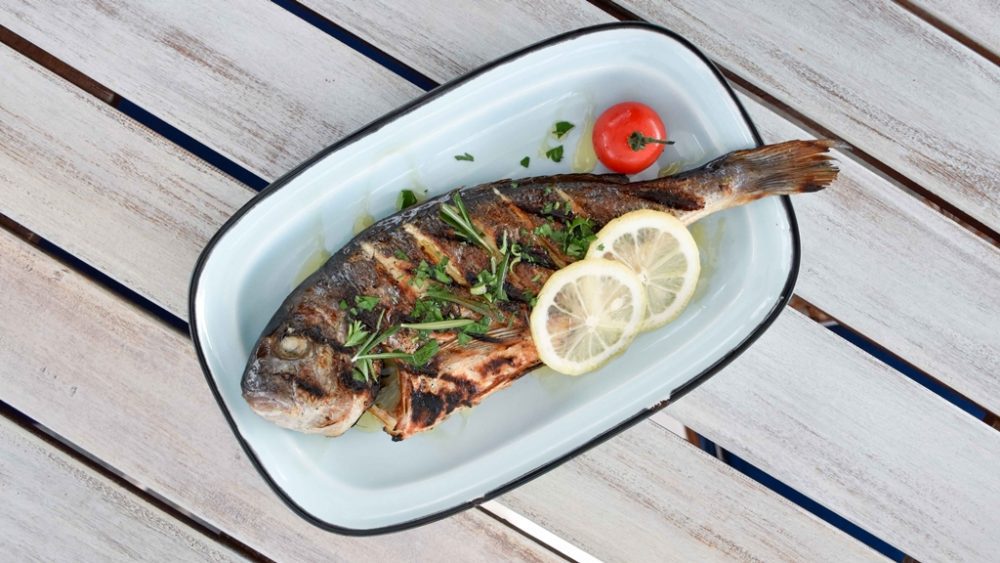 Another noteworthy seafood item on the menu includes Tsipoura ($32), which utilises sea bream flown in from the Aegean Sea. The ancient Greeks held the sea bream or 'Orata' (Italian for 'golden') in high regard due to the golden flecks in its eyes, and it was frequently offered to the goddess Aphrodite for its attractiveness and meaty flesh. Keeping the seasoning light and simple, the fish is simply drizzled with lemon, garlic and olive oil and grilled on a plancha for a meal worthy for Zeus himself!
Putting aside the Greek's penchant for greens and quality cuts of meat, they are equally well known for their tantalising desserts. Fit for any diner with a die-hard love for sweets, the Greek Baklava ($12) presents a rich sweet flaky pastry made of layers of filo filled with chopped nuts and held together with honey. Another dessert staple includes Yiaourti Me Meli ($8) – Greek yoghurt with lashes of honey and crunchy walnuts.
Zorba is located at 3A River Valley Road #01-02, The Riverhouse, Clarke Quay, Singapore 179020.
Zorba is open daily: Sunday to Thursday, 6 PM to Midnight Friday and Saturday, 6 PM to 3 AM.
For reservations, please call: +65 8558 1704.