A (VERY) ROYAL BALL 2013 by W!LD RICE
W!LD RICE is delighted to announce that their Presenting Sponsor, Hublot – the world's leading alchemist of revolutionary timepieces – has designed a piece unique watch to benefit the upcoming A (VERY) ROYAL BALL, the twelfth edition of their annual charity gala on the 4th October 2013, 7pm at the Island Ballroom, Shangri-La Hotel.
One of Singapore's most highly anticipated social events, this year's RICE BALL takes inspiration from the romance and glamour of royalty.
Part of Hublot's King Power range, the exquisite King Power Royale – the only such timepiece in the world – will be placed on silent auction, with net proceeds going to supporting W!LD RICE's work in the coming year.
Mr. Jean-Claude Biver, Chairman of Hublot, says, "This is Hublot's second year as Presenting Sponsor of the vivacious annual W!LD RICE BALL, and we are honoured once again to be partners with W!LD RICE, whose creativity and passion are philosophies that Hublot appreciates.
"At Hublot, we follow our concept: innovation and creativity. This allows us to constantly explore new ground and connect to the future, creating desirable timepieces that are more than just timekeepers but also communicate a passion-driven state of mind – a common ethos that both brands share. We look forward to yet another exciting ball by the talented W!LD RICE team!"
Mr. Ivan Heng, Artistic Director of W!LD RICE, said, "We are deeply grateful for the support Hublot has shown us, and genuinely could not have asked for more. And yet, Hublot has gone above and beyond to design this breathtakingly unique timepiece. Hublot's King Power Royale embodies values also shared by W!LD RICE: a commitment to innovation and the relentless pursuit of excellence."
A Splendid Evening Fit For Royalty
At A (VERY) ROYAL BALL, guests can be King, Queen, Maharani or Sultan for an evening. At the Coronation Cocktail Reception, they can mix and mingle with heads of state – including the most eligible of princes and princesses! – while savouring the finest wines and hors d'oeuvres.
Connoisseurs of alcohol can cleanse their palates at the Royal Bar, which will be kept fully stocked with silky-smooth Royal Dragon luxury vodka and finely matured Johnnie Walker Blue Label whiskey.
By the time guests are sporting a Royal Flush, they will be invited to partake of a scrumptious Banquet prepared especially by our renowned Royal Chef, Colin Buchan, head chef of the Michelin-starred restaurant Pollen, in collaboration with Shangri-La Hotel's own Executive Chef.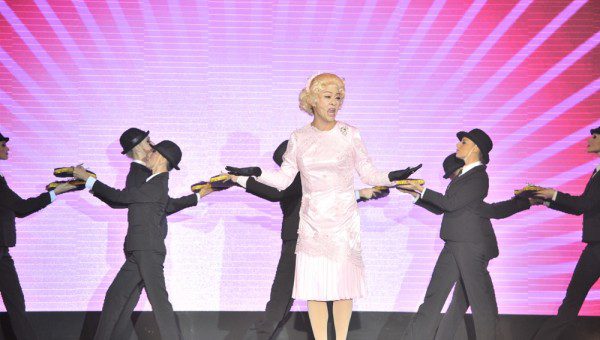 The revels would not be complete without The Royally Outrageous Command Variety Performance, a dazzling programme of all-star festivities designed especially by Her Royal Highness Ivana Havesomefun, featuring the very brightest and best talents in our theatre and entertainment industries. Finally, our esteemed guests are welcome to dance into the wee hours of the morning with tunes and beats provided by the Royal Court's best musicians and DJs.
The dress code for the night is 'Rock and Royalty'. Resistance, as we all know, is feudal. W!LD RICE promises a lavish affair fit for the most illustrious of guests… And all in the name of a good cause!
A (VERY) ROYAL BALL
The 12th Annual W!LD RICE Charity Gala
4 October 2013, 7.00 p.m.
Island Ballroom, Shangri-La Hotel
Donation tables, each seating 10 guests, are now available. For more details, please e-mail riceball@wildrice.com.sg or call Katherine Khoo at tel: 6292 2695. Tables are priced at $20,000, $15,000, $10,000 and $6,000. As W!LD RICE is a Singapore Registered Charity, all donations will be eligible for 250% tax deduction.