Diamonds, Champagne, Fashion and Party, all in the Sky Grand Prix 2013 at Zafferano
Singapore's highest Grand Prix Party is back for the second year – watch 3 heart-stopping turns meters away from the circuit as we party from Friday 20 September to Sunday 22 September 2013. Here is a little sneak peak of what you guys will be in for!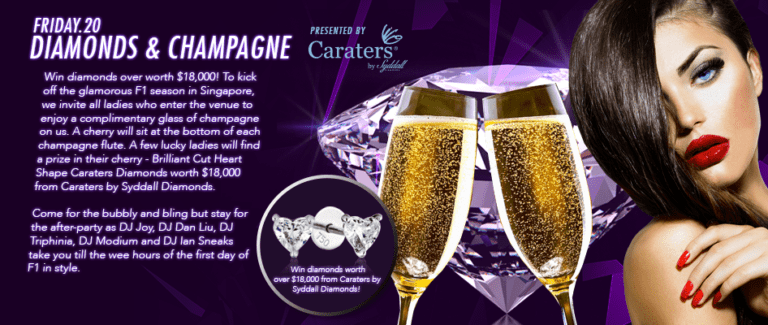 ▲ 20.FRIDAY: DIAMONDS & CHAMPAGNE ▲
Win diamonds over worth $18,000! To kick off the glamorous F1 season in Singapore, we invite all ladies who enter the venue to enjoy a complimentary glass of champagne on us. A cherry will sit at the bottom of each champagne flute. A few lucky ladies will find a prize in their cherry – Brilliant Cut Heart Shape Caraters Diamonds worth $18,000 from Caraters by Syddall Diamonds.
Come for the bubbly and bling but stay for the after-party as DJ Joy, DJ Dan Liu, DJ Triphinia, DJ Modium and DJ Ian Sneaks take you till the wee hours of the first day of F1 in style.
▲ 21.SATURDAY: FASHION NIGHT ▲
Catch the qualifier race on the big screen against the backdrop of an unobstructed view of the race roaring through the city for the dinner seating from 7.30pm -10pm followed by a showcase of stunning luxury brand Zardoze's Ready-To-Wear A/W 2013 collection, Loss & Desire.
For ladies, be the lucky one to clinch the one-of-a-kind exclusive clutch bag or a custom jewelry set, exclusively designed by White Moon specially for Sky Grand Prix 2013. On top of that, we are giving away a 3D2N luxurious stay at Bintan Lagoon Resort!
After the show, get ready as American DJ Michael Venezuela brings the beat of the Bronx to the dance-floor along with fellow headliner DJ Dowager, alongside DJ Dan Liu, DJ Ian Sneaks, and the stylish DJ Sebastian Ferarri.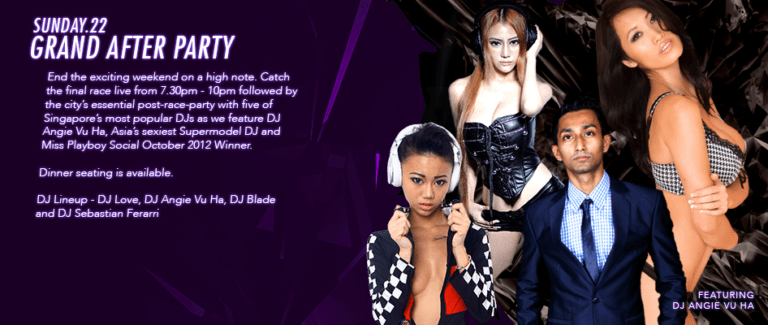 ▲ 22.SUNDAY: GRAND AFTER PARTY ▲
End the exciting weekend on a high note. Catch the final race live from 7.30pm – 10pm followed by the city's essential post-race-party with five of Singapore's most popular DJs as we feature DJ Angie Vu Ha, Asia's sexiest Supermodel DJ and Miss Playboy Social October 2012 Winner. Dinner seating is available.
Guests will be entertained by a lineup of globally acclaimed DJs, featuring, DJ Love, DJ Angie Vu Ha, DJ Blade and DJ Sebastian Ferarri.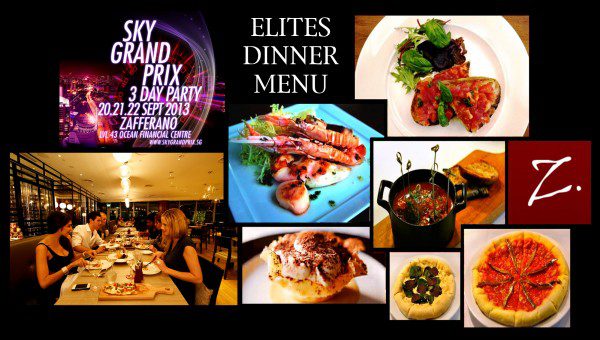 ▲ 20.FRI to 22.SUN: ELITES DINNER MENU ▲
Complete your Sky Grand Prix Experience with a Luxurious Dinner high above the racing fevour at S$89++ per person.
The exclusive elites dinner line-up which includes fine dishes such as Panzerotti, Mozzarelline e Pomodoro, Pizza Marinara, Mousse Ciocolato and Tiramisu. Guests will receive a complimentary glass of wine/beer with every order of the Elites Dinner Menu. This menu will be available from 20 September until 22 September 2013.
Diners can also expect breath-taking, uninterrupted panoramic views of Marina Bay through full-length glass windows at Zafferano. Dinner starts at 7:30pm till 10:00pm. Seating starts at 7pm. Limited seats available for each day. All prices are subjected to 10 percent service charge and prevailing government taxes. For enquiries or reservations, please call 67333549 or email del@insurgence.sg.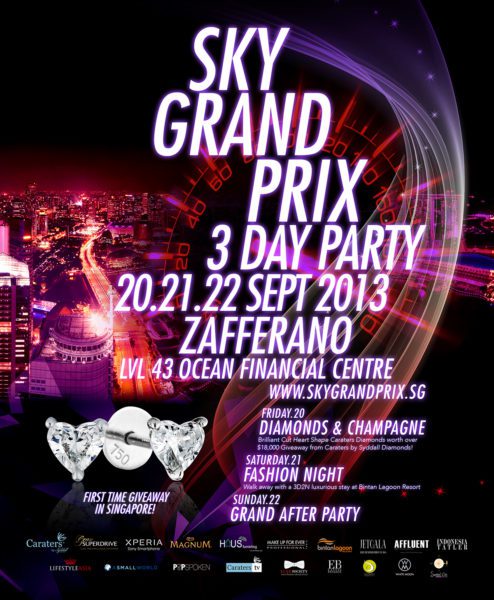 Tickets are at $75 (1-day entry) and $200 (3-day entry) now available online via www.skygrandprix.eventbrite.sg and $100 (1-day entry) at the door. Door Packages for groups of 2 to 4 persons which includes a bottle of GH MUMM Champagne 0.75L (for 2 persons) or Grey Goose Vodka 0.75L (for 4 persons) are also available.
For more information & tickets, visit www.skygrandprix.sg. Zafferano is located at Ocean Financial Centre, Level 43, 10 Collyer Quay, Singapore 049315.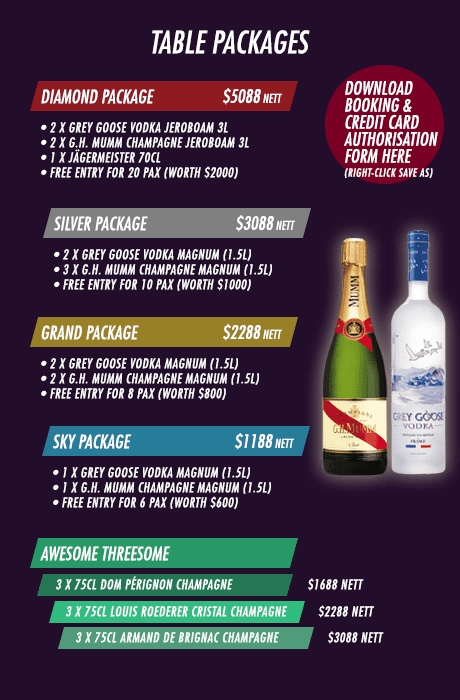 Private reserved tables with VIP Hospitality packages are available for groups of 6 or more guests. For corporate enquiries and VIP Hospitality Packages, please contact Del (67333549) or email del@insurgence.sg.