Fall In this April with the Ah Boys to Men recruits!
Fall In this April with Recruits Ken Chow, Lobang, Aloysius Jin and I.P Man of top grossing local film Ah Boys to Men (ABTM). Following the success of the movie, Director Jack Neo decided to fulfil his dreams of having one of his movies turned into a musical and came up with the idea of adapting Ah Boys to Men into a musical.
"Ever since I was in the Music and Drama Company in the army, I've always loved musicals and producing one has always been a dream of mine. ABTM was a major success in cinemas and turning it into a musical is really going back to my roots. Audiences have always enjoyed jokes related to the army, and I'm confident that in the capable hands of our creative team, Ah Boys to Men: The Musical will be something truly spectacular", said Jack.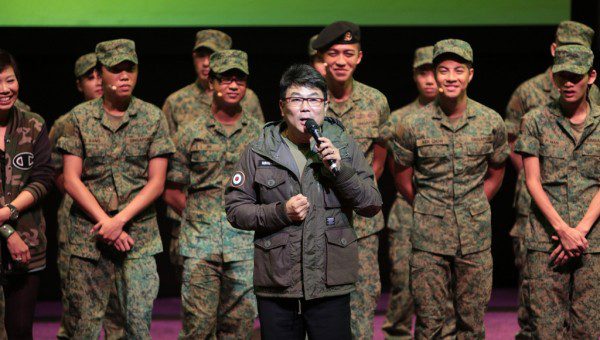 This exciting new musical will be adapted from both part 1 and 2 of the movie, and follows the adventures of Recruit Ken Chow as he enlists in the army, albeit reluctantly as he has to say goodbye to his girlfriend who is leaving to study overseas. He goes on to develop a strong camaraderie with fellow recruits as they undergo their Basic Military Training (BMT).
Tosh Zhang, Wang Wei Liang, Maxi Lim and Noah Yap, cast members from the movie will be reprising their roles of Sergeant Alex Ong, Recruits Lobang, Aloysius Jin and I.P Man in the musical. Joshua Tan, who played Recruit Ken Chow in the movie, is unable to take on the role due to overseas study commitments. Benjamin Kheng of local band The Sam Willows will be stepping into the musical as Ken Chow. Irene Ang and Richard Low will be reprising their roles of Mrs and Mr Chow in the musical. They will also be joined by celebrity cast Chua En Lai and Patricia Mok.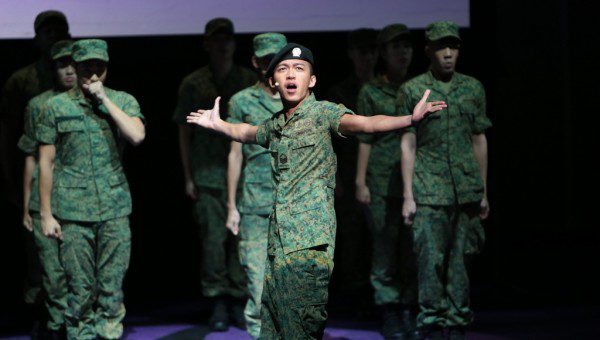 The musical will be directed by Beatrice Chia-Richmond, who said of the upcoming musical: "I've enjoyed the movie immensely and I am excited to work on the musical adaptation of the movie, with army life being one of my favourite subjects.
Irene Ang, Executive Producer for the musical who is also playing the role of role of Mrs. Chow, the overprotective mother of Ken Chow and said: "Ah Boys to Men has been the most memorable movie yet for me, with it being my first trilingual performance in a movie and my first time acting with so many new actors. I am positive that this collaboration between Jack Neo, Beatrice Chia- Richmond and I, alongside the rest of the creative team will bring forth an unimaginable "fire" and live entertainment to fans and theatre goers alike! For a story as real and as close to the hearts of so many Singaporeans, the musical will be a treat for all fans of ABTM! –a truly made in Singapore musical!"
Ah Boys To Men: The Musical has put together a stellar creative team, comprising scriptwriter Goh Boon Teck, Song writer-producer Don Richmond, Choreographer Jeffrey Tan, Set Designer Chris Chua and Costume Designer Anthony Tan. Jack Neo (J Team Productions), Mang (MM2 Entertainment) and Irene Ang (FLY Entertainment) will serve as Executive Producers of the musical.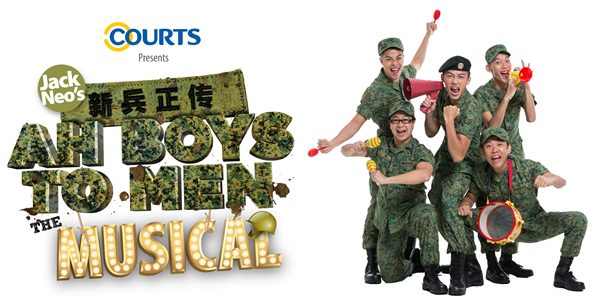 Ah Boys To Men: The Musical runs from 18 April to 27 April 2014 at the Resorts World Theatre. Tickets from $38 to S$128 are now available from www.sistic.com.sg, at all SISTIC outlets and the booking hotline (65) 6348 5555.