Magners Singapore International Comedy Festival 2014 descends on Boat Quay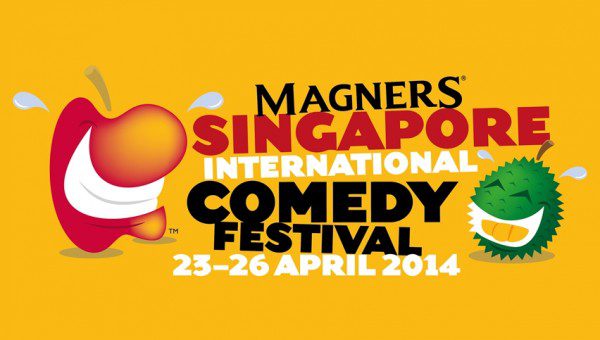 The Magners Singapore International Comedy Festival is set to take over Boat Quay from the 23rd to 26th of April 2014 with a smorgasbord of the biggest and brightest local, regional and international comedy acts. Presented in a fringe-style format, 34 comedians, 131 shows at 10 venues over 4 nights will thrill laughter-loving comedy seekers across Singapore's iconic quay.
Bar-hop from one show to another and lap up the hilarity; the near proximity of the venues and free street entertainment will facilitate comedy lovers to move from one venue to the next, soaking up the diverse and convivial atmosphere each has to offer. And by downloading the Magners Comedy Mobile App, fans will be equipped with unprecedented ease of access to show information, schedules and venues.
From Glasgow, Brighton, Boston and now Singapore, Magners Irish Cider is committed to bringing laughter into people's lives. "Magners Irish Cider is thrilled to be associated with and the naming rights sponsor of the Magners Singapore International Comedy Festival. We have a long association with comedy in many markets around the world, particularly the UK. Being 100% imported from Ireland and a world-class brand, Magners is very much looking forward to bringing some top-notch comedy to Singapore," said Andrew Herd, Marketing Manager (APAC) of C&C International.
Not to be missed acts include the phenomenally audacious Luisa Omielan (UK) whose show 'What would Beyoncé do?' at the London Soho Theatre has garnered top reviews, be sure to catch the extremely well-received Nik Coppin (UK) whose show 'Mixed Racist' is inspired by his own experience of being labeled a racist. Giggle yourselves silly in an interactive hour of 'educational' drinking (patrons get to sample some whiskies) with Alan Anderson's 'Whisky for Dafties' as it promises to shed light and laughter on the much-loved beverage. And for a once in a lifetime chance to laugh inappropriately, catch self-titled migga (midget) Imaan Hadchiti (Aus) as he uses his passion for stand-up to deal with people's ignorance.
As part of the Magners Singapore International Comedy Festival, the search is on to find the comedy stars of tomorrow. In association with the Laughing Horse Comedy organisers who have discovered Greg Davies, Russel Kane Jack Whitehall and Rhod Gilbert, comedians have the chance to make a name for themselves and a shot to win a once in a lifetime trip to the Edinburgh festival including flights, accommodation and a venue to perform in. Entry is open to any act (local or foreign national) that meets the competition requirements. More details are available on www.comedyfest.com.sg
Organised by Magic Rock Pte Ltd, the Magners Singapore International Comedy Festival 2014 is set to be the largest international comedy event ever seen in Singapore. Early Bird Tickets can be bought from $15 for one show or from $50 for as many as you can squeeze into one night.