Recognizing Asian Television's Finest at the 19th Asian Television Awards 2014
PHOTOS: Chai Chok Keun
Attended by the people behind Asia's popular television programmes, this year's Asian Television Awards 2014 was held last 11th December 2014 at the iconic Marina Bay Sands, Singapore.
Receiving around 1,371 entries from 119 terrestrial, cable and satellite broadcasters and networks from more than 14 countries across Asia Pacific, this marks a 10% increase from last year's submissions.
Hosted by Harith Iskander, Asia's best stand-up comedian, together with George Young, Sazzy Falak and Stephanie Carrington, this year's star-studded event showcased 43 awards including; 38 competing awards, the coveted final 4 awards. Key highlight to this year's awards is the "Outstanding Contribution to Asian Television" that was presented to the President/CEO of Metan Global Entertainment Group – Larry Namer.
Biggest winner is for the night is – MediaCorp, winning the highly-coveted Terrestrial Broadcaster of the Year for the 11th time at the annual event. This year, MediaCorp garnered record 39 nominations, double the nominations it had last year. MediaCorp won a total of eight awards this year.
MediaCorp Channel 5's Spouse for House sitcom swept some of the major awards including Best original Screenplay, Best Comedy Programme and Irene Ang took home the Best Comedy Performance by an Actor/Actress.
Actor Pierre Png won the award for Best Leading Actor in Channel 5's Zero Calling. "Those who say it's enough to be nominated … they are lying. This is the best feeling in the world," said Pierre, who was nominated twice in the category, on his win.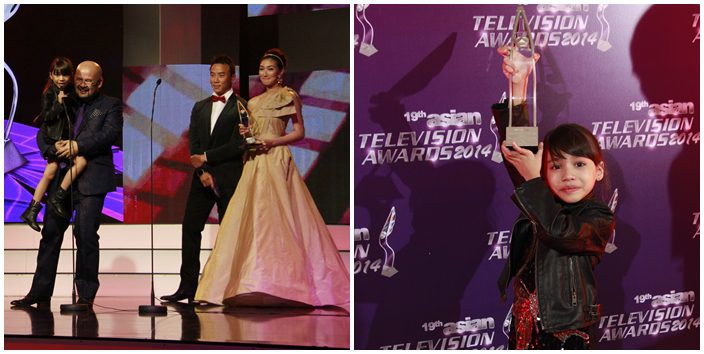 Malaysian actress Puteri Balqis Azizi, became the youngest award winner for Best Leading Actress at the age of 7 year old for Balqis – a TV3 telemovie. She beats other seasoned nominees like Serangoon Roads – Joanne Chen, A Good Wife – Tien Hsin and Sudden's – Rui En.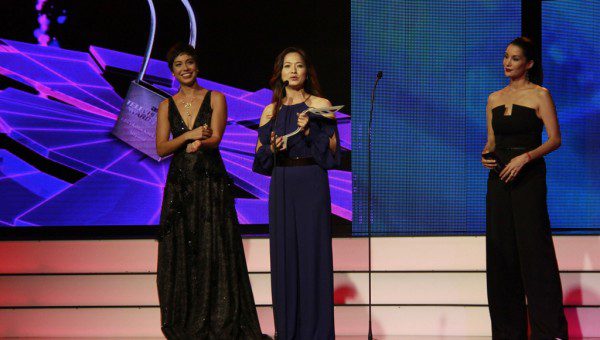 Taiwan Actress Hsieh Chiung-Hsuan won the award for Best actress in a Supporting Role for "Lonely River" at Hakka Television Station. She won a similar award in October at Taiwan's 2014 Golden Bell Awards for television and radio. "I'm really thrilled … I love Taiwan," Hsieh said.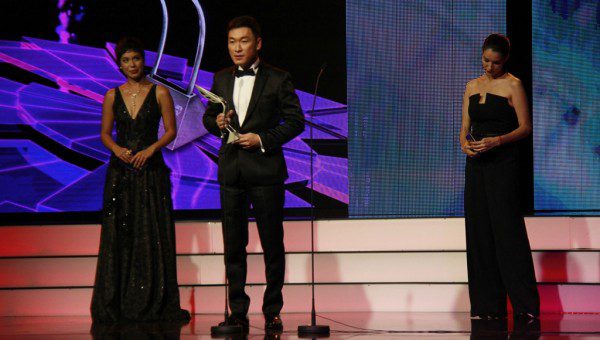 Rayson Tan won the award for Best Actor in a Supporting Role for the drama Entangled. "The word 'happy' cannot even begin to describe how I feel right now. I feel like I have persevered till the clouds parted and finally saw the light of success," said Rayson with moist eyes. "MediaCorp has supported me for 24 years. Today I finally had the chance to thank the company on stage."
Other winners for this year include:
Best News Presenter or Anchor
Rajdeep Sardesai
The Verdict -TV18 CNN-IBN, India
Best Current Affairs Programme
Undercover Asia
Invisible Children – Channel News Asia, Singapore
We the People – NDTV 24×7, India
Veerdhawal Puranik
Buddha
Buddha Pictures Ltd.; Zee Entertainment Enterprises Ltd, Zee TV, India
Best Infotainment Programme
I Wouldn't Go In There – Philippines Haunted Hospital
National Geographic Channel Asia, Hong Kong
Best Entertainment ( One-Off/Annual)
Woolworths Carols in the Domain 2013
Seven Network, Channel 7, 7TWO, Australia
Best General Entertainment Programme
Battleground 2013 – The Space
Systems Sdn Bhd, Astro Wah Lai Toi, Malaysia
Spouse for House
MediaCorp Pte Ltd; Channel 5; Singapore
Best Game or Quiz Programme
The Cube Season 2
Shanghai Media Group; Dragon TV, China
Best Digital Fiction & Non-Fiction Programme Series
Who Killed the Lead
MediaCorp Pte Ltd; xinmsn; Produced by WaWa Pictures Pte Ltd
Tan Wei-Lyn & Lillian Wang
Spouse For House; MediaCorp Pte Ltd; Channel 5, Singapore
Grace Xiao
Access 360° World Heritage Series 2 – Angkor Wat
Fox International Channels Asia; National Geographic Channel Asia, Hong Kong
Produced by Infocus Asia Pte Ltd
Mo Ju Li
The Journey: A Voyage; MediaCorp Pte Ltd; Channel 8, Singapore
Best 2D Animated Programme
The Flamin' Thongs – Nobody Likes A Smart House
MWP-RDB Thongs Pty Ltd, ABC Television, ABC3, Australia
Best 3D Animated Programme
Oddbods
One Animation Pte Ltd; MTV Networks Asia Pacific, Nickelodeon, Singapore
Best Children's Programme
Bushwhacked – Series 2
Australian Children's Television Foundation
Australian Broadcasting Commission, ABC3, Australia
Produced by Mint Pictures
Spiny Shiny Grocery Store
Taiwan Public Television Service; PTS, Taiwan
Best Sports Presenter/Commentator
Andrew "ET" Ettingshausen – Ultimate Fish: PNG Bass
Discovery Networks Asia-Pacific, Discovery Channel, Singapore
Produced by ET Productions
MasterChef: The Professionals
Shine International; A+E Networks, Lifetime, Singapore
Produced by Shine Australia
Best Comedy Performance by an Actor/Actress
Irene Ang
Spouse for House; MediaCorp Pte Ltd; Channel 5, Singapore
Invite Mr. Wright: China
Discovery Networks Asia-Pacific, TLC, Singapore
Produced by Roast Beef Productions
Best Current Affairs Presenter
Kristie Lu Stout
On China; CNN International, Hong Kong
Celebrity Battle
Jiangsu Broadcasting Corporation; JSBC Satellite Chanel, China
Best Entertainment Presenter/Host
Simon Yin
Hidden Cities Extreme Season 2; A+E Networks Asia; History™, Singapore
Produced by Beach House Pictures Pte Ltd
Best Adaptation of an Existing Format
Junior MasterChef Swaad Ke Ustaad
Shine International; STAR India Private Limited, STAR Plus, Singapore
Produced by Colosceum Media Pvt Ltd
Kate Siney & Jenny Ewig
Access 360° World Heritage Series 2 – Sagrada Familia; Fox International Channels Asia, National Geographic Channel Asia, Hong Kong
Produced by Infocus Asia Pte Ltd
Best Single Drama or Telemovie
Taichi Yamada's Time Never Stops
TV Asahi Corporation; TV Asahi, Japan
Co-produced with Union Motion Picture Co., Ltd
Naoki Hanzawa
Tokyo Broadcasting System Television, Inc., TBS TV, Inc., Japan
Best Actress in a Supporting Role
Hsieh Chiung-Hsuan
Lonely River; Hakka Television Station; Hakka TV, Taiwan
Best Actor in a Supporting Role
Rayson Tan
Entangled; MediaCorp Pte Ltd; Channel 8, Singapore
Best Actress in a Leading Role
Puteri Balqis Azizi
Balqis; Media Prima Berhad; Sistem Televisyen Malaysia Berhad, TV3, Malaysia
Produced by Rumah Karya Citra Sdn Bhd
Best Actor in a Leading Role
Pierre Png
Zero Calling; MediaCorp Pte Ltd; Channel 5, Singapore
Produced by Weiyu Films
Cable & Satellite Channel of the Year
CNN International, Hong Kong
Terrestrial Broadcaster of the Year
MediaCorp Pte Ltd, Singapore
Cable & Satellite Network of the Year
CNN International, Hong Kong