VISION returns with spectacular sets
This July, Gateway Entertainment invites you to experience the exciting world of illusion‐theatre with VISION, a production by Singapore's only professional illusionist duo, Lawrence and Priscilla Khong at the Esplanade Theatre from 3rd July to 12th July.
This is the production's second run after its successful debut staging in 2011 where it garnered more than 16,000 ticket sales. Besides brand new illusions, audiences can also expect new and elaborate scenes set within a tighter storyline. Cutting‐edge sets, backdrops and the introduction of a mysterious villain will also transform the entire feel of the performance, taking it from its previously ethereal version to something different: a faster, grittier and, above all, a more emphatic visual spectacle. The world‐class performance will also feature a troupe of highly skilled international dancers, from China, South America and the United States, with new additions from Vietnam, Spain and Hong Kong.
The multi‐million dollar production will present a plethora of brand‐new illusions including the disappearance of a car on stage, a completely uncovered illusion which provides a clear 'unmasked' view for the audience, as well as the 'Fire Sparker', which takes the traditional sawing illusion into unprecedented territory.
The plot centres around Priscilla's 'domain', an alternate dimension in the depths of her fantasy and magic‐filled subconscious, where she uses her powers for selfish reasons, even to the extent of capturing her own father. Will Lawrence be able to save himself and his daughter before it's too late? Through the suspense and danger, audiences can also expect a heart‐warming story about family: kinship, love, forgiveness and a better tomorrow.
Being named as the Asia's First Elite Diamond Award Recipients, an award equivalent to the Oscars in the world of magic, Lawrence and Priscilla are constantly pushing new boundaries and honing their craft, and has always maintained a hands‐on approach, from conceptualization to their final performances. The duo has also established themselves internationally, having performed a successful sold‐out tour in China last year.
"As local illusionists, 2015 is a monumental year for the nation as we celebrate SG50. It is the perfect time to showcase the best of Singapore talent, which is what VISION is all about. With the combined talents of an amazing cast and crew, we hope to present an exceptional production that Singaporeans can be proud of," enthuses Lawrence.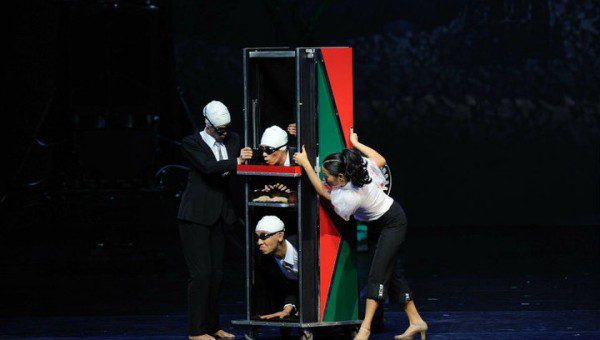 Behind the scenes, the impressive crew features Don Wayne, principal magic creator for David Copperfield, who co‐developed the illusions with Lawrence and Priscilla. Having done work in television and concerts, his clientele include Michael Jackson, Cher and Britney Spears.
Veteran local producer, Felina Khong and award‐winning thespian director, Samantha Scott‐Blackhall return to take the helm, along with renowned music composer, Kenn C, who has worked with the likes of Stephanie Sun and JJ Lin. "The medley of new illusions, new characters and staging will make this version the best yet. Also, the chemistry between father and daughter translates extremely well visually, which makes for a very inspiring landscape for me as a director," says Samantha.
VISION will be staged at Esplanade Theatre from 3rd July 2015 to 12th July 2015. Tickets from S$28 to S$118 and are now available from www.sistic.com.sg, at all SISTIC outlets and the booking hotline (65) 6348 5555. For more information, please visit http://vision.gateway-e.com/.