Clean and Disinfect Your Home with GK-GermKiller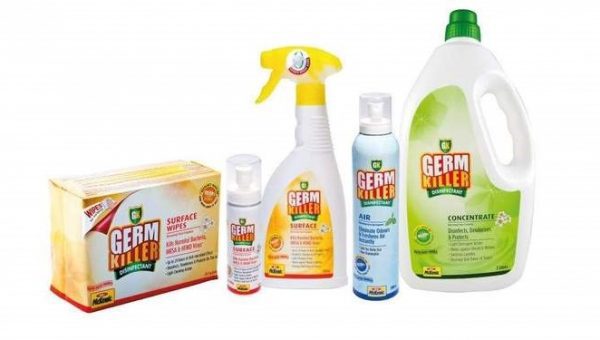 CONTENT: Andrew Kho
As we continue to battle the ongoing pandemic with precautionary measures or even if restrictions are lifted, it is inevitable that we must continuously practice good hygiene whenever and wherever you may be at. Frequent cleaning and disinfecting your home is essential for keeping yourself and your family safe and healthy.

And while COVID-19 continue to be a threat it is recommended to clean and disinfecting high-touch surfaces at least once a day, even if you are Working From Home, that is because any items arrive or people come in and out of your home, there's some possibility of exposure.

With this in mind, household Singapore brand GK-GermKiller is most trustworthy and established household cleaning brand for you to have whether in office or your home. Each of their products are uniquely formulated using quaternary ammonium compounds (Quats) under extensive research, development and testing with the sole focus on two objectives: Effectiveness and safety.

GK-GermKiller has a wide range of products of disinfectants and household products ranging from air fresheners, surface disinfectants, hand sanitisers, hand soaps, shampoo and shower gel including proprietary formulas, GK Air, GK Surface and GK Concentrate which have been scientifically proven to be >99.9% effective in activating the actual SARS-CoV-2 virus that causes the respiratory illness responsible for the COVID-19 pandemic.


GK-GermKiller Disinfectant/ Cleaning Products:
Not all cleaning products are effective on all types of germs, thus you need to know exactly the right products to combat COVID-19.

GK Air (S$7.90), initially formulated to meet the requirements of the Singapore Airlines Group as inflight disinfectant air freshener, you may use this now in your home or office to improve air quality by destroying odour-causing bacteria and freshens air instantly with its refreshing green tea fragrance. It was tested according to OECD guidelines for acute inhalation toxicity, acute toxicity, irritation and sensitisation and listed on Singapore NEA's Interim List of Household Products and Active Ingredients for Surface Disinfection of the COVID-19 Virus

GK Surface (85ml S$5.90, 500ml S$8.90 and 5L S$45.00) water-based family disinfectant that cleans, disinfects and protects in one easy step. It utilizes a broad spectrum of bactericidal, virucidal and fungicidal actions that effectively eliminate up to 99.99999% germs. It has been tested and proven effective against SARS-CoV-2 (the actual Covid-19 virus) under 1 minute, Human Coronavirus, H1N1, HFMD, Rotavirus, MRSA and other harmful pathogens, providing up to 24 hours of antimicrobial effect.

The GK Surface collection also comes in GK Surface Wipes (S$5.90 per box of 20 sachets) individually packed for ultimate hygiene and freshness to clean, disinfect and protect anytime, anywhere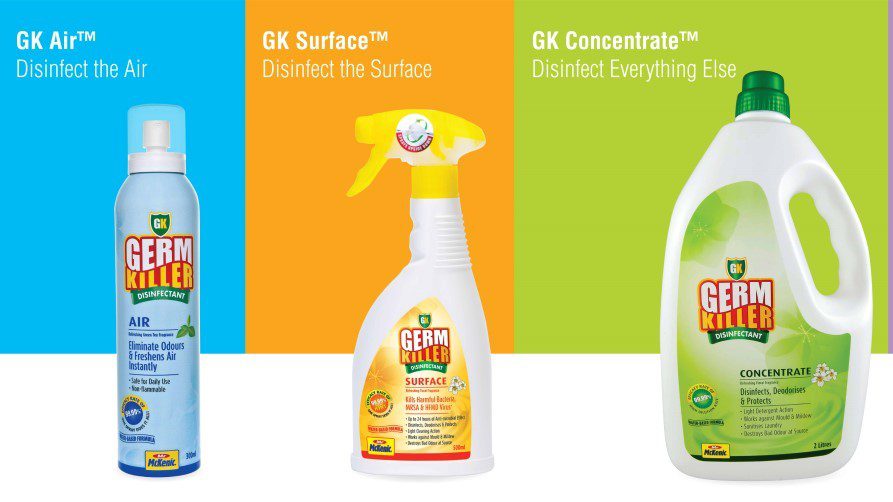 GK Concentrate (available in GK Concentrate with Citronella and GK Concentrate with floral fragrance; 500ml S$7.90, 2L S$16.90 and 5L S$40.00) popular being the primary family disinfectant for home, this multipurpose disinfectant concentrate is suitable for cleaning floors, household surfaces including fabrics, children toys, pet accessories and many more. It is also a Green Label product approved by Singapore Environment Council and is a registered product in the NSF International Non-food Compounds Registration Program Category C1 which assesses products for food processing establishments.

GK Anti-Bacterial Hand Soap: Citrus (S$20 / 5L), formulated against a broad spectrum of microbial activity, this product prevents cross infections and provides the ability to remove dirt and grime from hands, it contains moisturisers that provides a long lasting moisturising effect. Mild and neutral based, the product is safe even on sensitive skin.

GK Hand Sanitiser (Water-based S$6.50 250ml / Alcohol-based S$7.90 500ml) which provide a quick and convenient way to kill 99.9% of bacteria on your hands when soap and water are not available. With one of the widest range of hand sanitisers in the market, it will not be hard to find one that you prefer. The hand santiizer is also available in 60ml & 5L packing.

GK 2-in-1 Shampoo and Shower Gel (S$20 / 5L), this 2-in-1 user friendly cleanser is a hydrating cleansing gel that contains glycerin to soften both hair and skin at the same time, suitable for all ages.


GK-GermKiller products is available in various retail stores across the island such as in Bove, Selffix DIY Stores and online marketplaces, such as Lazada, Redmart, Shopee, Amazon-SG as well as the GK-GermKiller ecommerce store. 

To find out more about GK-GermKiller range of products, please visit Website