EHL Campus (Singapore) Set to Welcome Its First Cohort of Bachelor Students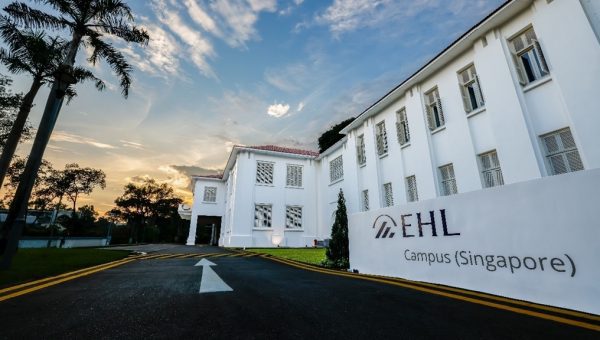 Renowned Swiss hospitality management school EHL – Ecole hôtelière de Lausanne will open the doors of its first international campus in Singapore on 20th September 2021. Officially named the world's best university in Hospitality and Leisure Management for the third year running according to QS Rankings, EHL offers students a prestigious Swiss-quality education in Asia. EHL Campus (Singapore) aims to meet the growing demand for hospitality professionals within Singapore and the wider region, providing a distinguished, multifaceted education to equip students with a combination of soft and hard skills, an international network, strong links with the industry and the confidence needed to thrive in their careers.

EHL Campus (Singapore) is set to welcome more than 50 students in September to commence the first year of their Bachelor program, having previously completed a preparatory year at EHL Campus Lausanne in Switzerland which involves six months of immersion into the world of hospitality on campus and then a six month internship to gain situational experience. Of the total number of individuals, approximately half are from Asia whilst the other half are from the rest of the world.

Dr Luciano Lopez, Dean of EHL Campus (Singapore) states: "Together with the rest of the EHL Singapore team and with the support of the wider EHL Group, I am very much looking forward to welcoming our new students to EHL Campus (Singapore) in September. Our ambition is to offer students a first-class education, combining pedagogical innovation, real life examples and the daily commitment of passionate educators."

Situated in the historic Kinloss House, just behind Orchard Road, EHL Campus (Singapore) will offer EHL's renowned Bachelor of Science in International Hospitality Management as well as a variety of short courses for professionals to upskill in their careers. Giving the same high-class education as in Switzerland, the curriculum at EHL Campus (Singapore) will be topped with Asian case-studies and examples to ensure relevancy to local context and professional needs.

The faculty, comprised of a mixture of full time and adjunct staff, will be led by Dr Luciano Lopez (Dean of EHL Campus (Singapore)) as well as guest lecturers and professors from EHL Campuses in Switzerland with guest speakers, alumni and industry experts.

The campus features top notch facilities such as meeting rooms and classrooms with state-of-the-art technology, an expansive on-site dining room and professional kitchen. The spacious building offers 2,400 square meters of indoor space with five multi-purpose classrooms, four meeting rooms and numerous break out spaces, offering plenty of flexibility to accommodate modern learning formats.
Professor Michel Rochat, CEO of EHL Group enthuses: "As a country well-known for its high standards in tourism and hospitality, Singapore is the perfect location for EHL's new campus, and we endeavour to play a role in elevating hospitality and service sectors here and in the region. At EHL Campus (Singapore) we are also excited to working alongside some of the esteemed alumni who are based here in the Garden City, as well as the wider region."

For more information on the program and how to apply, visit Website 

For students requiring a visa for Switzerland, the next application deadline is 1st November 2021.