LG Combines Beauty and Technology with the Launch of LG Pra.L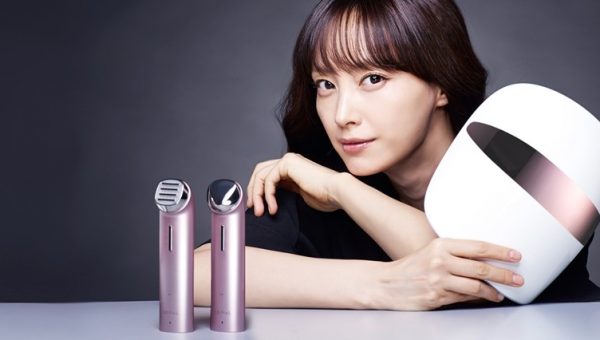 LG Electronics (LG) Singapore has launched its new premium home beauty brand, LG Pra.L featuring four new devices to improve the overall skin tone and elasticity of the everyday Singaporean. Designed to enhance existing skincare routines for faster and more apparent results, LG Pra.L is a beauty solution built with cutting-edge tech to provide the modern Singaporean woman with aging-preventive care, all from the comfort of their own home.
The four products consists of: Dual Cleanser, Galvanic Ion Booster, Total Lift Up Care, and Derma LED Mask – to respectively cleanse, nourish, lift and firm the skin.
The LG Pra.L Dual Cleanser
The best skincare regime doesn't necessarily begin with a seven-step cleansing ritual- it all begins with having clean, unclogging skin! The Pra.L Dual Cleanser (S$449) comes with two brush options: a silicone brush for gentle daily cleansing and a fine fibre brush for a deeper pore cleansing. Additionally, it automatically detects which brush is attached and changes the mode accordingly.
The Dual Cleanser offers two levels of cleansing for different needs: Level 1 for a daily and light cleanse (70 seconds), and Level 2 for when users require a more thorough clean (120 seconds). LG's Dual Motion technology combines a cleansing motion with deeper micro vibrations, and even takes care of hard-to-reach, troublesome areas and effortlessly reduces pore size, dead skin cells and blackheads to preserve the skin.
Unique to the Dual Cleanser, the waterproof device comes with a cradle that has an in-built UV light to sanitize the brush when it is not in use that in-turn enhances product life and ease-of-use. Frequent travelers can also easily pack the Dual Cleanser thanks to its compact design and long battery life, which can last for up to a month on a single charge.
The LG Pra.L Galvanic Ion Booster
The LG Pra.L Galvanic Ion Booster (S$529) uses Iontophoresis (a method that utilizes electrical current to allow the nutrients in skin products to penetrate deeper into the skin's surface), ultrasonic waves and thermal therapy to cleanse the skin, remove dead skin cells and boost absorption of skincare products. Its triangular-head design, made from medical implant-grade material has superior corrosion resistance and helps to smoothly glide over the contours of the face. Its convenient wireless design also makes it easily portable, with an extra-long battery life that can last up to two weeks on a single charge.
Cleansing Mode is designed specifically for deep pore cleansing, applying thermal therapy to temporarily loosen pores and draw out impurities such as residual makeup and sebaceous waste from deep beneath the skin's surface. The Boost Mode uses ultrasonic waves to penetrate the pores further and deliver active ingredients of skincare products via Iontophoresis with a gentle heat massage follows to relieve facial tension. Users can apply each mode for nine minutes a day for a period of two weeks to achieve vibrant skin. It is highly recommended to start with the Cleansing Mode first in order to maximize the benefits of Boost Mode.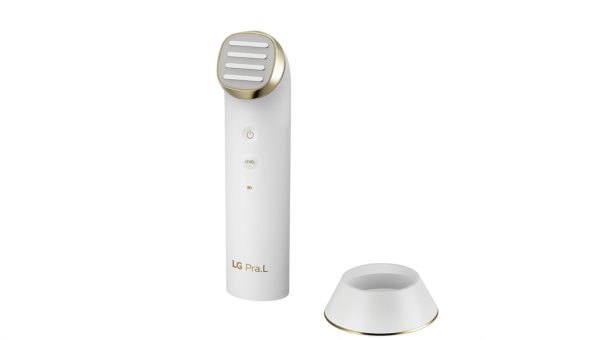 The LG Total Lift Up Care
As a woman's collagen production starts to decline when she reaches the age of 25 years old, and plummets after 40, the Total Lift Up Care ($699) device helps to achieve plump, youthful skin through its tightening and lifting functions.
The device offers two separate functions: Tightening Mode, which uses high-frequency thermal therapy and red LED light to penetrate the deep layers of skin and trigger collagen production, while the Lifting Mode employs microcurrents which stimulates skin tissue and muscles for a tightening and lifting effect. The head of the device is also made from the same medical implant-grade material as the Galvanic Ion Booster for greater durability.
After using the Total Lift Up Care twice a week for 8 weeks, users will be able to see improvements in skin elasticity and achieve a slimmer face. Additionally, the Total Lift Up Care device can last for up to two weeks on a single charge.
The LG Pra.L Derma LED Mask
Finally, what appears to be a knock off version of Iron Man's mask is LG's Pra.L Derma LED Mask ($1,349) that uses 160 LEDs (80 red and 80 infrared) of long and short-wave light to penetrate the skin at different depths to return youth and elasticity back to the skin tissue. By wearing the mask for nine minutes a day, it rejuvenates skin layers to encourage cell regeneration for firm, radiant skin. The user-friendly mask also has a transparent visor that allows the user to see through whilst wearing it, so users can multi-task at home for efficiency while enjoying their treatment.
The mask also protects the eyes with an eye-shield design made from safe silicone for comfort, minimizing the glare from the LED lights. An additional safety feature includes a sensor where the mask operates only when it is correctly positioned on the face. The Derma LED Mask is safe and effective to use, and is the only Korean-made product of its kind to be given an "FDA cleared" rating by the U.S. Food and Drug Administration (FDA).
Just like all other Pra.L products, the Derma LED Mask also offers a long battery life, lasting up to seven days on a single charge.
LG Pra.L is now available in Singapore, with an exclusive pop-up store at Tangs Plaza until 9 September, 2019.