Local Clinical Brand Belvea Goes Back To The Basics For Their New Skincare Range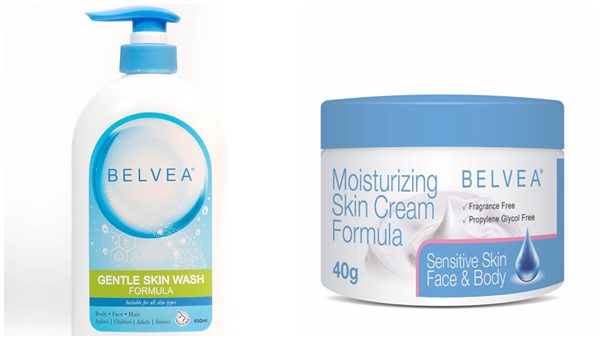 CNTENT: Michelle Ng

When it comes to sensitive skin, less is always more. Local clinical brand BELVEA now has added two skincare products suitable for all skin types and conditions. The BELVEA Moisturising Skin Cream Formula and BELVEA Gentle Skin Wash Formula goes back to the basics with a moisturiser and cleansing soap. BELVEA believes about only using what your skin needs, instead of overloading your skincare.

The gentle formula is not only suitable for sensitive skin, but also for the elderly and young ones with a short list of ingredients. Instead of loading up on complex ingredients targeting different skincare concerns, the Moisturising Skin Cream Formula contains only six active ingredients that concentrates on repairing your skin barrier by hydrating your skin, locking in moisture to prevent moisture loss. For those who are undergoing steroid cream therapy, the Moisturising Skin Cream Formula can also be used in between cream applications. The absence of fragrance combined together with the non-stickiness after application makes it great for those with sensitive skin looking for a simple and effective moisturiser.

The Gentle Skin Wash Formula is a versatile full-body wash that can be used as body wash, shampoo, and even as a facial wash. The all-in-one wash doesn't contain the common soap agent Sodium Lauryl Sulphate (SLS), which is the main irritant of sensitive skin. Even without it, the wash lathers well, without the "tight" feeling that some body washes leaves sensitive skin.

If you're suffering from eczema, skin irritations, or just flare-ups from the heat, this might just be what your skin needs to repair itself.

Good skincare, especially those clinical dermatology brands can be rather pricey for customers. Belvea also prides on keeping their products affordable, with both the BELVEA Moisturising Skin Cream Formula and BELVEA Gentle Skin Wash Formula at S$20 each. Also recommended by dermatologists and doctors, the products are easily bought over the counter at selected clinic.

The BELVEA Moisturising Skin Cream Formula ($20) and BELVEA Gentle Skin Wash Formula (S$20) are available for purchase via Shopee, Qoo10, and selected clinics in Singapore. Visit BELVEA Online  to check out their full range of healthcare products.