Margaret Market: Singapore's Only Remaining Conserved Market Built by The Singapore Improvement Trust


Residents of Queenstown can now enjoy home grown local brands from Dining, Lifestyle and Health & Fitness services all under one roof at Margaret Market.
CONTENT: Andrew Kho
This conservation market used to be the former Commonwealth Avenue Wet Market & Food Centre that was built in 1956 and is the only remaining building in Singapore built by the Singapore Improvement Trust. Gazetted for conservation by the Urban Redevelopment Authority (URA), it now breathes new life as Margaret Market, a new destination where residents and visitors can gather and mingle while supporting local.
Spanning 1,800 square metres across two levels, Margaret Market is founded by Dr Stephen Tong, CEO of Bethesda Medical. located on the second level offering GP, X-ray, obstetrics & gynecology (O&G), dental and counselling services. Bethesda Medical will also be conducting free health screenings on the first Saturday of each month starting 2 September 2023 from 8:30 AM to 10:30 AM for Singapore citizens and permanent residents aged 60 and above.


Here, visitors can expect local brands and first-time vendors and entrepreneurs offering a variety of food and beverage from local brands such as Singapore icon Ya Kun Kaya Toast, popular clam noodle soup brand WaWa Lala Bee Hoon, chicken soup rice specialist that nourishes the heart and soul with chicken soup brewed for four hours Kou Kou Xiang Ji Tang, fresh fruits and whole foods brand Cu.Ra.Te and popular artisanal ice cream café Creamier.

Further, enjoy the best of local talents such as the Australian-inspired jaffles and DIY acai bowls by Urban Folks, home-based businesses and first-time shop owners The Homme Baker known for their artisanal T&J cheesecakes. Those craving for Western cuisine can check out Bowen's Café. There's also Margie bar and bistro serving local tacos, beer & bites.


The space is also home to a relocated old trade of Chinese medical hall, Fung Onn Medical Store, affected by the closing of Tanglin Halt and a 24-hour fitness space Gymm Boxx.

On a monthly basis, look forward to free health screenings, community programmes, fitness, arts and culture activities made accessible to all walks of life.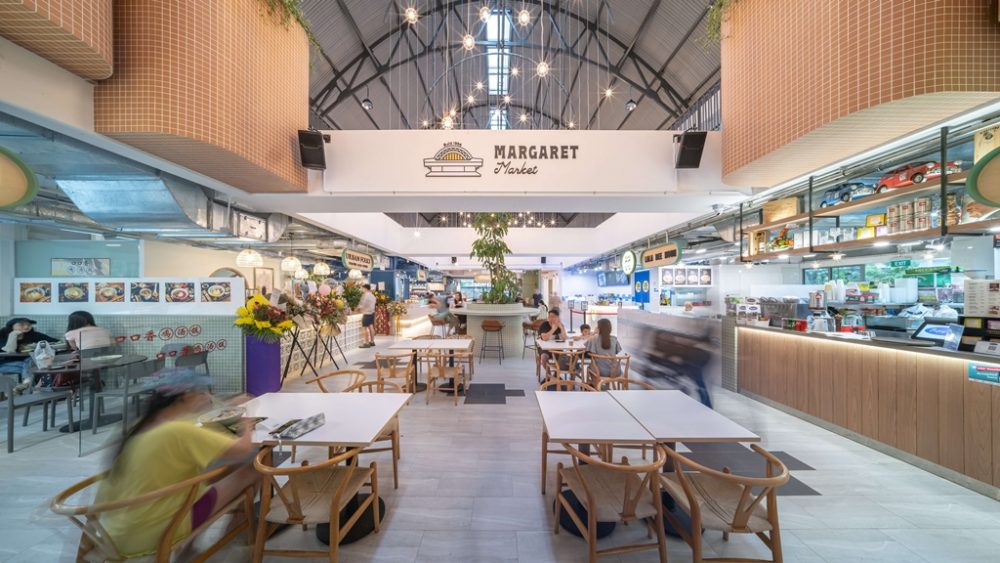 "We hope that the market will be able to put local brands in the spotlight by providing a platform and a voice to local brands, giving them an opportunity to showcase their unique products and services and collectively help them reach a broader audience.
We also hope to create a sense of pride and identity within the community by encouraging people to support their fellow local entrepreneurs, fostering a sense of cooperation among businesses and residents. We hope that Margaret Market will be able to inspire other places and communities with similar initiatives that support and uplift local businesses." said Dr Stephen Tong, founder of Margaret Market.

Margaret Market is curated and managed by Bethesda Medical, the master tenant and health service provider of the development. This new destination aim to create a new identity while preserving a sense of familiarity by revitalizing an old landmark for the new generation.

Margaret Market
38 Margaret Drive, Singapore, 141038 (next to Margaret Drive Hawker Centre)
Website