Moncler Launches Brand's First-Ever Fragrances
Moncler has unveiled the brand's first-ever fragrances, Moncler Pour Femme and MonclerPour Homme –two perfumes that signal a veritable expedition for the senses. Intertwined in their chemistry and narrative, both creations reflect a bold synergy of nature, exploration and discovery –the cornerstones of the Moncler universe, a global brand synonymous with mountain heritage and a new concept of luxury. In a harmony of contrasts, each scent evokes a crisp, cool ode to the great outdoors wrapped in an opulent cocoon of warmth.
The Moncler Pour Femme has a floral woody musky fragrance, lifted with the radiance of Italian Bergamot, it evolves through a bouquet of white florals –Jasmine Sambac and sweet Heliotrope –to plunge headfirst into the warm embrace of the exclusive Mountain Woods accord. Exclusive to Moncler, this base note envelops the wearer, mingling the seductive essences of amber, cedarwood and sandalwood. Its luxurious and heady drydown fuses with natural vanillin, for a feminine allure that lingers well after dark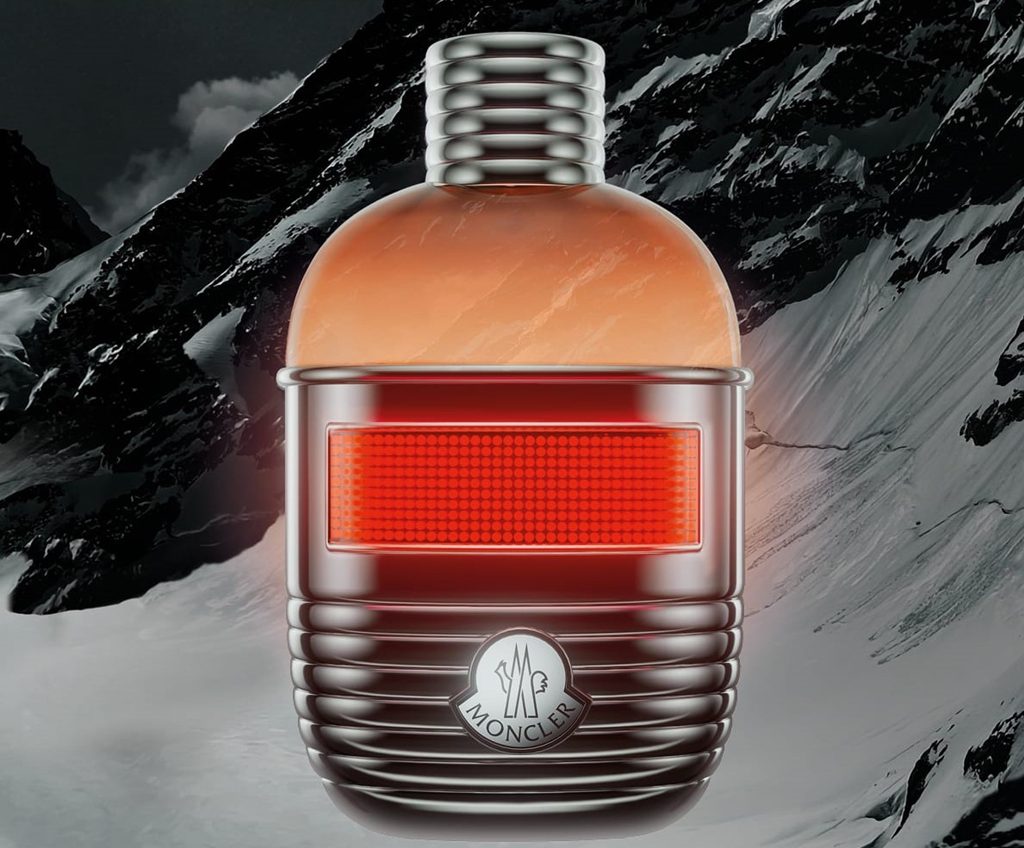 Capturing the vibrant natural beauty of an alpine forest, the Moncler Pour Homme is a woody aromatic fragrance, contains an unprecedented saturation of woody notes. Starting with the exclusive Alpine Green accord for Moncler that, combined with the energizing freshness of Clary Sage, lifts the fragrance through a leafy expanse of mountain pines. Warming directly through an overdose of Cedarwood, the Mountain Woods accord takes ultimate precedence in this bold scent, forming a cocooning, earthy drydown of grand proportions when fused with the smoky magnetism of Vetiver.


Both the Moncler Pour Femme and Moncler Pour Homme fragrances are showcased in a unique 'borraccia' flask-shaped bottle encircled with a ribbed silver case and cap –a utilitarian echo to Moncler's mountaineering origins and the iconic quilted construction of a Moncler jacket. This landmark bottle design marries a bold silver finish with clear glass revealing the light amber liquid of Moncler Pour Femme, while the Moncler Pour Homme bottle features a silver-dipped effect. The Moncler Pour Femme bottle is distinguished with a softly curved base design, while the Moncler Pour Homme bottle falls in a straight line to the base.

Taking a unique stance in the global fragrance market, a LED screen adorns the bottle of the rechargeable 150ml edition of the Moncler Pour Femme and Moncler Pour Homme Eau de Parfum, with an illuminated message panel customizable via a Bluetooth-powered smartphone app. This playful innovation allows you to write a personal note that appears in scrolling red letters across the bottle's mirrored façade when activated by the Moncler logo-shaped push button in contrasting white (Moncler Pour Femme) or black (Moncler Pour Homme). Perfect for a nickname, special message or holiday greeting, this exclusive technological design feature is a lasting echo of the Moncler spirit: from the mountains to the city.

At the vanguard of modern perfumery, Moncler Pour Femme and Moncler Pour Homme combine an indulgence of natural ingredients with cutting-edge olfactive technologies and radical industrial design. Daring, elegant and surprising, each unique fragrance is an adventurous, sensory experience and an inviting portal into the Moncler world.