Montblanc returns to Watches & Wonders in Geneva
Montblanc returns to Watches & Wonders in Geneva with a booth concept inspired by the Maison's roots in the culture of writing and its connection to the mountains. Walking into the Montblanc booth is like stepping into a mountain landscape, thanks to a space featuring ice-like walls, granite, and touches of whites, greys and wood. The experience is built around a central feature – an original installation of a writing pendulum that sketches mountain artwork with a large Montblanc nib.

Conceived by French nomadic visual artist Marie De La Ville Baugé, the pendulum works 8 hours a day on a round canvas reminiscent of a watch dial to create an art piece dedicated to the mountain glacier, creating a link between time, the art of writing and the spirit of mountain exploration – a central theme in the world of Montblanc watchmaking. In addition, the artist has imagined layered paper designs for the watch display columns evoking the monolithic architecture of Montblanc Haus, a destination that celebrates Montblanc's influence in the evolution of handwriting.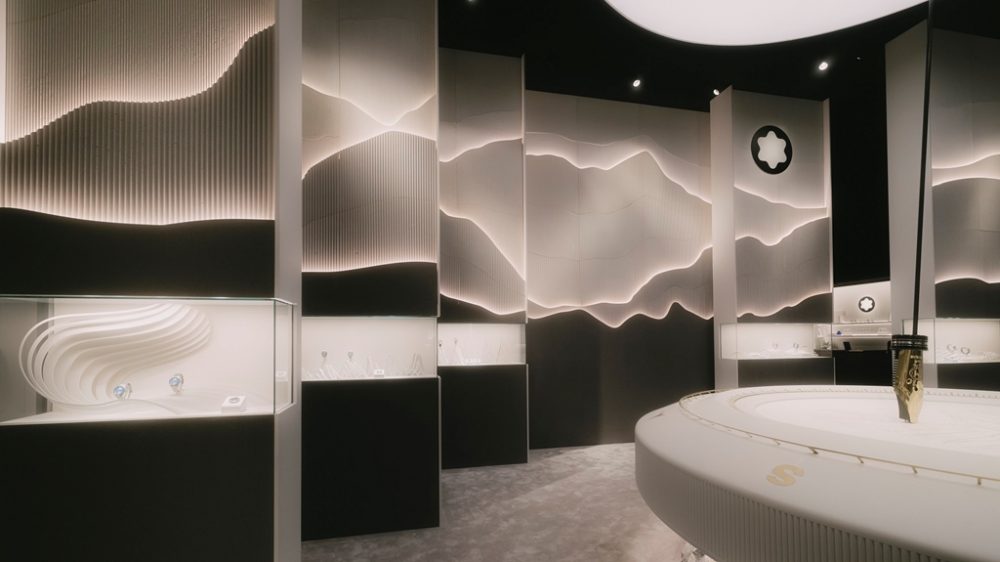 Marie De La Ville Baugé found inspiration for the concept from her own mountaineering experiences as well as from the characters she met in the Arctic and in the mountains during her adventures. She was also inspired by the literary works of two Montblanc Mark Makers – mountaineering legends Reinhold Messner and Nimsdai Purja – both of whom have inspired Montblanc watches of their own. The artwork on the booth walls also incorporates Messner and Purja's own words, taken from their literary accounts of their breathtaking mountaineering feats.


The design throughout the booth references the stories behind the watches, namely the challenging journeys explorers such as Messner and Purja have undertaken on some of the most extreme climbs and in the most remote places on Earth. Watches on display for the first time include the new Montblanc 1858 Zero Oxygen 8000 Capsule Collection that puts the world's 14 highest peaks in the spotlight, each one measuring over 8000 meters above sea level, and challenging and dangerous to ascend as there is hardly enough oxygen for a human body to physiologically survive for more than a few hours. Only a few mountaineers have climbed all 14 peaks, and even fewer have done it without supplemental oxygen, Messner and Purja among them.