Prada Launches New Prada Paradoxe Fragrance for Her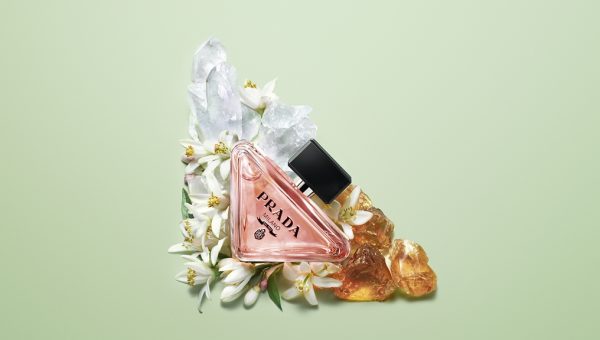 An augmented anagram of Prada and a nod to the inquisitive Prada spirit, Prada Paradoxe is a name that is playful in essence, an intention to reconsider and reconstruct. It is an invitation to redefine the relationship between a woman and herself through the dynamic dialogue within every one of the dimensions that make her who she is.

The new Prada Paradoxe captures the essence of the undefinable and ever-evolving Prada woman, who is never the same, but always herself. Showcasing a timeless white flower bouquet reinvented into an avant-garde signature and encapsulated in an iconic yet unexpected triangular bottle, the fragrance embraces all paradoxical dimensions of scent and self.

The new signature feminine fragrance blended by Givaudan Master Perfumers Nadège Le Garlantezec, Shyamala Maisondieu and Antoine Maisondieu explores the symbiosis of contradiction embedded deep within Prada: craftsmanship and technology, tradition and modernity, challenge and refinement, rigor and fantasy celebrating multi-dimensionality in an interplay of opposites redefining an intense feminine sensuality through contrasting expressions. With dominating notes of neroli and jasmine, the timeless florality of a white flower bouquet is twisted with an avant-garde olfactory signature of Ambrofix and Serenolide accord to create an intimate and enduring trail led by a vibrant warmth.

A technological world first sees Prada Paradoxe explore nature through an innovation shaped for Prada that extracts the scent of the neroli bud before it opens. The fragrance reinvents freshness by capturing the brief floral, crispy and fresh dimension of the flower.

An unexpected dimension of sensuality is revealed through the use of Ambrofix, typically used in masculine scents. This innovative bio-converted amber is naturally derived to deliver a powerful, stable, and authentic woody ambergris note.
One of the most diffusive in the world, Serenolide is a new and revolutionary musk molecule that redefines intensity by creating a recognizable yet intimate trail. This elegant musk reveals an intensity experienced beyond its traditional place in the dry-down, ensuring the note is immediately noticeable from the top, in a second-skin experience.

A fragrance as curious as it is comforting, the Prada Paradoxe is a fragrance built on three sustainably sourced ingredients including Moroccan Neroli Oil, Vanilla Infusion and Calabrian Bergamot Heart. The new multi-step bioconversion process behind Ambrofix allows amber to be naturally derived from sugar cane rather than sage while Serenolide is a new, renewable musk molecule that is one of the most diffusive in existence created for this fragrance.

Prada being an advocate for positive change has taken initiative to introduce a recyclable fragrance boxes and bottles. The glass bottles have been designed to limit their weight and use of glass, and boxes are FSCTM MIX certified ensuring a more sustainable choice of paper and paperboard.

The entire Prada Paradoxe range is refillable, allowing for less packaging material. A single 50ml bottle of Prada Paradoxe and a 100ml refill helps avoid the use of 40% less materials in total as opposed to three 50ml bottles of Prada Paradoxe. This includes 29% of glass, 67% of metals, 48% of plastics and 41% of cardboard.

The Prada Paradoxe is now available in Eau de Parfum in the following sizes 30ml S$130, 50ml S$185, 90ml S$265, 100ml refill S$198