[REVIEW] Evolve organic beauty blue velvet ceramide serum is a powerful healing serum for sensitive, damaged skin barrier
CONTENT: Medina Razali

If you're looking to switch up your skincare for vegan, cruelty-free alternatives that won't break the bank, Evolve Organic Beauty is an under-the-radar newcomer to the local skincare market to keep a look out for. A leading organic skincare brand in the UK, Evolve Organic Beauty champions environmentally conscious beauty: their plant-based formulations are certified organic, animal cruelty-free, and even their packaging and bottles are made from eco-friendly materials.

Evolve Organic Beauty has recently made their debut in Singapore with the launch of their latest Blue Velvet Ceramide Serum, a powerful elixir that gently soothes and repairs damaged, sensitive skin. Packed with plant-derived ingredients, the Blue Velvet Ceramide Serum is a bottle of blue magic that delivers a multitude of skincare benefits. With a runny, water-like consistency, this lightweight oil-based serum gives you that highly coveted glass skin look while repairing your skin from inside out.

We tested the Blue Velvet Ceramide Serum for two weeks, here is a rundown of the ingredients and our impressions of the serum.


Miracle ingredient: Blue Tansy
The star ingredient of the serum is blue tansy, which gives the serum its distinct azure blue hues. Originating from Morocco, blue tansy is a powerful skin healer that repairs skin damage caused by harsh sunlight and environmental stressors, as well as calms down acne flare-ups, redness and inflammation. Blue tansy is a well-loved skincare ingredient for its antioxidant, anti-inflammatory, anti-viral, antibacterial and antifungal properties.

Anti aging healer
To achieve the highly raved glass skin effect, skin must appear glowy, bouncy and wrinkle-free. The blue velvet ceramide serum delivers just that — with vegan oat ceramides, the serum helps to manage signs of aging, by increasing skin elasticity and firmness. A blend of plant-based lipids, derived from jojoba, macadamia and olive squalene strengthens the skin dermis, leaving your skin bouncy and improving firmness.

The serum also protects your skin's hydration levels, thanks to the oat ceramides that form a protective layer that prevents moisture loss and environmental damage.

Intense boost of hydration for dry skin
Packed with organic oils, the blue velvet ceramide serum delivers a boost of hydration for dry, flaky skin. Derived from olive oil, squalene has a multitude of skincare benefits — it protects, hydrates and softens the skin, while fighting signs of aging by boosting cell regeneration and improving the skin's elasticity.

Organic camellia oil is a nourishing hydrator that provides relief to dry, flaky and sensitive skin. Rich in essential fatty acids and vitamin E, organic camellia oil restores moisture to dehydrated skin barrier.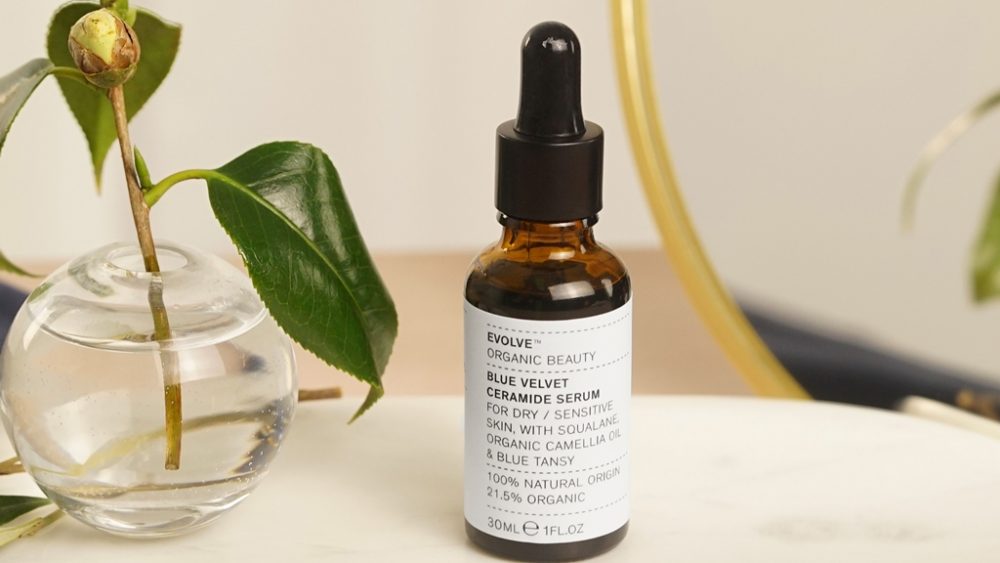 The Verdict
For first impressions, the serum is watery and has a luxurious feel, thanks to the delicate scents of the essential oils. The oil absorbs quickly into the skin, leaving a glowy sheen. Within an hour of application, I noticed how my redness and inflammation visibly calmed down. After two weeks of consistent use, my dark spots and scars had lightened much faster than my usual skin recovery time. Personally, I prefer using the serum at night as a nourishing treatment as it leaves my skin glowing the next morning. For those who apply makeup daily, I would recommend doing a test to ensure your base makeup is compatible with the serum, and apply a small amount to avoid overloading your skin.

Evolve Organic Beauty
Counter @ Tangs at Tangs Plaza (Level 1)
310 Orchard Road Tang Plaza