REVIEW: Huawei's New P50 Pocket Comes in a Foldable Version
CONTENT: Michelle Ng

It's the return of the flip phones! Huawei's top of the line smartphones sees an even bolder launch with the P50 Pocket.

The P50 Pro is already one of the better phones around, that is if you can look past it not being able to install the Google suite of apps. The P50 Pocket boasts incredible photography, fashion, and convenience all in one sleek, compact square. Partnering up with haute couture designer Iris Van Herpen, the P50 Pocket has covered in a gold texture that mimics the earth. The phone feels pretty light to, which adds to the experience.

Smartphones have become increasingly larger so that you can have a bigger screen, but can be a pain to carry around. The phone might stick out of your pocket if its too large, and even if it fits, it sometimes feels like the phone might just break when you sit down. The P50 Pocket lets you have a huge screen and still be able to fit snugly in your pockets. Folding it down in half lets it become portable enough to fit into a small clutch, and also brings back memories of the early 2000s with the slide and flip phones.


I found the foldable screen very useful, as I could open the phone halfway so it can stand up without having to lean against anything. While it's not that great for watching movies, it became super convenient to read articles or scroll Instagram without having to hold up the phone.

The phone comes with three cameras, a 4 0MP True-Chroma Camera, a 13MP Ultra-Wide Angle Camera with a 120-degree wide field of view and a 32MP Ultra Spectrum Camera. With these three cameras, the P50 Pocket is a very versatile phone that can capture various pictures indoors and outdoors. I especially liked the photo imaging, as it captures enough details in selfies even if the light is behind me or I'm in dark places. Landscape shots are also a breeze, with a wide angle camera to capture more of the scene without having to resort to panorama mode.


The phone also comes with 256GB storage which should be plenty enough for all your game apps and photos, and also comes with a slot of external memory. The battery can also last an entire day without charging, and can sustain my constant use of social media, and the animations are fast and very responsive to touch.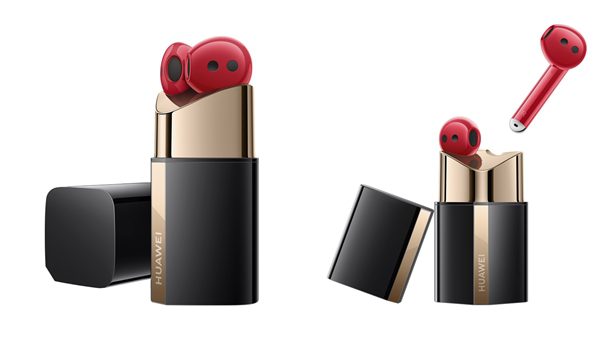 Accessories wise, the Huawei FreeBuds Lipstick is a perfect pair to P50 Pocket which comes enclosed in a posh glossy stainless-steel lipstick shaped charging case. Like any Huawei headset, the FreeBuds Lipstick can be connected directly via Bluetooth, or through the proprietary AI Life application. Weighing at only 4.1g, the earbuds is light and we love the touch feature to answer a call, play and pause music as well as adjusting the volume with just a swipe.
Do not worry on the battery life as the earbuds gives you 4 hours of playback on a full charge and 22 hours of playback with a fully charged case, and with Huwei's quick charging function, 15 minutes of charging is enough to give you 2.5 hours of playback.

Price-wise, you can expect to pay at least 4 figures for the P50 Pocket as a premium flagship phone. If you can get around without having to use Google apps, the phone would be a great choice with the luxurious designs and great functionality otherwise.

The HUAWEI P50 Pro (S$1,548), P50 Pocket (S$2398) and HUAWEI Freebuds Lipstick (S$298) is now available at the Huawei Authorised stores and authorised retailers like StarHub, Singel, M1, COURTS, Best, and Challenger.