REVIEW: Local skincare brand SKINCOMM's UNICEL range is the perfect anti-aging skincare routine for a youthful skin
CONTENT: Medina Razali

A newcomer has entered the local skincare scene — except the team behind the brand is no stranger to the industry. Meet SKINCOMM, who has recently launched their UNICEL skincare range backed by science. The UNICEL system was formulated with a team of local doctors, scientists and skin specialists and promises safe, clean formulation that has undergone rigorous lab tests. Suitable for vegans, the skincare range does not contain any animal ingredients, and the products also do not undergo animal testing.

The key focus of SKINCOMM's products is to deliver anti-aging benefits and glowing skin. The skincare line consists of five products — cleanser, toner, actives, mask and sunscreen. These products are intended to be used together as an all-rounded skincare routine. According to the brand, users can still stick to their usual holy grail products and use them alongside UNICEL's products in their skincare routine.

The products claim to be suitable for all skin types. As a person with sensitive dehydrated skin type, I tested the whole UNICEL product range as a daily five-step skincare routine. Here is my review and impressions of the products after using them for one month.

Step 1: UNICEL Cleanser Aqua+

Start off your skincare routin with the Cleanser Aqua+ ($47, 100ml). This cleanser is mild and non-drying, even for the most sensitive and dry skin types. Formulated with calming botanical extracts like chamomile, cucumber, aloe and matricaria, it gently soothes irritated skin and cleanses oil and impurities without causing any redness. It also contains hyaluronic acid for hydration, while panthenol reduces inflammation and strengthens the skin barrier.

The cleanser has a gel-like consistency, and contains no fragrance. While most cleansers tend to leave my skin feeling tight and dry, the Aqua+ cleanser however felt hydrating and worked well for my dehydrated skin. The calming properties also prevented any redness on my skin and I did not notice any irritation after washing my face.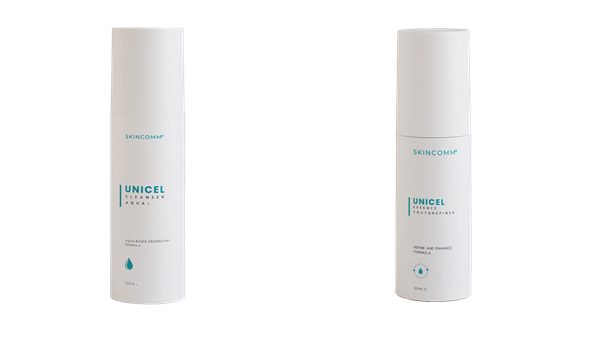 Step 2: UNICEL Essence YouthRefiner

After washing your face, prep your skin with toner using the YouthRefiner Essence ($174, 30ml). While it is named an essence, it is actually meant to be used as a toner. It contains PHA that gently exfoliates the gunk in your pores, refining your skin leaving it baby smooth. Meanwhile, rich fruit extracts such as lemon, pineapple and passionfruit enriches your skin with antioxidants while gently lifting dead skin cells off your skin.

For first impressions, this toner had a strong fruity smell which proves how packed it is with fruit extracts. As PHA acid is a mild chemical exfoliant, beginners should slowly incorporate it into their skincare routine and gradually build up the frequency as the skin adjusts to the actives. Those with sensitive skin should do the usual patch test first before applying it to your skin.

I noticed how my skin texture improved after a few days, and my makeup was able to glide on smoothly as the toner helped to refine my pores.


Step 3: UNICEL Actives YouthVital

Once your skin has been cleansed and prepped, nourish it with the YouthVital Actives ($276, 30ml), an anti-aging essence packed with skin rejuvenating ingredients. It features SKINCOMM's AL-GLUTAS blend of actives, formulated to accelerate skin recovery. Clinical tests have proven that the YouthVital actives increase pro-collagen and elastin production as it rejuvenates the skin on a deep, cellular level.

The YouthVital Actives is a skin saviour for those who are battling fine lines, wrinkles, hyperpigmentation and uneven skin tone. The actives restores skin elasticity, resulting in bouncy and youthful skin. After two weeks of usage, I noticed how my hyperpigmentation was visibly lightened and my overall skin tone appeared more even.

Step 4: UNICEL Mask YouthNutri

For a nourishing night treatment, pamper your skin with the YouthNutri Mask ($196, 30ml). Just like the YouthVital actives, the YouthNutri contains a high concentration of SKINCOMM's AL-GLUTAS actives. The mask is packed with rich antioxidants and amino acids that will give you a glowy, glass skin look. Three molecular sizes of hyaluronic acids deliver intensive hydration to soothe and moisturise dry skin.

The YouthNutri can be used as an intensive moisturiser, but I recommend applying it overnight as a sleeping mask for an instant skin rejuvenating pack. For those looking to quickly get rid of fine lines and hyperpigmentation, use both the YouthVital and YouthNutri together for best results.

I use the mask as a pampering night treatment twice a week, due to my busy schedule. The mask is truly a lifesaver for my dull and tired skin, using it overnight makes my skin visibly radiant the next morning.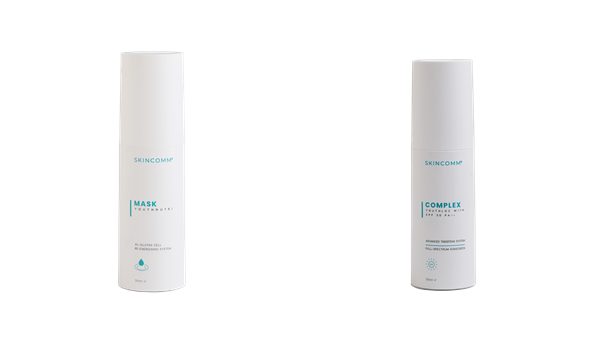 Step 5: UNICEL Complex YouthLoc

What sets this sunscreen apart from the usual brands on the market is its full spectrum skin protection. The UNICEL YouthLoc sunscreen ($196, 30ml) contains SPF30, and has been tested and proven to provide full coverage against blue light, infrared rays, UVA and UVB protection.

If you're someone whose skin tends to get damaged easily under the sun, this sunscreen also contains anti-oxidation properties to prevent effects like hyperpigmentation and sunburns. It also protects your skin from free radical damage caused by excessive sun exposure — phyto-extracts and antioxidants preserve and boosts your skin's collagen levels.

The Verdict
Overall, the products do indeed deliver the benefits as claimed — after using the five products after a month, I noticed a difference in my skin texture and my skin was visibly radiant. I tend to battle with hyperpigmentation and uneven skin tone, but the UNICEL products did help to accelerate skin recovery and got rid of my dark spots quickly.

As some users might find the products to be rather potent and thicker in consistency, I would advise using them in moderation. If you are applying it in the morning before makeup, adjust the amount of product you apply on your skin. Overall, the UNICEL products work best as an intensive night routine to repair and soothe tired skin.

Skincomm experiential centre
The UNICEL skincare range is available for purchase online or at the Skincomm experiential centre. Visit the center for a consultation with their skin specialists and try out the UNICEL skincare products before making a purchase. The center serves as a one-stop place for all your skincare needs — try and test out the products with their skin specialists, purchase your skincare and indulge in a pampering facial treatment or aesthetic procedure. Their therapists are qualified skin specialists, trained to provide expert advice on the best treatment for your skin concerns.

Skincomm
Forum Office Tower, 583 Orchard Rd, #16-02 #17-02, Singapore 238884
Tel: +65 9099 0777
Website