Thailand's Luxury developer Sansiri opens SIRI HOUSE at Dempsey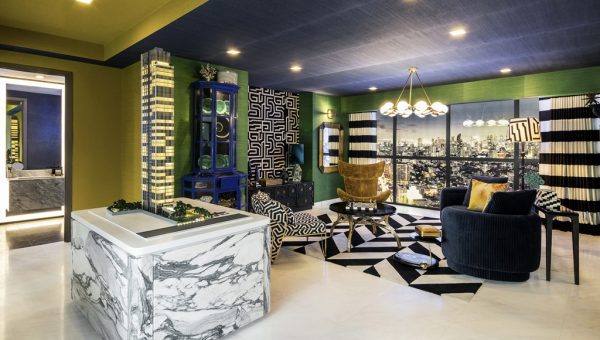 From Bangkok to Singapore, SIRI HOUSE is a token to announce Sansiri's commitment in moving far beyond a company that solely constructs homes and buildings. Emphasizing its global lifestyle leadership, Sansiri brings a carefully curated luxury brand experience and presence to international customers for the first time ever abroad.
Opened this January 2019, this new lifestyle, social and dining space at Dempsey is by Sansiri, Thailand's most trusted full-service luxury property developer representing a cultural bridge linking two countries.
A hallmark of the Sansiri vision and standard for high quality, it brings together all the elements for a sought-after place of gathering – people, design, art, retail, and food – brought to life in the heart of Dempsey Hill. It paves the way to SIRI HOUSE at Somkid, a flagship concept slated to open in Bangkok this March 2019.
Modern, inspiring, and above all, welcoming, SIRI HOUSE at Dempsey is an emblem of the Sansiri lifestyle; an exploration of the kind of living environment that Sansiri properties can provide. The 3,000 sq. ft. space nestled in Dempsey Hill houses a Sales Gallery highlighting Sansiri's most prestigious property developments; JAM at SIRI HOUSE, a restaurant that elevates the home dining and drinking experience with exquisite food to share and cocktails to match; an intimate Art Space that will exhibit a roster of art shows by Thai and international artists; The Shop retailing a hot list of ones- to-watch-and-know design brands from Thailand.
Art Space at SIRI HOUSE
The Art Space at SIRI HOUSE is an intimate art gallery dedicated to hosting focused exhibitions that highlight specific artist projects and dialogues. Accessible to all, the Art Space intentionally eschews an elitist environment, welcoming everyone in with an open invitation to roam freely at SIRI HOUSE. It aims to showcase an international, cross-generational roster of artists ranging from emerging talent to significant creative art figures. The space will feature new art exhibitions every three to four months.
Sales Gallery
Step into the Sales Gallery and be transported into a luxurious home environment that inspires and beckons. The mainstay of SIRI HOUSE introduces The Monument Thong Lo, a joint venture property development between Sansiri and BTS (Bangkok Mass Transit System PCL). Located in Thong Lo, a statement address and one of Bangkok's hippest streets, The Monument is a landmark residence in a state of the art 45-storey building designed by world-renowned architects Quintrix.
The show unit's interiors feature plush and luxurious materials with craftsmanship of finely detailed finishes, a hallmark signature of all Sansiri properties. The Sales Gallery has been designed by interior designer Vichada Sitakalin (Dao), featuring eclectic stylings with bold graphic patterns in a striking colour palette, and furnished with luxury interior textiles and wall coverings by Jim Thompson Fabrics.
The jewel of SIRI HOUSE, the Sales Gallery will change every six to eight months, highlighting Sansiri's most prestigious property developments as prime real estate investment opportunities for visitors of SIRI HOUSE. Not only will the evolving space offer inspirational ideas for home design and interiors, it also functions as a beautiful space for intimate home-styled parlour events.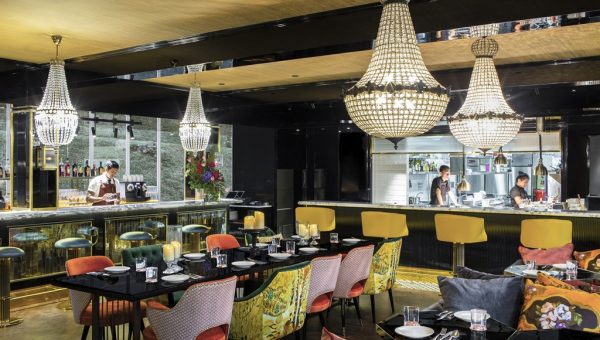 JAM at SIRI HOUSE
The 48-seater restaurant restaurant reunites former Lolla Head Chef and current co-owner of Park Bench Deli, Ming Tan with long-time friend Jeremy Cheok of New Ubin Seafood and Garang Grill fame. Sunday Punch's Mark Tay and Yap Hwee Jen head up the team at the bar to complete the creative forces behind JAM at SIRI HOUSE.
Offering both restaurant lounge and bar counter seating. Opt for a coveted seat at the bar and catch a glimpse of dishes prepared and plated from the restaurant's open kitchen. Evoking the feeling of dining in a lovely home, interiors are eclectic and bold, classical with touches of Art Deco and intricate Asian accents.
The material palette is sumptuous featuring rich Italian velvets, deco jacquard motifs, Chinoiserie and fauvist-inspired floral prints on custom furniture. These plush elements rhythmically repeat throughout the space, creating a unifying effect amidst a bold colour scheme of petrol blue, mustard yellow and splashes of coral set against a dramatic black backdrop. Illuminated by vintage chandeliers, the space is flanked by dark lacquered walls and de Gournay hand painted wallpaper, while luxurious handwoven silks from Jim Thompson Fabrics cover the ceilings.
The Shop at SIRI HOUSE
The Shop is a retail space to discover forward-thinking design and explore a new expression of Thai creative culture. Presented in lifestyle home-wares, accessories, souvenir knick-knacks, casual- and lounge-wear, these products are inventive, modern yet familiar, and always identifiable as Thai originals.
The Shop at SIRI HOUSE will introduce a new Thai design cohort every quarter, launching with its first stable of seven Thai designers and brands in January 2019; some of whom will present limited edition pieces designed especially for SIRI HOUSE.
SIRI HOUSE at Dempsey is located at: Blk 8D, #01-02 Dempsey Hill, Dempsey Road, Singapore 249672
For more details please visit: www.sirihouse.com