The Shilla Duty Free x Estée Lauder: Radiant Skin Essentials Collection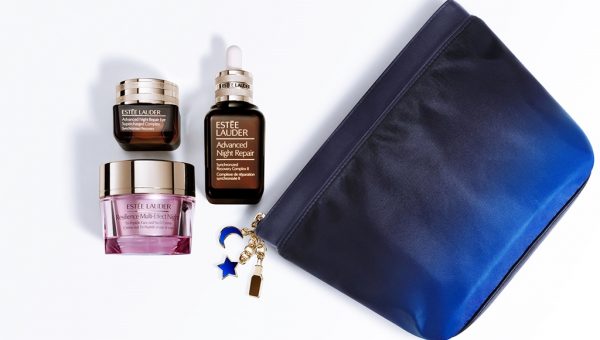 This December, The Shilla Duty Free, partners with renowned beauty brand Estée Lauder to bring you a sublime skincare experience with its freshest travel exclusive – The Radiant Skin Essentials Collection. The exceptional collection features three of the brand's celebrated favourites – the Advanced Night Repair, Advanced Night Repair Eye Supercharged Complex, and Resilience Multi-Effect Night Tri-Peptide Face and Neck Crème, to awaken your beauty this holiday season.
Staying true to Estée Lauder's philosophy that "every woman can be beautiful", the iconic namesake brand continues its legacy of creating the most innovative, sophisticated and high-performance beauty products infused with a deep understanding of women's needs and desires. One of Estée Lauder's most enduring legacies is materialised in the form of a "little brown bottle" – the Advanced Night Repair that heralded a new era in skin repair. A revolutionary night serum that promises to fight signs of ageing and repair skin overnight, the coveted formula remains a cult classic loved by women all around the world.
The Radiant Skin Essentials Collection
A reformulation of the iconic little brown bottle, the Advanced Night Repair Synchronized Recovery Complex II is developed with Estée Lauder's exclusive ChronoluxCB™ Technology to enhance the skin's natural night time renewal process and reduce the appearance of fine lines and wrinkles. Infused with hyaluronic acid, which is also known as nature's "moisture magnet", this patented serum instantly hydrates to give you radiant, smoother and youthful-looking skin.
Restore the sparkle in your eyes with the Advanced Night Repair Eye Supercharged Complex Synchronized Recovery, a potent eye treatment with 10 times' Concentrated Repair Technology to repair the visible impact of lack of sleep, UV rays, pollution and blue light. The lightweight gel creme texture melts effortlessly into skin, reducing signs of ageing while brightening dark circles in just three weeks. The recharging formula also provides 24-hour hydration with a potent hydration booster, protecting skin against free radical damage and promoting skin's natural repair process to leave it looking rejuvenated.
Revive your skin's natural glow with the Resilience Multi-Effect Tri-Peptide Face and Neck Crème, an intensely nourishing and hydrating cream that increases radiance, suppleness and resilience. Enriched with a powerful blend of Tri-Peptide Complex and antioxidants, the cream protects skin against collagen degradation and environmental aggressors to maintain its natural firmness and tone.
"Sharing the same belief in the pursuit of innovation, we are proud to collaborate with beauty powerhouse Estée Lauder to introduce the Radiant Skin Essentials Collection to our customers," said Mr. Young Hoon Kim, Executive Vice President of The Shilla Duty Free. "Bottled with the intention of unveiling the beauty of women, we hope that the time-tested products in this collection will empower women to travel beautifully no matter which part of their journey they're on."
The Radiant Skin Essentials Collection is priced at S$337.30, available exclusively at The Shilla Duty Free's Asia Pacific stores including Korea, Singapore and Hong Kong from December 2019 to May 2020, while stocks last. It is also available for purchase at iShopChangi.com.