Three Must Have Skincare Products to Pamper Your Skin
CONTENT: Medina Razali

In recent months, the world of skincare has been abuzz with frequent launches of new products and brands in the industry. As we head into the third quarter of the year, give yourself a well-deserved rest and recharge by pampering your skin with the best skincare products.

We've rounded up the latest top three luxury skincare brands to check out in Singapore. Local actor Lawrence Wong's skincare brand Grail makes a long-awaited comeback, now with a focus on simplicity and sustainability. The award-winning Noble Panacea has launched its first pop-up at Tangs Singapore. Finally, Modules Skincare launches in Singapore, a 100% online solution for prescription skincare products.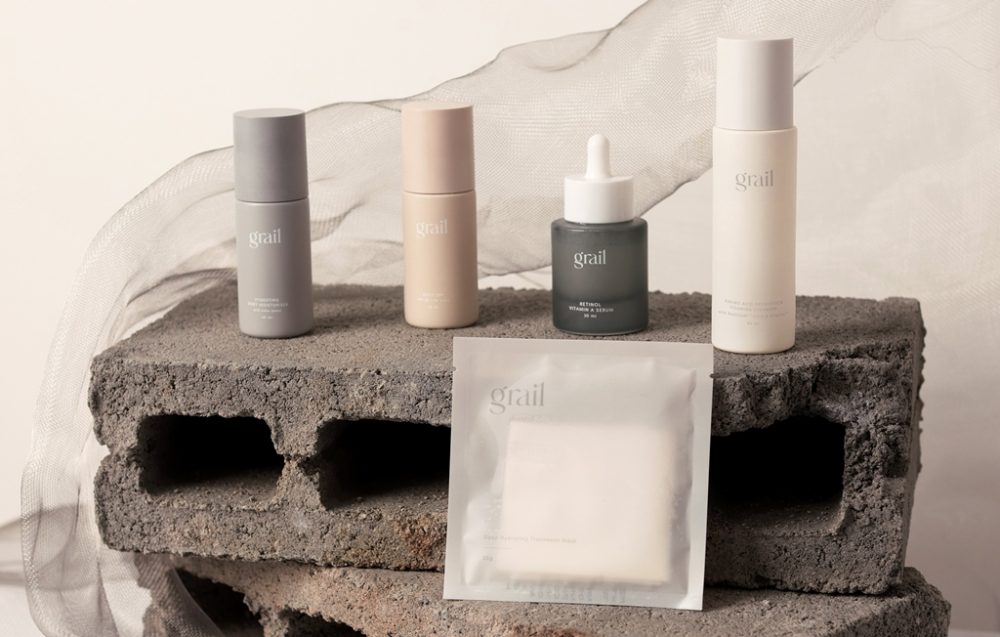 Grail Skin: Sustainable, clean skincare founded by Actor Lawrence Wong

Local actor Lawrence Wong has revived his skincare brand Grail, now rebranded with an emphasis on sustainability and clean formulations. Grail has recently launched two latest additions to their skincare line — the Retinol Vitamin A Serum and the Hydrating Rice Yeast Serum. As a result of months-long research, founder Lawrence Wong has carefully selected the finest natural ingredients to ensure the highest quality in his formulations. The product packaging also features a sleek, minimalistic design made using biodegradable eco-friendly materials.

Lawrence Wong says "I have always dreamt of an easy yet effective skincare routine to keep up with being in front of the camera. Grail is my vision of a simple skincare that is easy to use and really works!"

The new Retinol Vitamin A serum (S$58, 30ml) is a skin-boosting serum featuring a blend of 1.5% retinol and 1.5% bakuchiol with vitamin A. This potent formulation delivers various anti-aging benefits to the skin by reducing the appearance of fine lines while exfoliating and refining the skin texture. The serum also includes a soothing blend of botanical oils including sweet almond oil, sunflower oil, and plukenetia volubilis seed oil. These oils nourish the skin by restoring the moisture-oil balance in the skin barrier while calming down the skin.

Meanwhile, the Hydrating Dewy Moisturiser (S$38, 40ml) features Grail's latest patented ingredient: Hygroplex HHG. What this does is deliver an intense boost of hydration into the skin, moisturising the skin inside out resulting in a dewy and radiant complexion. To improve collagen production, the moisturiser also includes a blend of probiotic sake rice yeast, prebiotic, as well as postbiotic.

Grail Skin
Website


Noble Panacea: Luxury skincare formulated by Nobel Laureate

Pamper your skin with luxurious skincare by Noble Panacea, who has launched its pop-up at TANGS Singapore. The multiple award-winning skincare brand is the world's first and only skincare brand founded by a Nobel Laureate — Sir Fraser Stoddart. Formulated using the patented OSMV (Organic Super Molecular Vessels) technology, Noble Panacea products are meticulously crafted in small batches for utmost precision and highest quality.

At the Noble Panacea pop-up store, check out the brand's four product lines: The Elemental, The Brilliant, The Absolute, and The Exceptional. Don't miss out on their best-selling The Exceptional Chronobiology Sleep Mask, a high-performance treatment sleeping mask that transforms your skin overnight for that highly coveted radiant, glowy skin. What's new to check out is The Brilliant Prime Radiance Serum — as its name suggests, the serum leaves your skin radiant and hydrated using a potent blend of ingredients such as glycolic acid, malachite, and more. Meanwhile, for mature skin — the Absolute Intense Renewal Serum is an intensive anti-aging serum that boosts skin regeneration, leaving you with a radiant, youthful complexion.

Noble Panacea
TANGS at Tang Plaza L1, 310 Orchard Road, Singapore 238864
Website


Modules: Personalised prescription skincare in three simple steps

Local skincare brand Modules, a newcomer in the market has come up with a solution to introduce convenient, hassle-free, and accessible prescription skincare. Recently launched in Singapore, Modules provides a fully 100% online dermatology experience for personalised prescription skincare treatments. Modules allows users to receive prescription skincare ingredients such as Tretinoin, Differin, Hydrocortisone, and more via a fully online process, without having to head down to a physical clinic.

The process is simple and fuss-free and works in three simple steps. Firstly, users can visit the Modules online website and answer a short questionnaire regarding their skin concerns. Next, choose a preferred date for the online medical consultation. During the online consultation, a medical doctor will discuss any skin concerns and then prescribe an active ingredient. The second step is formulation — here, users can customise their prescription skin care formula by selecting from their preferred ingredients according to their skin concerns. The final step left is delivery — users can expect to receive their package of customised prescription skincare within five working days.

The whole process of ordering prescription skincare from Modules is not only seamless and convenient, but it also saves a lot of money compared to the traditional way of ordering prescription skincare. Gone are the days of spending costly amounts on doctors' consultation fees to access prescription skincare — at Modules, prices start as low as $44 for the whole experience.

Modules
Website