INTERVIEW: Indian Fashion Designer, Sandeep Khosla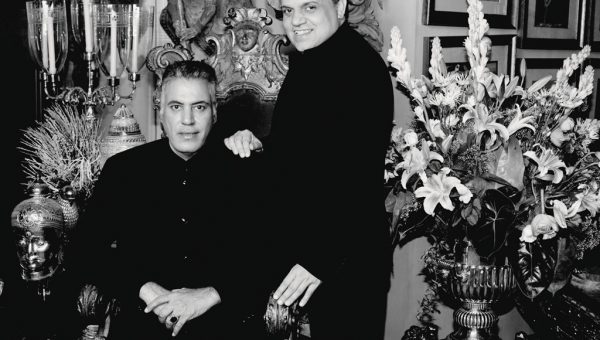 CONTENT: Henry Boen
Hosted by The Silk Root, the eponymous brand Abu Jani & Sandeep Khosla held their annual exclusive one-day trunk show in Singapore over last weekend. The brand – now ticking off their 32nd year running in the business – may have started out with a small boutique, but their clever narration of the Indian culture, heritage, and crafts like the Chikankari and Zardozi gave the house an edge over the rest.
We caught up with one of the co-founders, Sandeep Khosla, to understand more about the brand through his own perspective; to purposely fish out a few tips to aspiring fashion entrepreneurs; and to have a session over the topic of dressing celebrities. Yes, we're referring to mega pop stars like Beyoncé, Carrie Underwood and Gwen Stefani.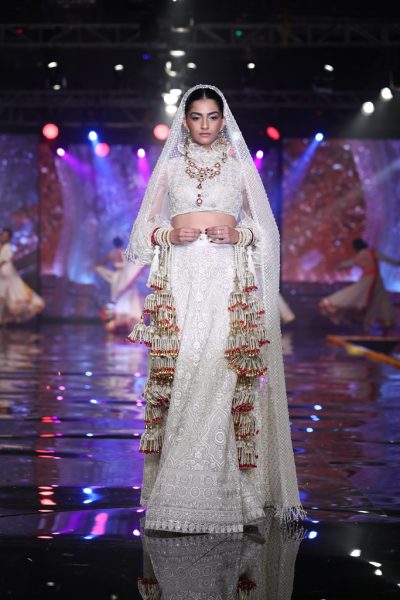 Luxe Society Asia: Can you tell us a little bit of the brand and what it stands for?
Sandeep Khosla: We began as Couturier in 1986. Our dream was to create impossibly elegant ensembles that were a rich tapestry of techniques and flawless execution. Our hallmarks include fabulous fabrics, intricate embroideries and embellishments and a desire to reinvent the classical. We have since added Diffusion and Westernwear to our design proficiency
We see ourselves as artists first and foremost. We prefer to set trends rather than follow them. We are madly in love with the Beautiful Life. Interior and Event Design are two other arenas that fascinate us.
Luxe Society Asia: What are your inspirations?
Sandeep Khosla: Everything is Inspiration when the artist is inspired.
We are worshippers of beauty, physical natural and spiritual. Nature, Art, Architecture, History, Music, Cinema, People. The list is chaotic and endless. Everything around us combines with the inner imagination, and it is this dance, which leads us to create expression in the form of fashion, interior design, event design. Artists straddle multiple universes and creativity flows seamlessly from one medium to another.
Luxe Society Asia: We all admire designers that incorporate their cultures and heritages into their design process. Why do you think it is so particularly important to you?
Sandeep Khosla: India is our Eternal Muse. She inspires, regenerates and resurrects us. Her magnificent history, culture, soul and spirit breathes new life into us and our work. She is the very DNA of our Design. Our work is a Celebration of Life. And of India.
We have an unsurpassed arts and crafts legacy. We are the only country where that which was made centuries ago is still possible to make today.  We still have the artisans, and knowledge of every technique. It is this wealth we must safeguard and build upon. Our mission is to revive, regenerate and reinvent craftsmanship and gives it new expression, form and relevance in today's world and for the future.
Luxe Society Asia: Can you introduce to us one of your personal favourite traditional Indian craftwork?
Sandeep Khosla: Chikankari holds an extremely special place in our hearts and work. This embroidery that originated in Mughal era Lucknow in the eighteenth century and was worn by Nobility and Aristocracy was a lost art post-Independence. The 1980s saw the once regal craft gradually dwindle until the 1980s when it became crude, mass market, casual wear.
A visit to Lucknow became an artistic raison d'etre. Chikankari seduced our senses and set fire to our imagination. We were compelled to follow our hearts and elevate it not merely back to its original avatar but to set a new standard and make it the most coveted of couture.
Our work with Chikan is testament to our love for the finest, an ode to magnificent artisans and ultimately to the spirit of India at her impossibly beautiful best. It is a story that reveals the infinite potential of this land and its people. One that must be told if each one of us is to dedicate ourselves to the preservation and regeneration of that Beauty and to dreaming bigger. 25 years of working with Chikan has been a passionate romance. One that will be Eternal.
 Luxe Society Asia: Tell us more about this trunk show happening on the 20th of September.
Sandeep Khosla: We had a wonderful showing in Singapore with The Silk Root last year with our Diffusion label, ASAL BY ABU SANDEEP. It was a pleasure working with Shikha and Meeta.
This year we wanted to bring a very special collection of our three labels to Singapore. To share The House of Abu Jani Sandeep Khosla with an eclectic, discerning and hugely style savvy audience. We work in Couture, Diffusion and Westernwear. This event will showcase multiple expressions and moods. Its a glimpse into our creative souls as much as it is a showing of ensembles.
We are super excited to be here.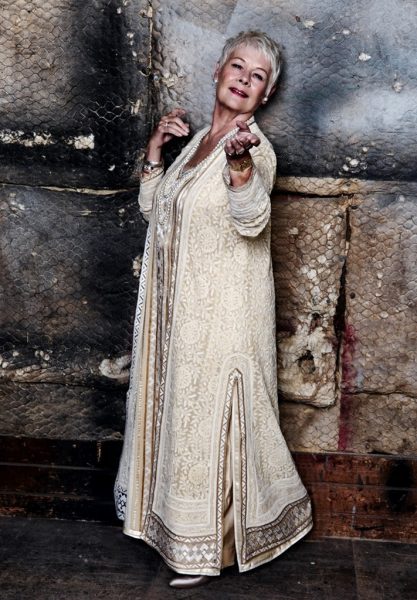 Luxe Society Asia: Having international stars like Beyonce, Carrie Underwood and Gwen Stefani adorning your designs, how was it like for you?
Sandeep Khosla: For us every woman and man we dress is a star. But yes we are huge fans of iconic women and their immense gifts of talent and divalicious presence. So it's thrilling to see them in our creations. Whether it is Dame Judi Dench(pictured above) or rockstars like Beyonce, JLo, Gwen Stefani or Carrie Underwood, it's a huge high as we are their fans too.
Luxe Society Asia: Setting up a fashion brand can be really tough and many individuals choose to ease their way slowly with freelance opportunities first. Do you have any experience in freelancing? If so, what was the toughest obstacle you had to go through?
Sandeep Khosla: We were extraordinarily blessed to begin our brand in 1986 as two young men with very little financial investment and no formal training in design. Before we even opened our first boutique 'Mata Hari' our collection was featured as a cover story and spread in the city's leading magazine, Bombay magazine. And it just snowballed from then on. In a hugely organic way. There was no social media or insta stars in the 80s. It was a time when your work had to speak for itself.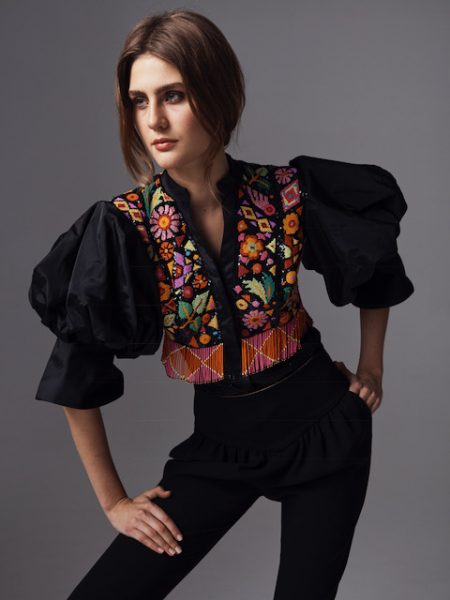 Luxe Society Asia: The fashion industry contains many talented individuals trying to achieve a successful career. In your perspective, what separates a normal potential job candidate and an extraordinary one?
Sandeep Khosla: An absolutely original eye. That translates into original design. And an unswerving commitment and sense of self-belief to remain true to one's own sensibilities and expression.
An attitude of whatever it takes. Blood, sweat and tears!
Luxe Society Asia: Moving forward, what's up and coming for the brand?02
Sandeep Khosla: We have big plans. Even after 32 years in the industry, we are more driven and more hungry than we were as newbies. Always learning, always striving to up our creative game.
We are looking at major horizontal and vertical expansion across international geographies.