Loro Piana Spring/Summer 2019 White Sole Shoes
Open Walk and Summer Walk are Loro Piana's iconic shoes, originally designed for sailing, but perfectly adapted to the city. They were created as a stylish accessory for sporty spirits who are passionate about sailing and rapidly became popular for their comfort, lightness and clean yet original shape. The result is a casual yet versatile shoe, the perfect finishing touch for casual outfits but also ideal with formal wear.
Open Walk
Loro Piana's Open Walk are ultra soft ankle boots without laces. Their distinguishing feature is their patented opening with concealed elastic that makes them easy to slip on in one quick movement. They envelop the foot and provide complete support. They are crafted from suede with a water-repellent finish and are available both lined and unlined, for maximum versatility throughout the year.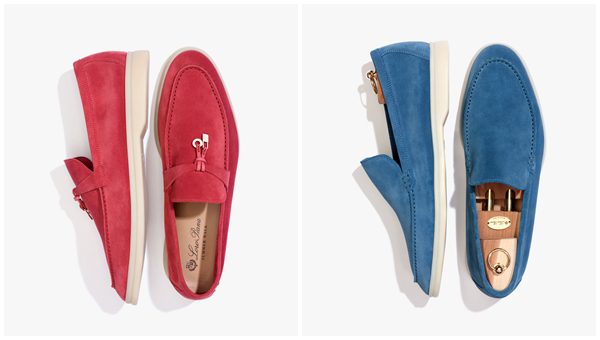 Summer Walk
Loro Piana's Summer Walk are ultra soft, light moccasins that have been lovingly crafted by hand, using years of knowhow, to guarantee maximum comfort. They were designed to be worn on the Loro Piana Superyacht, "My Song". They are made from unlined suede, making them ideal for the summer. They are perfect for sailing, but equally chic for travelling and for life in the city.
The distinguishing detail of both models is their white sole, a real giveaway of their nautical origins. White soles do not leave marks on the wooden decks of sailing yachts and are a typical feature of sailors' shoes. But it's not just their colour that makes the sole of our Open and Summer Walk shoes special. Their light transparency is obtained thanks to an exceptional blend of natural rubber and technical products that give the shoe stability and grip. The blend is exclusive to Loro Piana and the colour of items may vary slightly, making each shoe unique.
Flexibility and comfort are guaranteed by the sole's reduced sensitivity to changes in temperature: it does not contract in the cold, nor lose its shape in extreme heat. Other original details are the anti-slip effect, achieved by the repeat pattern of the Loro Piana initials on the sole and a space on the heel for writing the owner's name, inspired by sailors who place all their shoes in large baskets and are then able to recognise their own thanks to this simple trick.
Men's and women's Open and Summer Walk shoes are included in their customisation service, available in Loro Piana stores.