Shiseido Professional Honours the Best in Hairdressing Industry at the Beauty Innovator Award 2018/19
Marking the sixth edition of Asia's largest annual photographic hairdressing awards show of its kind, Shiseido Professional Beauty Innovator Award 2018/19, Shiseido Professional celebrated its awards ceremony at the little red dot, bringing hair, makeup and local fashion to live at Singapore Wine Vault.
Themed "City Instinct", this year's Beauty Innovator Award unifies Shiseido Professional's rich Japanese heritage with modern beauty through the bustling Tokyo city hub of Shibuya. The runway featured Tokyo's iconic landmark; Shibuya crossing; touted as the world's busiest street crossing. It epitomizes both Japan's city landscape and the "URBAN Jungle" theme, creating an UNTAME RUNWAY, breaking free from uniform methods.
More than just a hair show, Shiseido Professional Beauty Innovator Award 2018/19 showcased the Asian cross-culture, colours, textures, beauty and style. With a rich and vibrant history of creating and inspiring beauty, Shiseido Professional created an unprecedented fashion style runway that transcends the rest, with trends of fashion, hair and makeup culminated into one amazing show choreographed by Jerome Awasthi, a renowned Singaporean show producer who has worked with many international fashion brands.
All distinguished guests had a sensational night with the live styling of Shiseido Professional's Singapore Artistic Ambassadors and live make-up of NARS Singapore Lead Artist & Trainer, Julyen Loo happening right before their very eyes. The fashion runway show also featured young budding fashion designers; Wai Yang and Max Tan showcasing their latest collection; Collection 2018/19 and Codes Spring Summer'19 respectively. The night rise to crescendo as the Representative Director of Tricca Salon (Japan) and ambassador of Shiseido Professional Beauty Creative Team, Toshihide Mori performed a special live hair cutting and styling during the show.
Participating entries were received across Asia; Malaysia, Thailand, Singapore, Hong Kong, China, Taiwan, South Korea and Japan. The panel of grand jury constitutes of Shiseido Professional's Hair, Beauty and Fashion Top Specialists; Masa Otake, Principal of Shiseido Beauty Academy – Tadashi Harada, Principal of Shiseido Academy of Beauty and Fashion (SABFA) / Top Hair Makeup Artist – Hirofumi Kera and Yoshiko Jinguji, Top Hair & Make-up Artists – Ikuko Shindo, Hair & Make-up Artist – Masato Kanazawa, Photo Director, Creative Division – Masato Kanazawa, Shiseido's Photo Director, Creative Division, and Joji Teshigawara, Professional Photographer, and other distinguished industry professionals; Jerome Awasthi, Julyen Loo and Toshihide Mori have shortlisted the Top 10 finalists for each category; Salon Creation and Total Creation.
The night advanced to its highly anticipated moment as everyone witnessed the crowning of the Grand Prix winners of Salon Creation; salon creative hair designs that enhance colour effect, and Total Creation; innovative and creative hair designs that break away from traditional salon work norms.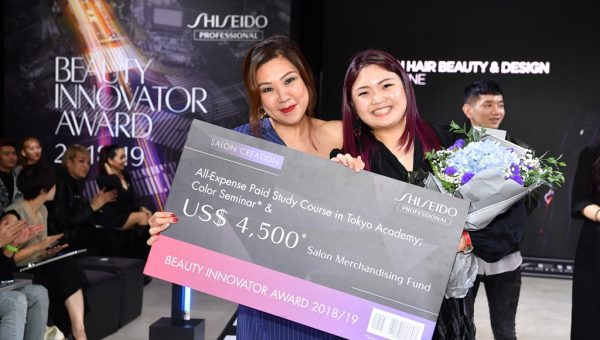 Ms Deslyn Koh from E-Jean Hair Beauty & Design was crowned the Grand Prix winner of Salon Creation with her fearless and bold techniques displayed in her masterpiece; BLOODLINE, and Mr Kenzo How from Shinka Ang Mo Kio was crowned the Grand Prix winner of Total Creation with his creative expression combining traditional and modern aspects in his showpiece; KABUKI.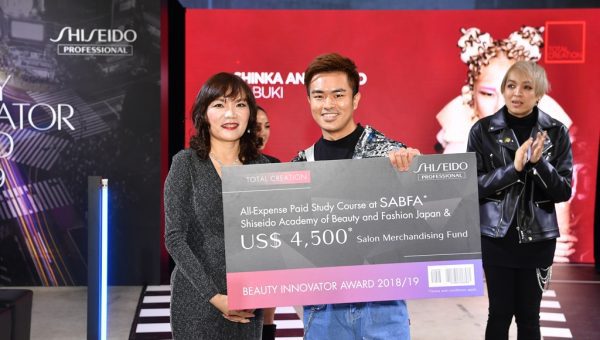 Both Grand Prix winners were invited to an all-expenses paid trip to the Beauty Congress in Tokyo, an annual event that celebrates rising stars who distinguish themselves at the Beauty Innovator Award competition, and features top Japanese and Asian creators. They will also join the winners' academy by Shiseido Professional in Japan where they will attend special seminars with Shiseido Professional's external top Japanese salons highlighting the latest Tokyo trends, techniques and services.
For more information, please visit: https://www.pro.shiseido.com