Tory Burch Sandals For Summer
Tory Burch's Pre-fall 2021 collection continues to draw inspiration from classic '70s sportswear, striking a balance between form and function in an assembly of optimistic, sophisticated and playful sandals. From pairs that exude a polished and classy air, to sandals that are festive and colourful, find your 'soul-sandal' in this collection of city and beach-friendly options, every wear an instance of confidence, empowerment and hope for every occasion and mood.

Clean, polished and almost architectural, these sandals are the answer to those who have a preference for simple lines on the foot. From the riveting Penelope Heel Sandal to the cloud-like Woven Heart Slide Sandal, sleek is offered in a variety of dressy and casual iterations, coloured in a single tone while each evoking a sense of freedom that is understated and cool.

The Tory Burch Double T logo on the Miller Knotted Sandal and Georgia Sandal adds an intricate moment of detail on the in-step while maintaining a clean placement on the foot that is easy to wear and easy to look at.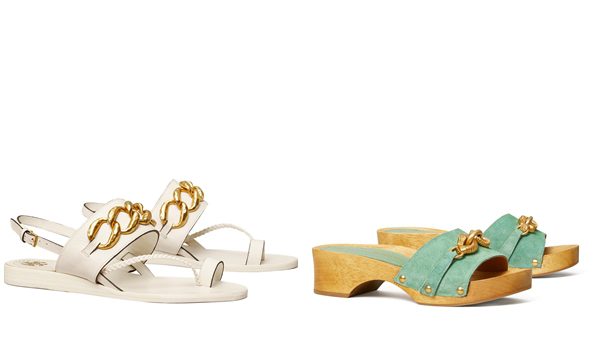 Casual Glamour
Think of poolside tanning sessions and cocktails after a casual grocery store run. These sandals cleverly hint at a sense of glamour while maintaining a relaxed composure, embellishing the classic double-strap sandal silhouette with a medium phrase of gold chains, exotic skin and a printed scarf. The Jessa Clog Sandal is coloured in a Periwinkle blue, presenting a smaller line of chains that sit on top of a thick suede strap, offering just the right amount of textural detail to elevate any casual tee and denim combination.


Bold and Playful
For the more adventurous, the Pre-fall 2021 collection offers a diverse catering of sandals made for personalities who have a palette for play – this includes a mix of boho-chic, sporty, luxurious and cute. The Basketweave Espadrille interprets Tory's continued focus on artisanal homespun craftsmanship on an elegant, Spartan-esque pair of flats, while the Sport Sandal's contrasting colours are youthful and energetic. The Ring Mid Heel marries gold rings and straps of exotic skin in a sensual silhouette, while the Cherry Sandal is a charming pair that speaks with light and joy, a sandal for those who can appreciate a sweeter turn of the summer breeze.