Bali's Newest Luxury Property, AYANA Segara Bali set to open 5 November
AYANA Hotels is set to open its newest contemporary design hotel property in Bali.

AYANA Segara Bali is the brands' fourth AYANA property inside the 90-hectare integrated AYANA estate luxury community in Jimabaran.

Designed by award-winning design firm WATG, the firm behind the stunning design of AYANA properties in Bali and Komodo, the 205-room hotel introduces a contemporary twist to the legendary Balinese-inspired AYANA experience evoking modern and simple aesthetic.

Intricate wood carvings can be seen in the lobby of the hotel to create a welcoming oasis of calm. A kamasan painting—a traditional painting from the village of Klungkung in Bali—can be seen within the ceiling, taking guests on a virtual journey of Balinese epic wayang story. The identical kamasan painting can also be seen gracing the ceiling of AYANA Resort Bali, uniquely linking both hotels, providing an unparalleled classic luxurious retreat.

The Balinese-inspired interiors of the rooms and restaurants are designed by Yasuhiro Koichi, the founder of SPIN Design Studio, who also designed the famed Rock Bar, AYANA Segara Bali features 205 modern and elegant guest rooms and suites. Each room offers indoor-outdoor spaces with floor-to-ceiling framed windows that invite the cool breeze of the Indian Ocean, with private balconies or terraces complete with daybeds to immerse in the view. The contemporary design and modern lines of the room interiors are accentuated with rich materials, a celebration of the Balinese local craftsmanship. Each room comes with a luxury living space, dining areas and a large walk-in wardrobe, while bathrooms are opulent with oversized oval bathtubs and marble rain showers.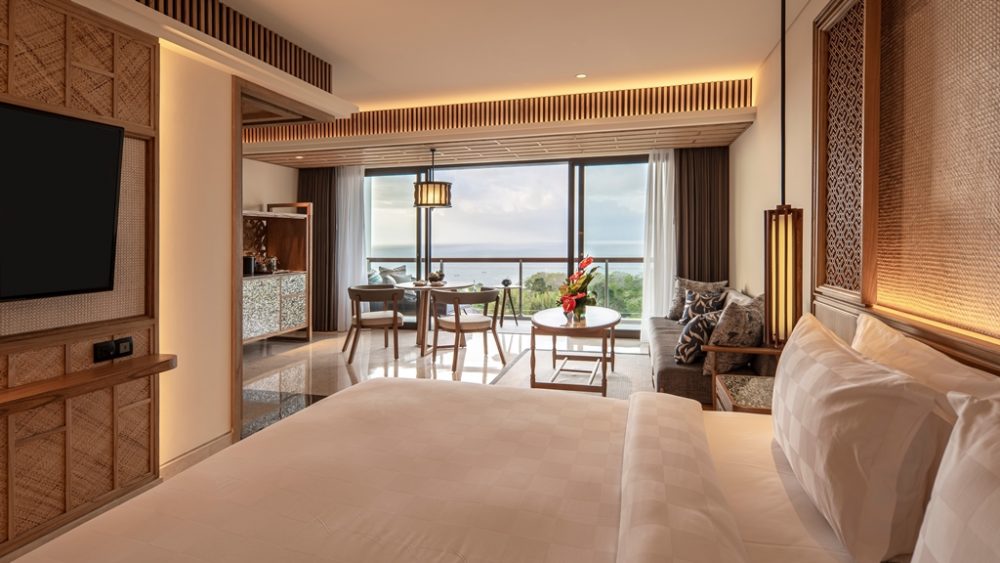 Satisfy your palate with the three restaurants available starting at Karang, 194 seat all day dining restaurant offing a menu of Pan-Asian, local and western breakfast buffets and comfort tapas-style plates of Chinese and Italian cuisine. The place comes with a bar that will double as the pool bar for day time and a full-service bar during lunch and dinner. Mediterranean restaurant, Medi, offers a wide variety of fresh salads, pasta and seafood along with a wine list highlighting the best Mediterranean white and red wines with some exclusive wines from Italian and Spanish boutique vineyards.

Situated at the top of AYANA Segara Bali, Luna is where to witness the most spectacular sunset. It offers contemporary dishes using fresh local ingredients available from AYANA Farm – a pure farm-to-table experience. Savour dishes such as salmon poke bowl sriracha and Indonesian favorites: Jimbaran-style jagung bakar, and mie goreng kaki lima. During the sunset, Luna offers a selection of Mediterranean and local tapas-style menus, focusing on flavor and freshness, such as gambas à la plancha, ceviche, and antipasto.
Situated above the AYANA Segara Bali, the new open-air function space Vista provides guests with panoramic views of the pristine Jimbaran Bay area and is suitable for elegant wedding receptions, and innovative MICE. The new space is adding the current 15 other unique event and function spaces spread across the AYANA Estate. The world-class 22,000 square meters' destination spa, AYANA Spa, which offers pure Thalassotherapy, the therapeutic use of seawater and marine products, at one of the world's largest Aquatonic Seawater therapy pools to promote health, wellness, and beauty is one step away from AYANA Segara Bali,


The new AYANA Segara Bali brings an indoor-outdoor concept that blends the spacious living areas of modern architecture with an expansive panoramic view of Jimbaran Bay and the Indian Ocean, the lush AYANA Estate forest, and the sounds of nature. A place where the forest meets the ocean, AYANA Segara Bali brings an immersive experience harmonious with nature, a concept and guiding principle of AYANA inspired by the Balinese philosophy of Tri Hita Karana. A combination of building design, intricate Balinese-inspired traditional ornaments and the stellar view of the surroundings, AYANA Segara Bali pays homage to its location and transports guests into a culmination of tranquil, comforting, and modern, slow-living Bali luxury life.

To celebrate the opening of AYANA Segara Bali, enjoy an exclusive offer of 25% off on room only and a room with daily breakfast for a stay from November 5, 2022 till March 31, 2023. Enjoy 10% off for in-room spa treatments and Spa on The Rock treatments by the award-winning AYANA Spa; complimentary 1-hour Thalassotherapy for two people per room for booking with a minimum of two-night stay; and 10% off for food and beverages in 22 dining destinations in AYANA Estate, including Rock Bar including a 30-minute photoshoot taken by AXIOO's pro photographer and five complimentary printed photos.

AYANA Segara Bali reservations are now open, booking can be made online and enter the booking code: SEGARA to enjoy the opening offer.

AYANA Segara Bali
Jalan Karang Mas Sejahtera, Jimbaran, Bali, Indonesia
Website