The Fullerton Hotels and Resorts makes its foray in Hong Kong with the Opening of The Fullerton Ocean Park Hotel Hong Kong
Taking inspiration from the stunning scenery of the South China Sea and the rich history of the neighbouring Aberdeen district, The Fullerton Ocean Park Hotel Hong Kong is designed to connect with nature seamlessly, a true rarity in the urban landscape of Hong Kong.

The Fullerton Ocean Park Hotel Hong Kong, the first property of The Fullerton Hotels and Resorts in Hong Kong and the first resort in its portfolio. Staying true to the hallmark of the brand, the hotel design evokes tranquillity with a relaxing ambience whilst upholding heritage, respect for local culture, elegance and luxury the Fullerton brand is known for.

Internationally-acclaimed architectural firm Aedas – responsible for the revitalization of iconic edifices in Hong Kong's Central district – designed the hotel's mesmerising glass facade. The curved, flowing design of the twin towers and cascading podium with rolling waves in marine tones, echoes the beauty of the sea, giving the hotel a timeless and elegant aura.


The Fullerton Ocean Park Hotel Hong Kong experience begins with a dramatic sense of arrival. Steep hills and lush greenery frame the entrance, with warm-coloured timber portals marking the hotel's drop-off point. The first floor, which includes the reception area and two of the hotel's dining concepts, was designed to create a sense of home. Nature-inspired materials in warm tones and lush, tropical foliage are integral in this iconic space, designed as the hotel's "living room." The Lighthouse Lounge features a 7.3m-high ceiling and panoramic view of the South China Sea, effortlessly blending the boundless expanse of the ocean. Handmade sisal-like rugs add a natural touch, tied-in by nautical-themed throw pillows.

The journey of discovery marches into a curated immersion on the second floor, where Jade, a Cantonese fine-dining restaurant originating from The Fullerton Hotel Singapore, and Satay Inn, a Singaporean dining concept are located.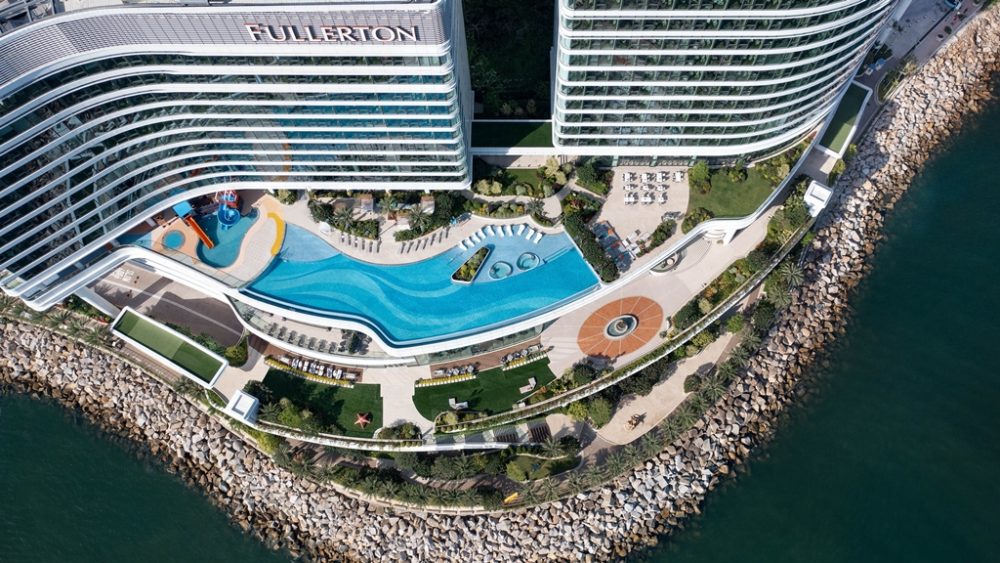 On the third floor, a strong nature theme pervades the "garden of re-creation". This level features pools spanning the length of the podium, The Pavilion, The Conservatory and The Courtyard. Guests are enticed into a world of sculptured landscapes, relaxed glamour and grand seaside resort vibes.

Indoor and outdoor space merge seamlessly at The Fullerton Ocean Park Hotel Hong Kong, evoking the feel of being in a tropical paradise. The multi-layered outdoor podium offers a distinct experience at every level – a seaside walkway for nature-lovers to bask in a leisurely stroll; a spacious lawn decked with swing seats, paddle cars and marine-themed playground installations; as well as an infinity pool and kids' lagoon for families to relax and unwind.

From the outdoor terrace and fountain courtyard to the lift lobbies, corridors, and guest rooms, guests can enjoy facets of nature with her handpicked selection of contemporary lighting installations, bespoke furniture, art and accessories.

The outdoor terrace is the perfect escape with a sophisticated yet laidback vibe, featuring two hanging sofa swings and cushioned lounge chairs to create an idyllic spot for relaxation amongst nature. Inside the guest rooms, the curved silhouettes of the dining tables and chairs bring a softness to the space, resulting in an elegantly streamlined aesthetic. A collection of thoughtfully designed and curated artwork, accessories and books are on display, an homage to Hong Kong's design heritage, history and nearby marine life.

For more details, please visit Website