The Sanchaya Spearheads Creative Program for Emerging Talent
Natalya Pavchinskaya has a fierce devotion to the arts, which she brings to her luxury estate, The Sanchaya. The entrepreneur spent many years surrounded by spectacular photographers, artists and creative visionaries, from which she drew inspiration to conceptualise the stylish property in Bintan. With a vision to merge these two worlds, The Sanchaya has served as a platform for emerging creatives, bringing together artists, film producers, musicians, fashion designers, photographers and others who have used the inspiring grounds as a blank canvas from which to spark fresh ideas, perform, host events or develop installations.
In collaboration with one of the most prominent contemporary artists in Southeast Asia, Kumari Nahappan, The Sanchaya have unveiled their latest installation this month, "The Guardian Angel," which aims to inspire a fresh wave of creativity and individualism. Due to its exotic beauty, sparse supply and high demand, the pineapple's reputation as a status symbol was quickly solidified among the European court, and in the American and Asian colonies; to have a pineapple adorn a dining table for an important social event was seen as a way for a hostess to honour her guests. Taking a fresh perspective on this classical symbol of hospitality and friendship, The Guardian Angel is a 2.5m tall pearl white pineapple that welcomes guests on arrival and invites them to explore the boundaries of their imagination, paying homage to the spirituality felt throughout the estate.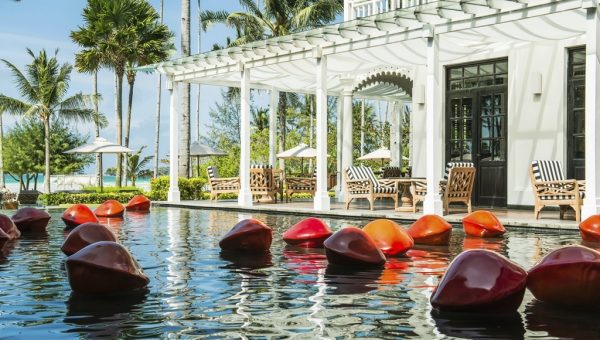 The pineapple joins another permanent installation by Nahappan, the striking red Saga Seeds, which are dotted throughout the already stylish estate. The 30 magical giant red fiberglass seeds were initially discovered at the Venice Biennale's ANIMA MUNDI International Arts Festival floating down the Rio di Santa Caterina canal, before washing up on the sandy white shores of Bintan, ebbing and flowing across more than 20 different bodies of water on their way. Representing growth, life, strength and hope, the seeds contain potential energy.
In addition to the installations, The Sanchaya has opened up to various other art forms this year by completing its first artist in residence program, holding a film investment summit earlier this year, in collaboration with S'Ya, Xeitgeist Entertainment Group and Goalpost Pictures Australia as well as inviting a top classical musician such as London-based artist and illustrator – Charlotte Ager and internationally acclaimed violinist – Igor Yuzefovich, to perform.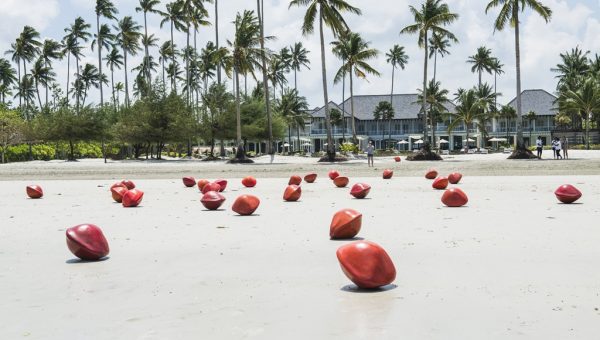 Natalya Pavchinskaya, Founder of The Sanchaya, says: "I felt it only natural to bring the two things I'm most passionate about together – the arts and The Sanchaya. Bintan is a tranquil respite from the city, yet is so easily accessible for international travellers, so we've really enjoyed using the estate as a convenient hub from which to amplify the global film and arts scene".
For more information about The Sanchaya, please visit www.thesanchaya.com.