REVIEW: The Slate Phuket: A naturalistic, artistic luxury resort that focuses on creating memorable experiences!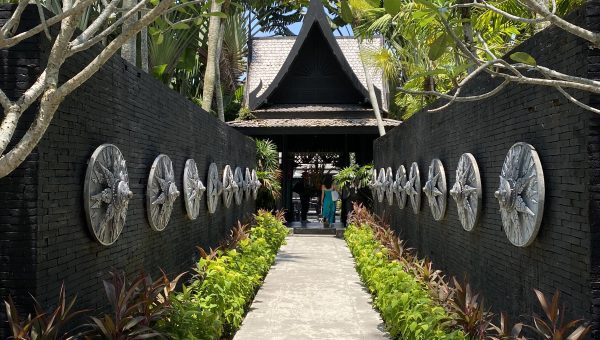 CONTENT: Yiew Kai Jie
As countries start to open up and countries are resuming air travel plans without the need for applying for pesky travel passes and doing persistent PCR testing, Thailand has become one of those countries alongside Singapore to have removed all COVID restrictions for travellers! Given the close proximity between the two countries, the land of smiles is undoubtedly one of the top destinations for many Singaporeans looking for a quick weekend getaway! One such resort opened since 2016, located on Thailand's largest island, The Slate Phuket aims to give its guests an experience like no other with its luxurious rooms, the harmonious union of architecture and history and mouth-watering Thai cuisine at its world-famous restaurant, Black Ginger!
Conceptualised by Miss Krystal Prakaikaew Na-Ranong and her father, who has a long family history of operating in the hospitality sector in Thailand, decided to base the overall aesthetic look of The Slate based on Phuket's rich history of its heydays in the tin mining industry. Collaborating with world renowed architect Bill Bensley who has designed over 200 projects in 50 countries, The Slate combines contemporary architecture with unconventional industrial elements that works in harmony for The Slate to position itself as a modern art-focused resort with the rustic raw beauty of mother nature to ensure that there's something for every guest during their stay!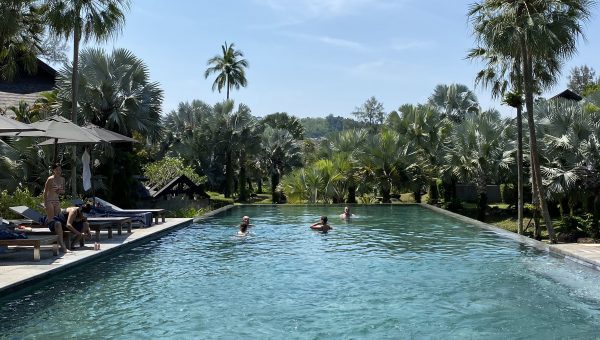 First Impressions
Upon arriving at The Slate, the rustic steampunk look of the resort is all but apparent for all to see, with the ever-attentive staff waiting to welcome us with refreshments and make the check-in process as swift as possible! The resort itself has three different swimming pools for different kind of guests: there's the Lagoon Pool that takes its inspiration from a shallow oasis- perfect for parents to waddle in the waters with their kids! The Snake Skin Pool at the northern end of the resort is an adults only pool where guests can relax in serenity and peace while taking advantage of the photo opportunity with a fantastic background view of the garden below!  Lastly the Pulley Pool is also an adults only pool where guests are able to swim in the two metre deep pool and kick back with a cocktail or two at the built in bar in the pool!
A full suite of services and activities will be made available for guests of all ages to ensure that they will be entertained and will be able to fulfill their every whim during their stay at The Slate!
Adults can opt for a daily morning workout at the Ondigo gym that involves Yoga, Pilates and Muay Thai to get themselves pumped for the day ahead! Daily outdoor family activities such as Archery and Badminton are also available at 5pm daily and diving activities are also available at the Sea Bee Diving Centre from 10am to 5pm! There are also a wide variety of activities from origami to traditional batik painting catered just for kids at the Tin Box Kids Club from 10am to 4pm daily! Lastly, guests can simply leave the resort and take a walk down Nai Yang Beach to take a dip in the crystal clear waters or simply enjoy a cold drink and take in the views!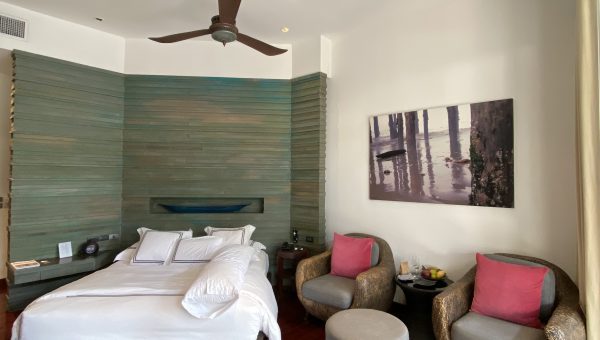 Luxurious Suites and Villas
With a total of nine different types of designer suites such as the Pearl Shell Suites and sanctuary villas such as the Private Pool Villas and the one-of-a-kind Bensley Suite, The Slate has a room that caters to all types of guests! We had the opportunity to stay in one of the 35 exclusive Private Pool Suites that came with an extremely comfortable king-sized bed with a custom pillow menu that allowed us to choose from a variety of different pillows for a comfortable night's sleep! The bathroom design in the suite also reflects the unique rustic-modern design at The Slate by using old-fashioned taps for the sinks and rain shower that were commonly used in the old tin mines that gives off a steampunk-chic feel to the room!
Outside on the patio, we just could not resist the tempting allure of the private pool to take a quick swim and lounged around in the patio chairs to get a good suntan going! Afterwards we made ourselves a nice drink from the fully stocked mini bar and prepared a bubble bath for ourselves in the oversized outdoor bathtub and immersed in the natural sounds of nature outside- who needs an alarm clock when you can be woken up by the sounds of birds chirping?
Epicurean feasts at every corner
There are a plethora of restaurants, cafes and bars at the resort for guests to dine in such as The Tin Mine– the main restaurant where guests can enjoy classic Thai and Western dishes and celebrate the return of a self-serving breakfast buffet! The Rivet specializes solely on western cuisine such as grilled meats and fresh seafood, while Rebar focuses on craft cocktails with a bird's eye view of the resort and the Tongkah Tin Syndicate is an artisanal bar that has a pool table with exclusive happy hour promotions and rare whiskies for guests to unwind as sunset comes around and nighttime comes around!
But the crown jewel has got to be The Black Ginger Restaurant, a world-class restaurant housed in a traditional Thai mansion that is situated in the middle of a lagoon whose architecture incorporates modern designs that plays off well with the traditional elements! Our team had the chance to be treated like royalty as the only way to get to the restaurant is via a floating raft that the resort's staff operate by physically operating a rope pulley system across the lagoon! Helmed by Sous Chef Anongrat Meklai, or Chef Piak as she's more commonly known by, she has over 35 years of experience of cooking experience and excels keeping her dishes traditional and simplistic while bringing out the best flavours of the ingredients and ensuring that everything blends into a holistic mouth-watering dish! It is due to the perfect unity breathtaking architecture and flavoursome food that the restaurant earned itself an honourable mention on The Michelin Guide 2021 and 2022!
Some of the restaurant's signature dishes include Gaeng Pou Bai Cha Plu or Crab Meat Curry with Fragant Cha-Plu Leaves with Rice Noodles! The Moo Hong, Phuket's version of a oriental stewed pork belly. Goong Makham or Prawns braised with sweet and sour tamarind sauce. Guests can then finish the Black Ginger experience on a sweet note with their signature dessert: Bua Loy Mar Praow Orn or Rice Flour Dumplings with Creamy Coconut Milk and coconut flesh!
Just a heads up to our readers: Reservations must be made in advance as the restaurant is fully booked out for the next few months!
VIBRATIONS- A celebration of art and music
To celebrate the end of COVID restrictions in Thailand and to offer an alternative water-free celebration of music and art to guests and inspirational artists staying at The State, the inaugural VIBRATIONS event took place over the Songkran weekend on the 16th-17th of April! With the main theme focusing on an Amazonia theme that is a celebration of everything South American, the event kick started with a live music concert with fiery latin music and an area for guests to pose and take pictures with rare birds!
Soon after we were treated to a live painting session by Trey Hurst, a Bangkok-based visual artist and designer that showcased his unique brushwork to create architecture-based art that were sold off during the night's celebrations of which part of the proceeds were donated to charitable causes!
Apart from the singing, street dancing and Michael Jackson impressions done by Junkyard Theatre to bedazzle the audience, we were then treated to an extravagant buffet dinner with an extensive selection of freshly-cooked meats and seafood while sipping on cocktails with a front-row view of the stars until midnight!
After a good night's sleep, the VIBRATIONS event continued on with a wholesome four hour Legendary Sunday Brunch that includes everything from sashimi, fresh oysters, wagyu beef, lobsters, foie gras with a wide variety of Thai specialties to round off the brunch!
Overall, The Slate is truly the ideal resort for everyone to visit, regardless if its for a quick weekend getaway from the city or to celebrate a honeymoon or wedding anniversary, The Slate never fails to impress its guests with its unique architecture, stellar cuisine and focus on curated experiences for guests to reminisce on!
Check out The Slate Phuket on Facebook or Instagram and visit their website to book your next unforgettable getaway now!
The Slate Phuket
Nai Yang Beach 116 Moo 1, Sakhu, Thalang, Phuket 83110,Thailand
https://www.theslatephuket.com/