2021 Festive Feasts Guide
CONTENT: Luxe Society Asia

With Christmas just a few days away, this means everyone is getting on the Christmas spirit. Most of you might already be busy buying gifts for our friends and loved ones, planning last minute end-of-year holiday but have you made your reservations at your favourite restaurants before it is fully booked? (some places are already fully booked)
We've gathered our recommended list of places for you to check out for your Christmas feast – now that social gatherings in group of five is allowed, there's more reason for you to head-out and bundle up with your friends and family and enjoy the wonderful Christmas.


665°F, Andaz Singapore

Celebrate Christmas at Andaz Singapore's 665°F premium steakhouse restaurant.
Prepared using the finest of ingredients across the realms of surf and turf enjoy your Christmas Eve or Christmas Day lunch or dinner with their seven-course menu (S$168). Enjoy appetisers including a Fine de Claire Oyster with Prosecco granite; Jerusalem Artichoke Veloute; as well as mouth-watering mains such as the A4 Kagoshima Wagyu Sirloin or the Patagonian Toothfish.
Reservations can be made online 


SE7ENTH, Oakwood Premier AMTD Singapore

Have a merry dining experiences in festive splendour at Oakwood Premier AMTD Singapore's contemporary dining restaurant SE7ENTH.

Enjoy a luscious festive menu curated by Executive Chef Gary Lim, such as the festive highlight – Bacon- Chicken Roulade, wrapped with decadent strips of bacon and slow-roasted to a bundle of rich layered flavours, the tender chicken thigh encasing creamy turkey mousse, is delicately drizzled with turkey jus and served with sublime festive trimmings such as butter-glazed Brussels sprouts with raspberries, and sweet potato and marshmallow gratin.

Top-up for an hour-flow of house wines for S$28++ per person, or take your pick between some delightful handcrafted holiday tipples such as the fruity Berry Merry Gin (S$15++), with SoulSister Spirits Gin, raspberry syrup and tonic, or a balanced Jolly Punch (S$18++), with Hennessey VSOP, vanilla syrup, Cointreau and tonic.
Reservations can be made online or email SE7ENTH.premier-singapore@oakwood.com or call +65 6812 6050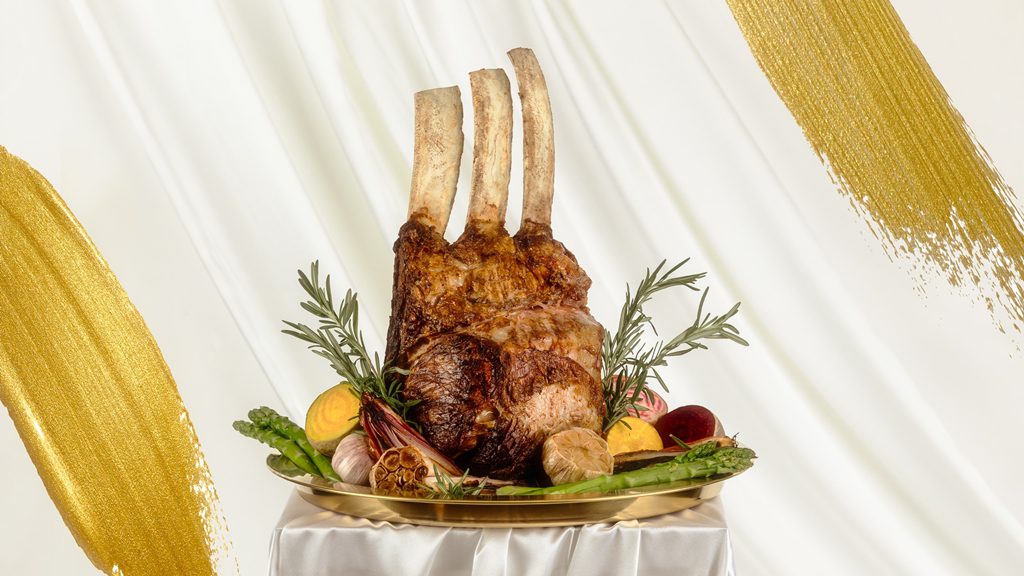 mezza9, Grand Hyatt Singapore

As Grand Hyatt Singapore celebrates its 50th anniversary this year, look forward to a grand Christmas Eve dinner or Christmas Day brunch at Grand Hyatt Singapore's mezza9, on 24 and 25 December and tantalise your taste buds with a glorious festive spread.

Look forward to distinctively-Christmas dishes including Roast Turkey, Roasted Australian Sangus Beef Rib, Honey Glazed Ham, Yarra Valley Golden Trout Caviar, plus luxurious treats like Bloody Shiraz Gin Caviar and Maine Lobster Bisque.

Reservations can be made online or call +65 6732 1234


The Cliff, Sofitel Singapore Sentosa Resort & Spa

Your annual Christmas dining tradition with your loved ones await with an Italian Christmas at The Cliff, aptly named Vigilia di Natale.

Partake in Chef Jeremy's curated festive menu using only the freshest produce and serving you only the finest luxurious dinners throughout the month of December.
From a decadent appetiser of burrata and caviar to the refreshing yet savoury uni and blood orange antipasti, and even the agnolotti – a pork filled pasta cooked to perfection with freshly shaved black truffle served right on top. End of the meal with the Manjri ginger chocolate pudding. Elevate your experience with unparalleled wine pairings to treat loved ones this festive season.

Top-up for 2 Hours Free-Flow Options from wine, beer & prosecco (S$50++ per person) or champagne (S$70++ per person)

For more information, visit Website  Reservations can be made Online


Dolce Vita, Mandarin Oriental Singapore

Have a taste of Italian Christmas at Dolce Vita this Christmas Eve, Christmas Day Brunch or Christmas Day Dinner. We would highly recommend the restaurant's Italian themed brunch (S$288 inclusive of Ruinart Blanc de Blancs Champagne, house pour wines house pour beers, cocktails, chilled juices, soft drinks) menu highlights include a myriad of Italian favourites from antipasti selections such as the Cured Wagyu beef bresaola, Roasted heirloom beetroot, handcrafted pasta and risotto, delicious mains such as Roasted Turkey, Roasted Australian beef sirloin and Pan-roasted cod fillet.

End your meal with a quintessential Italian Christmas treats such as Panettone and Cannoncini alla Crema.

For more information, visit Website, for reservations or enquiries, email mosin-dining@mohg.com or call +65 6885 3500.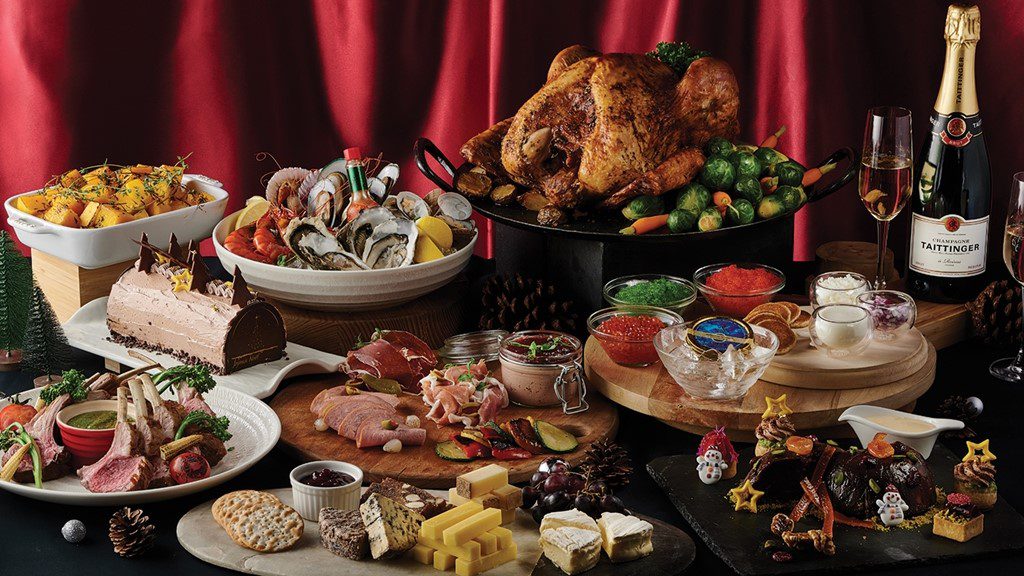 Ash & Elm, Intercontinental Singapore

Delight in a gourmet five-course Christmas Eve Dinner in the company of loved ones at Ash & Elm this yuletide season. Menu highlights feature favourites such as Norwegian Salmon Fillet, Nut-crusted Lamb Rack, and Caramel Panna Cotta with Star Anise Rum Baba.

Indulge in gourmet presentations with the Christmas Champagne and Caviar Brunch featuring highlights including Caviar served with blinis, Seafood platter comprising Boston Lobster, Irish Oysters, Chilean Scallops; Cheese Platter; Roast Turkey Breast; Beer-Braised Beef Short Ribs with Garlic Confit; Seafood Mariniere en Gratin; Baked Barramundi; and festive desserts.

For enquiries email sinhb-festive@ihg.com or call +65 6825 1131. Reservations can be made online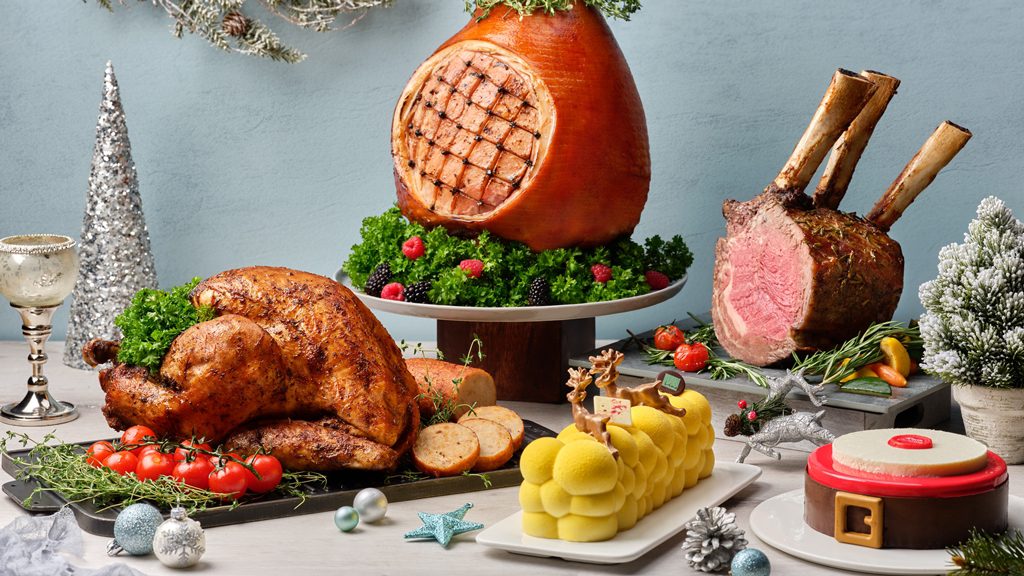 Lime Restaurant, PARKROYAL COLLECTION Pickering

Ring in the holidays with Lime Restaurant's Festive Feasts! Lime Restaurant's culinary brigade has rolled out a sumptuous spread at Lime Restaurant, which will satisfy all your festive cravings.

Tuck into hearty dishes like Roasted Salmon Fillet with Baby Potato with Salmoriglio Sauce, Red Wine Miso Glazed Pork Ribs and Honey and Citrus Glazed Ham as well as dreamy desserts like Cream Cheese Strawberry Sudachi. Come for dinner and enjoy a complimentary glass of festive drink.

On Christmas Eve, feast your way with Lime's stellar culinary line-up featuring Half Shell Scallop, Crab Remoulade Salad with Avocado Mousse and Mango Jelly, Classic Margarita Pizza and the well-loved Chocolate Passion Fruit Yule Log. Christmas Day brings an array of festive favourites such as Fresh Oysters, Wok-fried White Pepper Crab, Christmas Ham Pizza, Baked Turkey with Pineapple Shoyu Sauce and irresistible desserts such as Yoghurt Passion Apricot.

For more information, visit Website  For Reservations or Enquiries, please email dining.prsps@parkroyalcollection.com or call +65 3138 2251