Auntie's Wok and Steam Reopens with Refreshed Menu and Lunar New Year 2021 Menu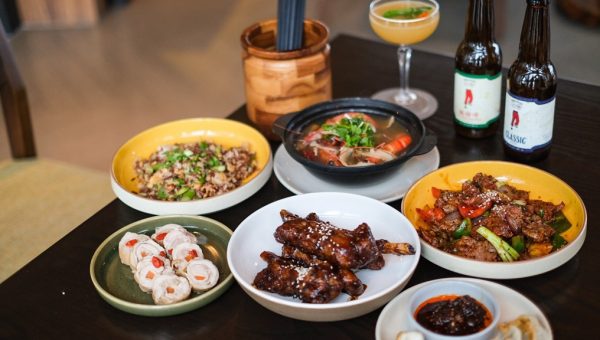 CONTENT: Seraphina Tang
IMAGE: Luxe Multimedia

Satisfy your cravings with a refreshed menu of tze char delights at the recently reopened Auntie's Wok and Steam. Tucked away on the 25th floor of Andaz Singapore, the restaurant has a veritable array of tze char dishes to savour, alongside a gorgeous city view.

With many offices in the area, Auntie's Wok and Steam now offers an affordable yet satisfying Lunch Tray Set (from S$26), consisting of one main, one side and their signature Andaz Iced Tea. Choose from dishes like their Seafood Organic Fried Rice perfumed with wokhei and fried with ingredients like tiger prawns, squid and crab meat, or the tender Wok-fried Angus Beef stir-fried in a fragrant Sarawak black pepper sauce and paired with organic jasmine rice.


For dinner, we enjoyed the Pan-fried Chicken & Chives Dumplings (S$10 for Half Dozen, S$18 for Dozen), with thin and chewy dumpling skin, crisp on the bottom and bursting with juicy filling. Paired with the addictive chilli dip on the side, this was a wonderful starter. For something a bit lighter, go for the classic appetiser of Crispy Organic Cucumber (S$9), marinated in a piquant garlic and chilli dressing.


With a focus on sustainability, a signature dish on the menu is the Rainforest Alliance Coffee Pork Ribs (S$18 / S$28), where large hunks of pork ribs are marinated with Fair Trade Rainforest Alliance Certified espresso from Bon Café, giving a more subtle coffee bitterness with a nice touch of caramelisation. Savour a taste of the sea, too, with the fresh and sustainable seafood selection on the menu: from Wok-fried Boston Lobster (S$68) in a housemade Sarawak black pepper sauce, to Steamed Garoupa (S$58) in a fiery chilli sauce. We enjoyed the Poached Herbal Prawns (SS22 / S$32), where sustainably farmed Vietnamese king prawns are cooked with Shaoxing wine and traditional Chinese herbs such as dang gui (Angelica root), yu zhu (Solomon's Seal), and ba jiao (Star Anise). Plump and fresh, the prawns were delightful paired with the savoury herbal broth that would pair well with a bowl of plain white rice.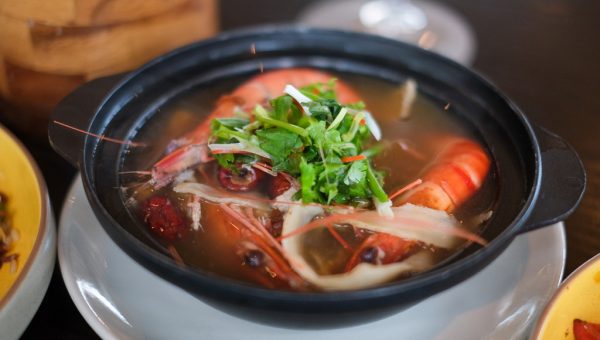 Carbs-wise, we were sold on the fragrant Crab Fried Rice (S$14 / S$22) made with organic white and brown rice and filled with chunks of crab and crunchy slices of asparagus. Each bite was perfumed with wokhei and the rice grains were not overly tough, as it sometimes is with brown rice.

End off your meal on a sweet note with traditional desserts like the Steamed Yam Paste with Coconut Cream and Gingko Nut (S$8) or Chilled Mango Sago & Pomelo (S$8). Or, go for the pretty Ice-Cream Pops (S$9) that come in Honey Passionfruit and Pulut Hitam flavours. We particularly liked the latter, with the rich coconut flavour pairing well with the light sweetness of the white chocolate crunch and bits of black glutinous rice pudding.
Lunar New Year at Andaz Singapore
From 25 January to 26 February 2021, herald in the Year of the Ox with nine new epicurean delights starting with the Andaz Healthy Yu Sheng, Auspicious Treasures Pen Cai , Fish Maw Soup, Steamed Marble Goby Fish, Ginseng-braised French Whole Chicken and more.
All items are for dine-in only and are available à la carte or as part of Auntie's Wok and Steam's eight-course Lunar New Year set menu (starting at S$128++ per person, with a minimum of four persons).


Opening Special
Visa cardholders get to enjoy 25% off when dining at Auntie's Wok and Steam. This discount is applicable for dine-in only during lunch and dinner on a la carte food and lunch sets. Lunch Tray Set Lunch is priced at S$26, Lunch Tray Set Lunch with dessert is priced at S$29.

Auntie's Wok and Steam
5 Fraser Street, Andaz Singapore Level 25, Singapore 189354
Tel: +65 6408 1288
Website 

Opening Hours
Monday to Sunday
Lunch    12:00 – 14:30
Dinner   18:00 – 22:00