Award-Winning Chef Pang Kok Keong Launches Pang's Hakka Delicacies
Staying true to his heritage, Singapore's award-winning Chef Pang Kok Keong launches Pang's Hakka Delicacies, a brand-new concept which serves delicious, authentic Hakka cuisine for take-out only.
As a Hakka himself, Chef Pang has always been very passionate to bring back the nostalgic taste of Hakka delicacies, a cuisine which he has enjoyed since young. Started out of curiosity with a passion to learn more about his heritage, Chef Pang spent the last few years on his research and development to recreate that yesteryear taste of Hakka cuisine.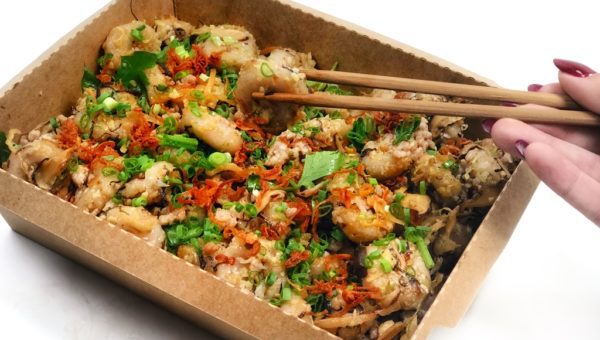 Fans of Hakka delicacies can now indulge in the traditional taste of Hakka Abacus Seeds at Pang's Hakka Delicacies. Made from premium yam from Thailand, the Hakka Abacus Seeds are individually shaped by hand. They are then boiled and sautéed with other ingredients such as premium dried shrimps, dried cuttlefish, leek, garlic, black fungus, dried mushroom, Chinese celery and fresh minced pork that are sourced daily. Lastly, the Hakka Abacus Seeds are garnished with home-fried shallots, fresh spring onion and coriander. New dishes will be introduced periodically.
Chef Pang, who is the Head Chef of Antoinette, is well-known for his wonderful creations from beautiful pastries to delicious heritage dishes with a twist. His popular creations include the well-loved Hakka Gnocchi, Hakka Noodles and his latest Orh Nee cake.
Available only for self-collection at the back alley of 30 Penhas Road, the Hakka Abacus Seeds is available in individual serving (250g) at $8, and large size (1kg) at $30.
For orders, please whatsapp +65 9021 7507.
Order Lead Time:
– 1 day in advance (before 6pm)
i.e. Monday order before 6pm for Tuesday pick up
Pick Up Timing:
– 11am to 1pm or 5pm to 7pm (unless otherwise stated on FB)
For more details or information about Pang's Hakka Delicacies, please email: hakkapang@gmail.com or visit: www.facebook.com/小彭客家菜-Pangs-Hakka-Delicacies-166226020682259/