Bib Gourmand New Ubin Seafood Opens Their Newest Outlet In Zhongshan Park With Exclusive Special Dishes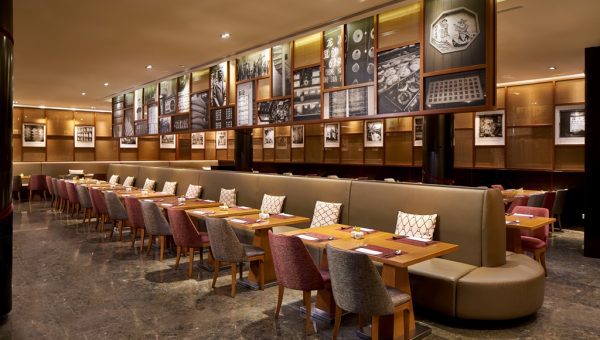 CONTENT: Michelle Ng
IMAGE: Luxe Multimedia
As the name hints, New Ubin Seafood has its origins in Pulau Ubin serving up the freshest seafood dishes. Now, the seafood restaurant has managed to keep its rustic roots with classic tze char dishes whilst still coming up with innovative dishes to keep us looking forward to going back.
The Bib Gourmand restaurant has just opened its newest outlet in Zhongshan Park, adding to the ever-growing list of good food in Balestier. While their menu offerings are largely similar to their other 2 outlets, you can expect some new dishes which can only be found New Ubin Zhongshan Park sitting in the lobby of Ramada Hotel. Guests are also allowed to bring their own wines and spirits with no extra charge if you're thinking of celebrating a little!
All time favourites Har Cheong Gai Wings and Traditional Satay are a delicious way to kick off your meal. For those who like foie gras, try the Foie Gras Egg Special where breakfast-style soft-boiled eggs complements the foie gras perfectly.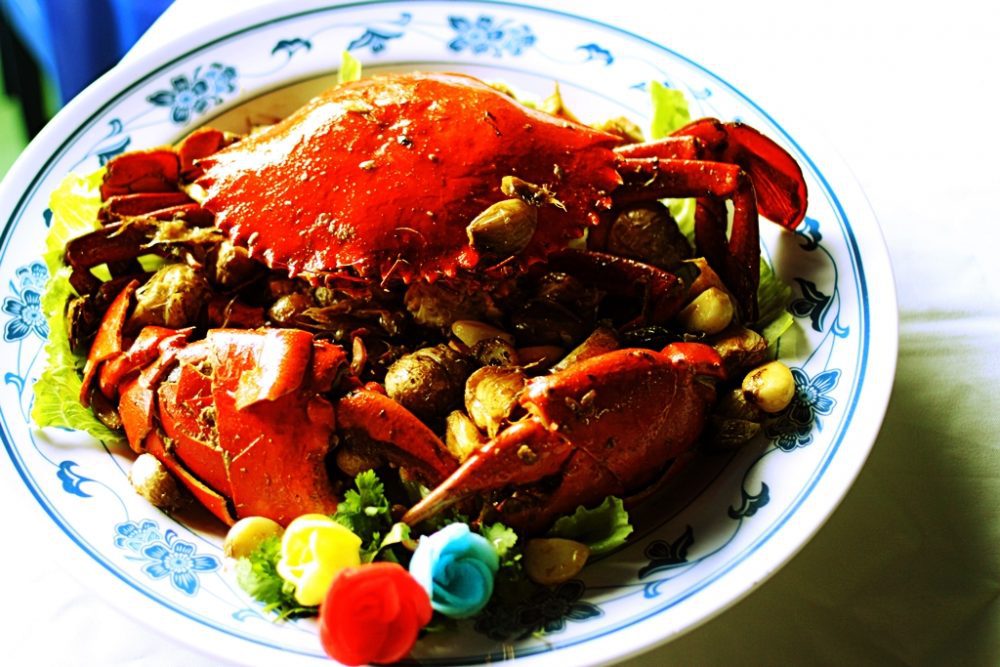 Crabs are a must for a true Singaporean seafood dinner. Crabs come in 3 sizes, 500g, 800g, and XXL, where the crabs weight more than 1kg. But if you're intending to order big crabs, it's better to call ahead as they might not have enough crabs to go round. They have the Classic Chilli Crab, an eggy, spicy crab swimming in sauce that is best paired with Deep-Fried Man Tou Buns to mop up all the left over sauce. For a less messy experience, get the Garlic Baked Crab that comes covered in crunchy, sweet garlic bits.
Other than crabs, you can also get a variety of squid, prawns, fish and mussels. Fish Head Curry and Fish Maw & Crab Meat Soup is also available for those who are craving something soupy.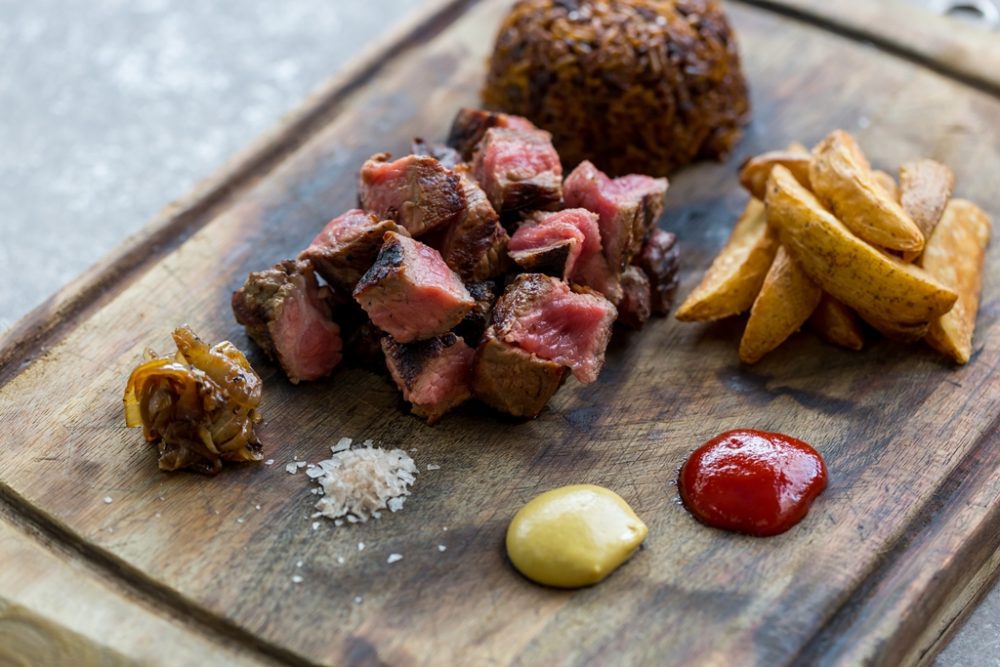 The USDA Black Angus Choice Rib-Eye meat dish that pushed New Ubin into the eyes of the culinary world is also available. The medium-rare rib eye slices is grilled to perfection that simply melts in your mouth and is bursting with flavor. Served with caramelized onions, house-smoked sea salt flakes and Idaho potato wedges, the rib-eye will win over hearts. The sea salt flakes are also a nice touch – they add a smoky taste for those who love smoky meats!
Veggie dishes are usually the sides that complement a hearty meal, but the Hong Kong Kai Lan Special won over our tastebuds. The new dish is a harmony of Hong Kong Kai Lan cooked in two different ways – the kai lan is stir fried with garlic and topped with finely-sliced and deep-friend kai lan leaves that gave the dish an extra crunch.
And as everyone who loves tze char would know, the meal wouldn't be complete without a noodles or rice dish. New Ubin offers four different fried rice combis: House-smoked pork belly, Yang Zhou style, with salted fish and bean sprouts and mixed seafood. We recommend the Heart Attack Fried Rice which comes with two fried eggs. The humble dish might look very simple, but the rice is fried in smoked beef oil, packing a powerful punch. The Hokkien Mee Special, another exclusive dish, with the stir-fried noodles cooked in a pork and prawn broth.
If you're not too stuffed from all the food, the desserts at New Ubin are definitely worth trying. The Banana Caramelised With Gula Melaka reminded us of a healthier but equally delicious version of goring pisang, and it's also served with a side of coconut ice cream. After such a heavy meal, the coconut ice cream was a much-needed cooling dish.
We're also not quite sure why Kaya On Toasted Baguette was sitting on the dessert menu, but it made for a sweet treat and would have been better as a breakfast dish or even a starter dish.
New Ubin Zhongshan Park is located at 16 Ah Hood Rd, Ramada by Wyndham Singapore at Zhongshan Park, Singapore 329982.