Burger & Lobster Celebrates Christmas with A Seasonal Menu Featuring Cranberry Lobster Roll and Venison Burger
CONTENT: Michelle Ng

Bored of turkey? Enjoy Christmas with a twist as you feast on the freshest Atlantic lobster and juicy burgers over at Burger & Lobster this Yuletide season. The culinary team behind the restaurant has whipped up a feast worthy of a celebration, and will definitely turn you into a convert (it certainly won me over!).

The Christmas menu includes season ingredients from classic Christmas dishes and infused into Burger & Lobster classics for a treat for the senses. You'll also notice that the menu also has vegetarian options so that those looking for a healthier alternative or your vegetarian friends can finally join in the festive feasting too!

For starters, choose between a Lobster and Smoked Salmon Duo, a rich cream cheese-filled tart topped with a citrus poached lobster and smoked salmon rose paired with a salmon wrapped lobster terrine, and an inventive Beetroot Tartare with Carrot 'Egg', an interesting vegetarian alternative that presents itself as a deconstructed meat patty made from beetroot and pine nuts that makes for a satisfyingly earthy yet healthy appetizer. Served alongside to start the night is the Veuve Clicquot Brut Yellow Label, one of their signature champagnes that is rich yet smooth with sweet notes that pairs well with seafood.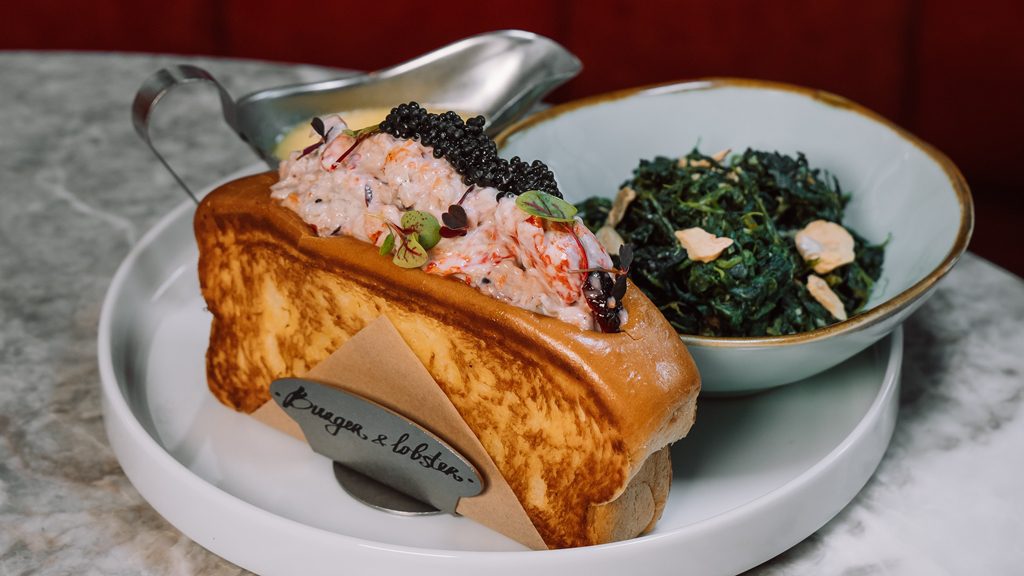 Dive into the mains, which are definitely the highlight of the night. Again, go with your whimsy with three delightful choices to pick from – the Cranberry Lobster Roll, The Venison Burger, and another vegetarian delight, The Wholesome. The Cranberry Lobster Roll is a spin on the classic Lobster Roll that comes topped with homemade cranberry mayonnaise, and half a 1.5poun lobster. We recommend going for the grilled lobster, as the charred finish really brings out the sweetness of the fresh lobster. The Venison Burger is a masterpiece made with a brioche patty filled with cranberry bits encasing a venison patty that isn't too gamey yet still packs the punch of rich venison meat. Definitely worth a try, especially for those who love trying wild game but are not a fan of strong, gamey meat.

And let's not forget The Wholesome; a hearty meat-free burger that still delivers on the delicious front with chickpeas and pea patty filled with eggplant bacon, smoked vegan cheese and seared polenta cake. It's like a buffet for the superfoods all packed into one delicious burger.


End the meal with the Blood Orange Semifreddo, a light and creamy frozen-mousse-like dessert that cleanses your palate with cut fruits and candied lemon. A nightcap in the form of an elegant Bodegas Muga Rosado is a fruity and light rose that is a balanced finish of tangy and refreshingly sweetness.


Beer lovers will want to give their Lobster Saison beer a try – a surprisingly refreshing lobster-infused beer that was created as part of the outlet's 10-year anniversary. Contrary to the name of the beer, the beer brought out the sweetness of the lobster shells that reminded of lobster bisque but without the overwhelming savouriness that might be off-putting in a beer.

The Burger & Lobster Festive Menu is available at the Raffles Hotel outlet as Christmas 2021 Sharing Menu starting from $238++ per person with three courses and two wines, and available at the Jewel Changi Airport outlet as an ala carte menu.
Burger & Lobster Raffles Hotel
328 North Bridge Road, Singapore 188719
Burger & Lobster Jewel Changi Airport
78 Airport Blvd., #05 – 203, Singapore 819666