Burlamacco Ristorante: A Bespoke Italian Brunch Experience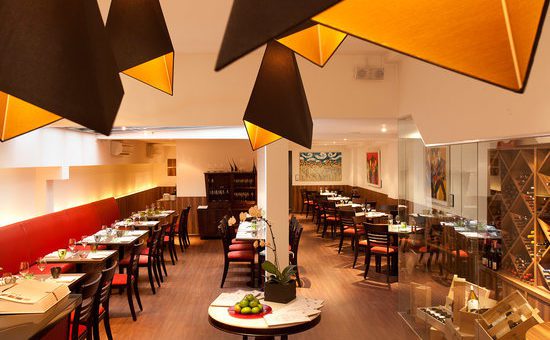 CONTENT:Yiew Kai Jie
IMAGES: Luxe Multimedia
Calling on avid fans of Italian cuisine and ladies who love themselves a good weekend brunch, sashay on to a hidden gem in the heart of Chinatown's Amoy Street, perfect for a family outing or gathering of friends. Burlamacco Ristorante now serves up the Ultimate Recovery Brunch, an Italian fiesta that satisfies all the senses every Sunday from 11:30am to 2:30pm.
For just $78++ per person, the menu showcases Chef Gabriele Piegaia's classic take on Italian cuisine for diners to indulge their brunch cravings as much as they want, alongside two hours of Prosecco and wines ($48++ food only, add $12++ for free flow soft drinks, coffee and tea). Kids can also enjoy Burlamacco's spread at $24++per child up to 12 years old. With Chef Gabriele's well-known golden rule of "what you see on the menu is what you see on the plate", guests will find a variety of homemade pasta, fresh seafood, succulent grilled meats, gelato and irresistible desserts to choose from.
The brunch menu dishes will not be fixed and can't be found on the ala carte menu. Chef Gabriele aims to concoct a omakase-style menu for his customers based on what he has on hand in the kitchen. Guests can request for special exemptions if they are have any allergies or simply have a disdain for a certain type of food.
Disclaimer: The following food review is based on what we tasted, the menu will differ for each guest.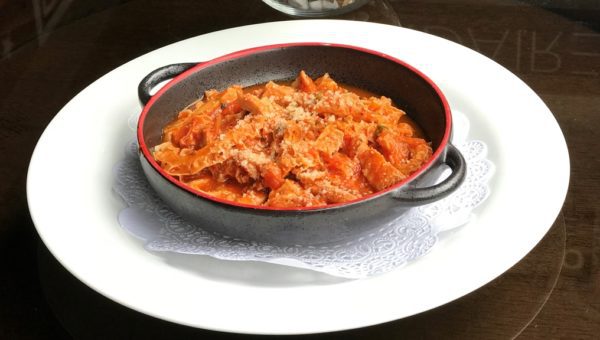 Aperitivo
Smoked Salmon with Egg– The salmon was a little too salty while the egg was slightly overcooked with a slight vinegar flavor that made it off putting, despite the taste, don't forget to whip out that camera to take a picture of that luxurious yolk following out.
Cantaloupe Melon with Ham– A very normal taste, the ham's flavour was a little too overwhelming despite being combined with the ham, it ended up overpowering the entire dish.
Beef Tripe– For those that have not tried beef tripe before, think of pig intestines, or when you eat close to the stomach part of a fish, they taste rather similar but might be off putting for the younger generations as the smell is rather strong and pungent for the unseasoned palette.
Primo
Olive and Fish Pasta– A dish for those who are on a health cleanse, the fish is excellently marinated and cooked till it's tender, with a slight spice given to the dish alongside pasta cooked to an al-dente texture.
Bolognese Pasta – The pasta is excellently cooked and the sauce is just nice not too thick or thin.The pork bits in the sauce are not hard, instead it is really tender and does not put up a fight when you bite down on them. The portion size given is extremely generous as well – although it might be too much for ladies or for one to eat, remember that sharing is always caring.
Turkey with Truffle Fries– The turkey is tender although it was a tad dry and the truffle fries are fragrant and nicely crisp, but the sauce of the turkey is rather light and unnecessary. The sauce is too light to provide any weight to the dish, the turkey is rather good on it's own without it.
Grilled Fish with Roasted Baby Potatoes– The fish breaks apart so easily when you cut it and it easily melts in your mouth when it is eaten. However, the potatoes lack flavour and seasoning and are rather bland, once again the protein is good enough to be eaten on it's own, unless the potatoes were more properly seasoned.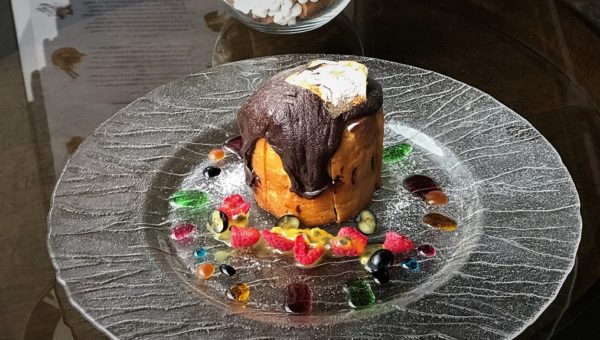 Dolce
Tiramisu Souffle -The tiramisu souffle was pretty light and sweet and wasn't very overpowering in it's taste.
Chocolate Panettone – this looked like a child had decorated it but was pretty satisfying in it's taste. To compensate for the chocolate, the bread had enough weight to compensate for the sweetness and not entirely overwhelm the entire dessert.
Chocolate Tart – This reminded me of a really flavourful brownie with a savoury ice cream. The combination of both extreme temperatures and sweetness worked in perfect harmony with each other and provided a perfect end to a long meal.
Burlamacco is located at: 77 Amoy St, Singapore 069896
For reservations please call +65 6220 1763 or book online via Chope