Celeb E-San: Authentic Thai Cuisine that Stays True to It's Roots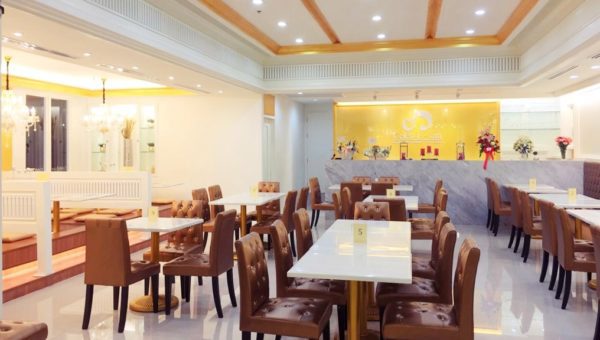 CONTENT: Yiew Kai Jie
IMAGES: Nicholas Lau for Luxe Multimedia
Located at Show DC Shopping Mall in Thailand , Celeb E-San offers up authentic Northeastern Thai cuisine, which stays true to its origins and adorned with a contemporary luxury to catch up with the changing trends in Thai cuisine, but not sacrificing the core principle of what constitutes as Thai cuisine.
The soothing and cosy atmosphere in the restaurant has been artistically designed to accommodate or host special occasions: regardless if is it a gather amongst friends or family, a business meeting or a romantic soiree with your other half! Their ingredients are brought in fresh daily, especially their fishes that are brought in daily from the markets and cooked straight from their in-house tank.
Their knowledgeable chefs meticulously inspect each fish for its size, age and even gender for their customer's specific wants as the flavour in every aspect of their dishes are influenced by its origin- that includes where and when it was sourced. Once they have selected the right ingredients, their chefs get to work at utilizing their skills in unlocking the full flavour and taste of each individual ingredient to create a classic local thai dish that appeals to modern palates. Each dish is made with tender, loving care and imbued with their special homemade sauce while accompanied with organically grown vegetables!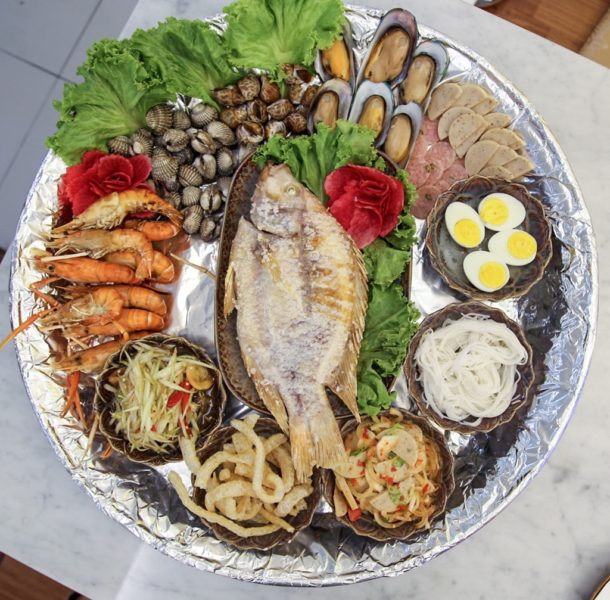 Their restaurant's signature dish, Celeb Jud Tem (available in medium, large or extra large sizes starting from 999 Baht) is a massive sharing plate that is made up of a Nile Tilapia fish that is native to Thailand and various other seafood dishes and classic Thai salads.
The fish is grilled with their special in-house charcoal grill that can be seen from even outside the restaurant, and then brushed with their special marinate. Compared to other grilled fish dishes in Thailand, this fish is stuffed with fragrant herbs that help give an aromatic flavour and smell! Once the skin is removed and the flesh is eaten, the protein alone is enough to make one scream in excitement due to the extreme tenderness of the fish and there is no extreme fishy taste or smell when you get closer to the stomach region. (Do note that the skin cannot be eaten- simply peel the skin off and consume the flesh!)
The other seafood accompanying the fish in this dish are the mussels, cockles, shrimps (larger than typical shrimps we see in Singapore) and escargots (snail). All of them are cooked and seasoned thoroughly, for an added bonus, dip it in their special seafood sauce for an added kick of flavour! For those who would not be lured in by their fish or seafood dishes, opt for their renowned Celeb Grilled Chicken with Papaya Salad served with traditional bamboo-steamed sticky rice. However, do be careful of the salads, despite their harmless demeanor, one bite and they'll set your mouth on fire because of the chilli padi used in them. I'm. Not. Kidding, watch out for this one!
The name of this dish simply means to give customers and their guests more food and symbolises generosity given by the Thai people to ensure that their customers are well fed and provide a sense of warm and inviting hospitality amongst their friends!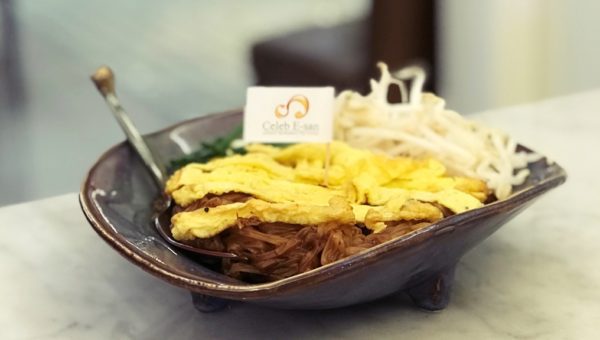 Apart from sharing platters, their main courses such as their Thai Hot Noodles in Korat Style (80 Baht) dish are not to be overlooked or underestimated. The noodles' distinct taste reminded me of a fried carrot cake that be found in any local hawker centre back in Singapore, although it can be a little bit spicy, so you might want to get a glass of milk or ice water at the ready. Placing the little strips of eggs on top a small portion of the noodles will give you the texture and mouthfeel similar to that of an actual carrot cake. Consider ordering their special Green Tea Sticky Rice and Tom Yum Soup to pair off with the dish if you're still feeling peckish.
End off the meal with their sweet treats, including a homemade "Yaa-Dong", their legendary signature ice dessert, "Celeb Phukrudueng", Mango Sticky Rice or a healthier option of a seasonal fruit platter!
Celeb E-San is located at Show DC Shopping Mall, 10110 Bangkok, Thailand
For reservations please contact: +66 63 185 6166