Celebrate Chef Daniel Boulud's Birthday this March with Four French Regional Menus at db Bistro & Oyster Bar
Embark on a gastronomic journey through France at db Bistro & Oyster Bar, as the celebrity chef restaurant presents a series of regional menus weekly (three-course; S$68++ per pax) in celebration of chef-founder Daniel Boulud's birthday. Featuring Chef Boulud's home recipes from his cookbook titled "Daniel: My French Cuisine", the series uncovers unique flavours of four French regions which have greatly influenced his culinary journey: Alsace for its rustic Franco-Germanic traditions; Normandy, whose cuisine is characterised by luxurious seafood, salty coastal lamb and world-renowned Normandy apples; Provence for its high-spirited but simple la cuisine de grand-mère (Grandma's cooking); and last but not least, Lyon, the hometown of Chef Boulud and the renowned French capital of gastronomy that converges the best of regional culinary traditions.

The month-long gourmet adventure begins with Alsace (1 to 7 March), the border town of Eastern France known to be the birthplace of tarte flambée. Commence dinner with the wild mushroom tarte flambée featuring crispy crust topped with creamy fromage blanc, fragrant sautéed mushrooms, bacon and onions, before savouring Chef Boulud's personal recipe of beer-marinated pork rack with barley mustard crust. This delicious beer-braised oven-baked dish is one of Chef Boulud's favourite dishes to serve family and friends at home. Round up the meal with the traditional Alsace delight Kougelhopf (bundt cake), studded with apricots and pistachios and served with a scoop of rum raisin ice cream.

Next, head west to explore the abundant local produce and flavours of Normandy (8 to 15 March). Whet your appetite with the velvety mussel & cauliflower velouté, saffron, white wine broth, before indulging in the magnificent garlic-studded gigot (lamb leg), a family recipe handed down through generations from Chef Boulud's grandmother, served with artichokes and watercress. For dessert, delight in the timeless tarte Normande packed with caramelised apples and sliced almonds, served with vanilla ice cream.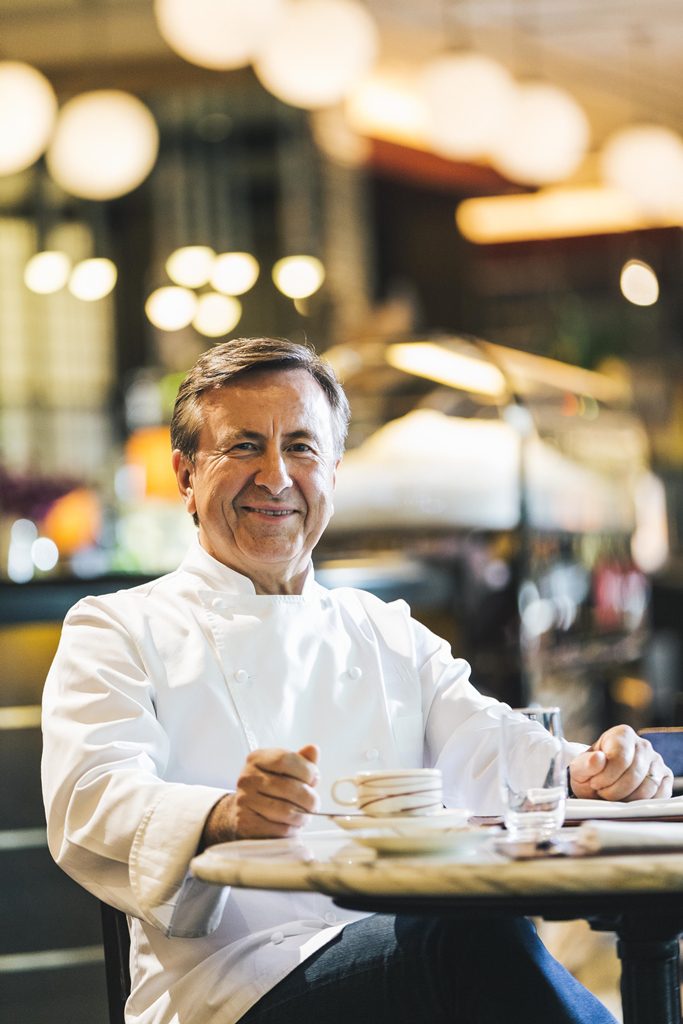 From 16 to 22 March, dive deep into the traditional cuisine of Provence, the Southern coastal city contiguous to the Mediterranean Sea. Savour the classic French grand aïoli, a silky blend of potatoes, asparagus, celery and haricot verts, before enjoying Chef Boulud's rendition of loup de mer on herbes de Provence citrus salt (sea bass on herbs and Provencal citrus salt). Unique to this home recipe is the addition of citrus zest in the salt and the accompaniment of grape sauce vierge, a nod to the late French chef Roger Vergé who often incorporated grapes or raisins in his savoury cuisine. End the meal on a sweet note with fig, pine nut & mascarpone custard tart with vanilla ice cream.

The voyage comes full circle back to Lyon (23 to 31 March), the birthplace of Chef Boulud, which also marks the beginnings of his culinary career. Start the evening with modern salade lyonnaise, leeks, lardons, oeuf mollet (Lyonnaise salad with chicken liver, leeks, bacon and soft-boiled egg) – a dish Chef Boulud once described as his "fantasy of a bouchon appetiser, a wink to the taste of the rich gateaux de fois blonds". Then, enjoy true-blue Lyonnaise cooking with the emblematic recipe of poulet À L'estragon (tarragon roasted chicken), served with fluffy rice pilaf and stewed yellow wax beans. End the meal on a sweet note with the decadent cocoa-dusted dark chocolate bombe, vanilla ice cream.

db Bistro will also be offering a course-by-course wine pairing option (S$50++ per pax) alongside these weekly menus to showcase vintages from the various regions, as well as an additional cheese course (S$15++ per pax) matched to each of the four regions for a complete gourmet experience.

For reservations please call +65 6688 8525 or visit Website