Celebrate Mid-Autumn Festival 2023 with these Must-Try Mooncakes
CONTENT: Luxe Society Asia
Celebrate Mid-Autumn Festival is celebrated with friends and families feast on the variety of baked and snow-skin mooncakes flavours from various establishments that continuously come up with unique packaging and interesting flavours  that are perfect for personal consumption or for corporate gifting to clients.
Cherry Garden at Mandarin Oriental, Singapore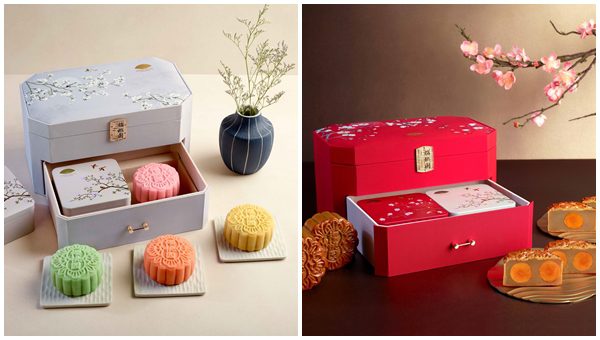 Cherry Garden at Mandarin Oriental, Singapore continues to celebrate the traditions of the time-honoured Mid-Autumn season presenting new creations of traditional baked mooncakes and snow skin gems, alongside all-time favourite classic flavours. Look forward to newly introduced creations packed with honeyed sweetness of Oriental Beauty tea or alluring notes of earl grey, to a fruity combination of lychee and pineapple. Housed in an elegant box adorned with oriental floral motifs, these delicacies are ideal for gifting and are available in sets of two or four pieces.
What we liked most:
The honeyed sweetness of the Oriental Beauty tea with its perfect blend with the fruity essence of red dates, available in both baked and snowskin selections. Those with a liking for nutty flavour can look forward to the traditional baked Low Sugar Chestnut with Cashew Nuts and Truffle, a debut creation featuring smooth chestnut filling with aromatic truffle and studded with crunchy notes of cashew nuts.
Drawing on the rich Peranakan heritage in Singapore, the Lemongrass Lotus with Ginger snow skin mooncake presents the ubiquitous ingredients in nonya cuisine with a rich silky lotus paste packed with citrusy flavour of lemongrass and ginger zest. The Lychee Pineapple with Pine Nuts is another new addition to the snow skin collection, boasting a tropical accent with delicate fruity lychee notes paired with a hint of tangy pineapple.
Order Mandarin Oriental, Cherry Garden's mooncakes at Mandarin Oriental, Singapore Hotel Lobby or online. Please call +65 6885 3500 or e-mail mosin-mooncakes@mohg.com for mooncake orders or enquiries.
Shisen Hanten by Chen Kentaro at Hilton Singapore Orchard
Michelin-starred Shisen Hanten by Chen Kentaro's mooncakes are exquisitely curated for the harmony of traditional flavours. The Signature Collection comes with their most popular classic flavours; Assorted Nuts and Jamón Ibérico and Double Yolk and White Lotus Paste are robust and full of flavours. The Macadamia Nuts and White Lotus Paste in Low Sugar and Azuki Red Bean Paste and Pine Nuts are lighter and more fragrant, and we liked that the mooncakes were not oily or overly sweet.
The Shisen Hanten Collection set of four pieces retails at $88, and the Shisen Hanten Luxury Collection at $178 comes with an additional bottle of Gusbourne Blanc de Blancs or Devaux Cuvée D Rosé – perfect for gifting family or business associates. And for those who want to try something different, the newly launched Charcoal Black Sesame Paste with Sakura Prawn, Pistachio and Melon seeds is a sweet and savoury mooncake which will definitely stand out from all your usual mooncake flavours!
Now available for purchase until 29 September 2023 by visiting Shisen Hanten by Chen Kentaro at Hilton Singapore Orchard or by calling +65 6831 6262
Swensens Singapore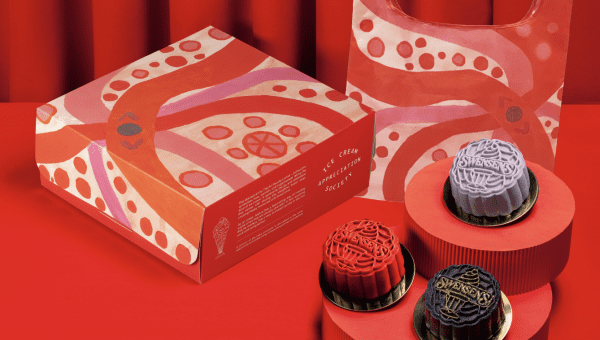 This year, celebrate the Mid Autumn Festival with your loved ones by supporting a meaningful cause. Swensens Singapore's well-loved mochi snowskin ice cream mooncakes make a comeback this year, now with new flavours and a limited edition gift set. Designed in collaboration with The Art Faculty by the Autism Resource Centre, the special gift set comprises a mooncake box and a collectible eco-friendly reusable bag. The design by Joshua Lim features vibrant red abstract motifs, symbolising the spirit and joy of the Mid Autumn Festival celebrations.
What we liked most:
From fruity to earthy, a choice of eight mooncake flavours are available. This year's signature flavour is the Mao Shan Wang ($16), featuring a luxurious black and gold skin filled with the highest grade mao shan wang durian puree. For those with sweet tooths, two new fruity flavours are available — the Strawrry ($13.50) and Lychee Rose ($13.50). The Strawrry is a decadent treat filled with bits of strawberry, encased in soft pink mochi skin. Meanwhile, the aromatic Lychee Rose is a delicate mix of sweet lychee and floral rose notes. Two new earthy flavours are available — the Ube ($13.50) and Genmaicha ($13.50). The Ube — also known as yam — is the perfect balance of earthiness, sweet and savoury filling encased in its representative purple skin. For the green tea lovers, the Genmaicha encapsulates the earthy, fragrant notes of Japanese brown rice green tea.
In addition to the five new flavours, fan favourites also make a comeback this year. Indulge in the chocolatey Sticky Chewy Chocolate ($13.50), rich Durian King ($13.50) and the staple Cookies 'n' Cream ($13.50).
The mooncakes are available from now until 29 September 2023 at all Swensen's & Earle Swensen's outlets or online.
Sanrio-themed Hello Kitty Mooncakes
Celebrate the Mid-Autumn Festival in style as the charmingly designed, highly anticipated Sanrio-themed mooncakes are making a comeback! But this year, it's not just about the beloved Hello Kitty and My Melody Characters, it's also about the unique packaging and tantalizing flavors that will make your taste buds dance!
What we liked most:
The Hello Kitty Cooler Bag Mooncake set ($98) is a must-get for mooncake and Hello Kitty fans alike. It showcases a chic Hello Kitty-themed cooler bag and, of course, four delectable flavors of baked mooncakes. Among these are the timeless classics: Classic White Lotus with Double Yolks and Pandan Lotus with Single Yolk. But that's not all. Coffee lovers are in for a treat with the Coffee Lotus Hazelnut Caramel Lava mooncake, a delightful fusion of flavors. For those with a penchant for something more adventurous, the Velvet Lotus Strawberry Lava mooncake will take your taste buds on a sweet and tangy journey.
Meanwhile, the My Melody Cooler Bag Mooncake set ($98) keeps the classics intact and introduces two new mooncake creations that are sure to captivate your senses. Prepare to be enchanted by the Chocolate Lotus Oreo Hazelnut Lava mooncake, a heavenly blend of chocolate indulgence. If you're a huge fan of matcha, the Matcha Lotus Adzuki Lava mooncake will elevate your mooncake experience to new heights. And, of course, the My Melody-themed cooler bag is the perfect accessory to complement this charming set.
Both sets are available for purchase exclusively at selected Cheers and FairPrice Xpress stores islandwide, from now until 29 September 2023, while stocks last.
AMI Patisserie 
Gather with family and friends to revel in the festivities with these artisanal Mid-Autumn treats from AMI Patisserie. Chef Makoto Arami unveils contemporary, east meets west reimaginations of classic mooncakes, extending beyond their visual splendour.
What we liked most:
Baked to perfection, the Japanese Kagoshima Sweet Potato and Black Sesame Puff Pastry ($78+) enchants with aesthetics and flavours that linger. Each bite of the crisp multi-layered flaky puff pastry unveils velvety Kagoshima sweet potato paste enriched with the nutty aroma of black sesame cream. Crispy sweet potato skin reminiscent of delicate flower petals along with sprinkles of sesame seeds and shimmery edible gold flakes gracefully adorn this beautiful indulgence.
Beyond incorporating the natural flavours of Japanese produce, the meticulously crafted Japanese Ehime Chestnut and Black Truffle Puff Pastry marries sweet and savoury. A creamy mix of almond, truffle, and Japanese chestnut paste nestles within delicate puff pastry layers, where the Japanese chestnut infuses a refined sweetness, while providing a subtle counterpoint to the savoury earthiness of the aromatic truffle. Slices of fresh black truffle and specks of edible gold flakes glimmer atop this sophisticated reinvention.

AMI Patisserie Mid-Autumn Puff Pastry Creations are available for purchase online now until 29 September 2023, while stocks last. For order enquiries, please Whatsapp +65 8907 6146.