Cheeky Rascal Crayon ShinChan Sets Up A Pop-Up Café With Kumoya Singapore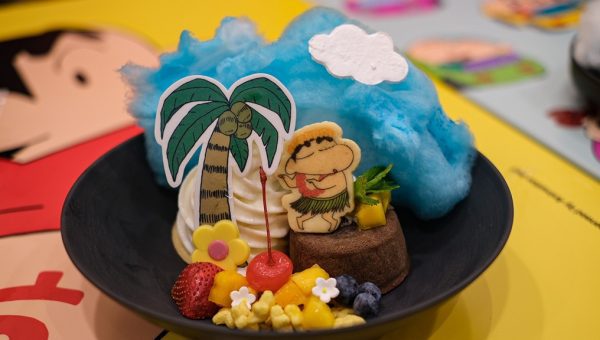 CONTENT: Michelle Ng
IMAGE: Luxe Multimedia

The mischievous rascal with thick eyebrows and deep voice will be showing his butt in Bugis. Yes you guessed it! Crayon ShinChan, or more commonly known by his Chinese name La Bi Xiao Xin, is a 90s Japanese anime show that has spawned a lot of butt-wiggling memes will be joining Kumoya at Jalan Klapa for their next pop-up café.

The bright and cheery characters are taking over the café, together with Shin-chan's family, his pet dog Shiro, and all the other animal characters like Chocobi in his life. The cute hanging mobiles are a cheeky throwback to the OG days of watching the cartoon on the box TVs with the antennas sticking up.

The menu, designed by Little Miss Bento, sees a few shakeups to the food and drinks lineup with a total of 6 Snacks, 4 Mains, 3 Desserts and 8 Beverages to look forward to.


Start off with a new ShinChan appetiser, the Stars Hash Brown with Sweet Potato Mochi Balls. Served in a Chocobi-designed box, be as extremely excited as ShinChan as he snacks on his favourite brand. The appetiser is a great mix of sweet and savoury, and the sweet potato mochi was nice and chewy. Other tried and tested starters include the Karaage Chicken with Shoyu Glaze, Hand Cut Truffle Fries, and Teriyaki Chicken Sticks, which all come in the same Chocobi-box.


For a delightful laugh, get the So Mischievous Japanese Seafood Curry Rice, where ShinChan is mooning you in a bath of curry stew. The rice is shaped in the classic curvaceous butt, and it comes with karaage seafood, cheese and carrot stars, and a side of garden salad.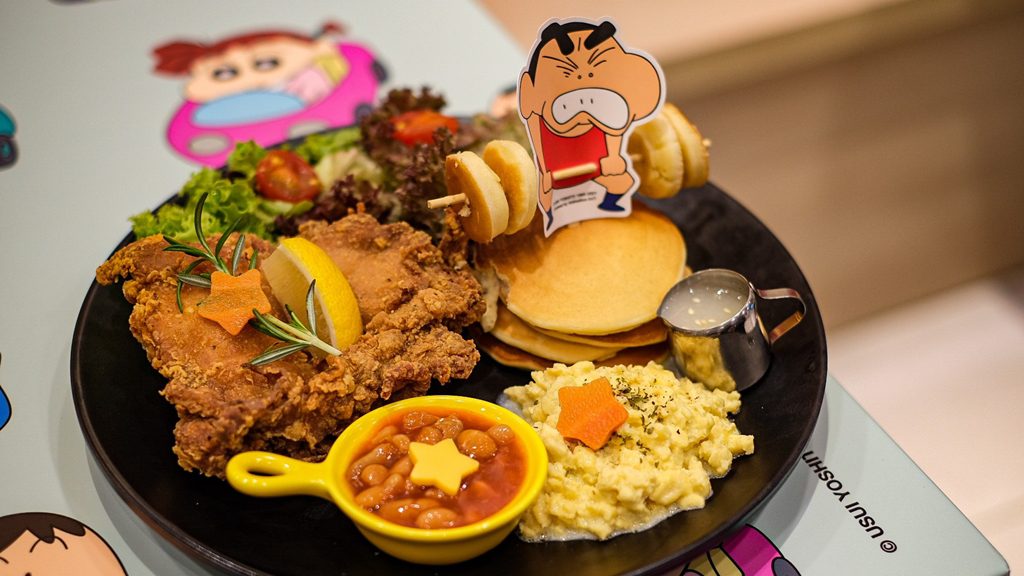 The all-day breakfast option comes in a hilarious It Ain't Heavy. It's My Pancakes. ShinChan is struggling to lift pancake weights, which comes with fried chicken and a lemon sauce. The breakfast plate is completed with scrambled eggs, baked beans, and a fresh garden salad. The dish is quite filling, and is a change from the usual fried chicken and waffles that we often see.

The Chill-To-The-Max Pomodoro Meatballs Pasta is another classic dish that you can't go wrong with. The house-made pomodoro sauce comes with beef meatballs, and fills you right up as ShinChan chills on his bed of pasta.


The fun part is always the desserts, and Kumoya did not let down. The Relaxing Onsen Pudding Parfait was definitely made for the gram, with a smoky onsen effect and a wobbly pudding butt. Our tip? Use the slow-motion function on your phone when shooting to get that jiggly video for Instagram! Once you're done with the videos, don't forget to add the signature Kumoya Hokkaido soft serve into the onsen, and give it a good mix so that you get a good bite of matcha sponge cake, custard pudding, crunchy rice puffs, fresh fruits and meringue pebbles in every mouthful.

The piak piak butt also appears in the beverages atop the frappes. Coming in two flavours, pick the Piak! Piak! Mango Frappe for a sweeter drink or the Piak! Piak! Matcha Frappe if you prefer bittersweet drinks. On a hot day, the Let's Swim Iced Lychee Tea and Let's Swim Mango Lemonade Tea are a refreshing choice as it comes packed with sweet tea and fresh fruits. As always, each drink comes with one of four limited edition ShinChan coasters.
Due to the Phase 2 Heightened Alert safety measures, Kumoya @ Jalan Klapa will be open for takeaway only until 13 June 2021.


Crayon ShinChan will be at Kumoya @ Jalan Klapa for a limited time only.

Kumoya @ Jalan Klapa
8 Jalan Klapa Singapore 199320
Operating Hours: Tuesday to Sunday, 12.00pm – 9.30pm, closed on Mondays