Chura Sushi Bar Takes Sushi Appreciation to Another Level with Visually and Gastronomically Appetizing Dishes
CONTENT: Michelle Ng

Japanese food concept chain EN Group's latest concept brings out the beauty of Japanese dishes and ingredients. Meet Chura Sushi Bar, a visually-driven restaurant that brings out the best in both the food and the presentation.

Named after the word beautiful in Okinawan, the modern Japanese sushi bar is a casual joint, with bar stools and private booths in Suntec City. As part of EN Group's vision for good food to be accessible to everyone, the prices are pretty affordable too. Most of the dishes are also inspired from native Okinawan ingredients like the Japanese sea grapes and the Shiquasa fruit.

Pick from a selection of Insta-worthy dishes that will make all your followers envious. The Chura Signature Roll (S$25.80) is an artistical plate of tuna and salmon fish wrapped in seaweed, and peppered with uni, caviar, ikura, Okinawan sea grapes, and red radish. Each bite is an explosion of flavours as you slowly taste the fresh flavours of the various ingredients.


We all love a bit of performance art, and that's where the Volcano Roll (S$15.80) rises to the occasion. Crunchy tempura-battered seaweed and shrimp is deep-fried before drizzled with a homemade spicy miso and cheese sauce, and arrives in a smoking valley of smoke. The nacho cheese sauce mixed well with the fried shrimp, although don't take too long snapping your photos as this dish tastes the best when it's fresh out of the kitchen.


Another must-try is the Miyazaki Wagyu Uni Nigiri, two long pieces of delicious wagyu beef draped over two dollops of rice. The tender beef is cooked just right, with a burst of flavours from the uni and caviar topping the nigiri.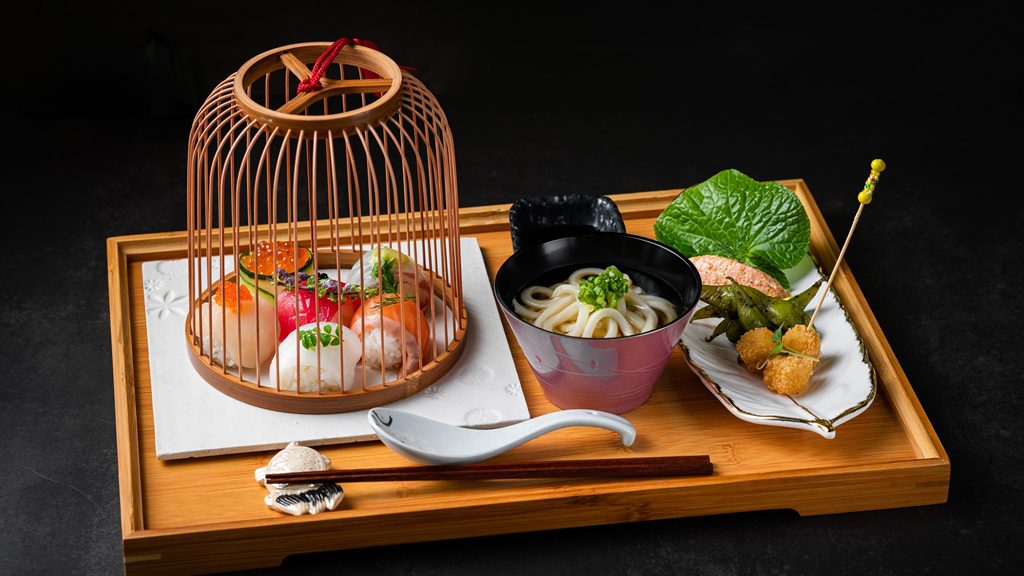 Here's one of the ladies – the Chura Ladies Set (S$19.80). The showstopping set meal comes with six pieces of temari sushi in a wooden birdcage, and it comes with a side of udon and three appetisers of the day. Get the Signature Chura Chirashi (S$25.90) to share, where white tuna, uni, salmon, and tuna lie on a bed of fluffy rice with uni, tamago, pickled lotus roots and Sakura powder.


Partnering up with the House of Suntory, there is a new gin cocktail menu created specially for Chura Sushi Bar. All cocktails are priced at S$18, are made with Japanese craft spirits like Haku Vodka, Chita Whiskey, and Roku Gin. The Rose Matcha latte is a light and creamy drink that marries the botanical herbs of Roku Gin together with the bitterness of matcha – it's pretty much an alcoholic version of the classic matcha drink. Autumn in Yokohama is a more intense drink, with a mix of Haku Vodka and Roku Gin, orange juice and grenadine syrup, which can be too tart for some.

Other than gin cocktails, there's also the quintessential highball and sake cocktails, in addition to all regular non-alcoholic drinks. The Chura Sour (S$15) is a tangy cocktail of Shiquasa and whisky, with vinegar Shiquasa jelly on top.

Chura Sushi Bar
3 Temasek Boulevard #B1-122A Suntec City Mall, 038983
Tel: +65 6970 9101
Open daily from 11am to 10pm