Dine like Japanese Royalty at Nagai Hokkaido Singapore
CONTENT: Adriel Yong

Nagai Hokkaido Cuisine opened in January 2022 and feature four omakase menus with prices ranging from S$98 to S$380. The restaurant is steeped in history and carries with it a rich heritage of cooking and healthy cuisine. It's illustrious clientele includes the Prime Minister of Japan and the Imperial Family. Diners can expect to enjoy an intimate atmosphere, as well as premium ingredients that are sourced from the freshest prime sources.

The Singapore branch of Nagai Hokkaido Cuisine is spearheaded by Chef Makoto Nagai, who has been learning and training under his father, Shinichiro Nagai, for 54 years. Chef Makoto has been working at the same restaurant in Japan for 16 years and brings a wealth of knowledge and experience to the new Singapore location.


Sashimi
Perched atop an impressive hand-carved ice block is a sashimi platter of the freshest cuts. The Menuke had a mild, sweet flavor that was incredibly fresh, and the Maguro was rich and fatty. The Botanebi had a crunchy texture and a slightly sweet taste, while the Abalone was soft and had a mild, sweet flavor. The Salmon was delicate and buttery, the Hooki was light and sweet, and the Uni was creamy and briny.

Grill
Next, we had a Grilled Abalone that was sliced and served with a juicy tomato enclosed in white wine jelly. I really enjoyed the sweetness of the tomato and how the jelly added a refreshing touch to the overall dish.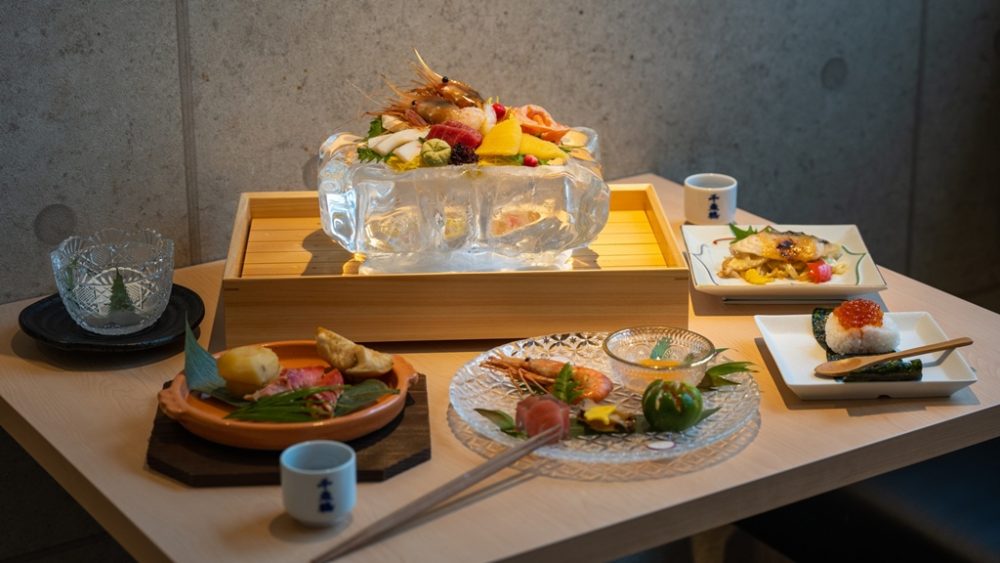 Hotpot
Perhaps the most impressive of them all, the King Crab Hotpot was a comforting yet memorable main dish, with generous servings of crab meat and a rich, luscious stock. Chef showed us the deshelled crab meat before he started to cook them in the hotpot. Every spoonful of soup was a delightful sample of sweet seafood.
Osokuji
Just as we were about to call it a day, we were served the Osokuji of three sushis and an Uni Ikura don. The combination of ikura and uni on a don made it so easy to wipe up.

Dessert
To top it all off, we had one of the creamiest and most delicious ice cream I've ever tasted. The Hokkaido Milk Ice Cream with Sweet Potato was a delightful combination of textures and temperatures. The warm sweet potato went really well with the milky icy cold ice cream.


Sake
No Japanese meal is complete without good sake to compliment the fresh flavours of premium Japanese ingredients. The restaurant also offers a carefully curated sake selection that has been put together by Chef Makoto himself. Must try sakes include the fruity and mild Kitano Nishiki Junmai Daiginjo, a bottle named the best Junmai Daiginjo in Hokkaido, with the highest accolade of medal for the Kura Master 2020 competition.

The restaurant is located in Suntec City Tower 1, and it has a limited operating hours so that diners can socialize and make the most out of their experience. So if you're looking for an authentic dining experience that allows you to dine like Japanese royalty, then look no further than Nagai Hokkaido Cuisine in Singapore! The food at Nagai is underlined by four omakase menus, priced at S$98, S$138, S$198, and S$380 respectively. They also serve 15 lunch sets from S$28.

Nagai Hokkaido Cuisine
Eat at Seven @ 3 Temasek Boulevard, Suntec City Tower 1 #03-314, S038983
Operating Hours: 11:30am–3pm, 5:30pm–10pm