Discover A Secret Menu With Over 200 Menu Items From 5 Different Cuisines All Under One Roof In Clarke Quay!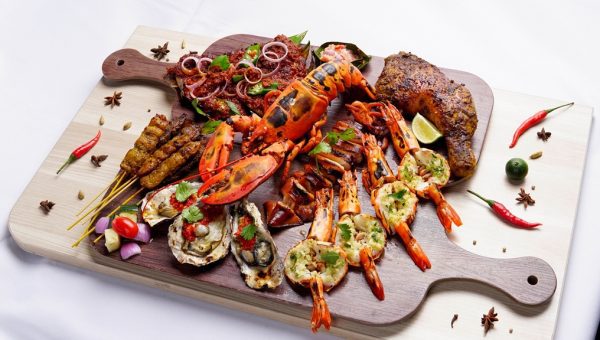 CONTENT: Michelle Ng

If we told you you can satisfy all the different cravings of your friends at one restaurant, would you believe us?

Katrina Group has just launched an all-new menu featuring over 200 dishes from five different cuisines. Tuck into Hutong's Chinese cuisine, Bayang's Indonesian fare, Tomo Izakaya's Japanese specialties, Muchos' Mexican grub and RENNthai's Thai delights whenever you are in any one of the restaurants' Clarke Quay outlets. No matter which outlet you decide to dine in, you and your friends will still be able to order from the other 4 restaurants!

With such a huge selection to pick from, the choices can get overwhelming. Which is why we've picked out the best dishes from the five restaurants, alongside some new launches and deals.

Seafood lovers will be delighted to find that freshly shucked oysters are going for S$2! To get rid of that fishy taste, add in plenty of tabasco hot sauce together with a hefty squirt of lemon. At Tomo Izakaya, happy hour starts from 5pm to 10pm on Tuesdays to Sundays. Get a sweet 1-for-1 deal on their wide range of Japanese beer, wines, cocktails, and spirits.


For spring, Tomo Izakaya is also launching a seasonal dish – Chirashi Zushi. The sharing chirashi bowl comes with a hearty selection of salmon, mekajiki, grilled unagi, tamago, ebi, ikura, and fried lotus roots and is good for groups up to 5 people. The fresh fish pairs well with the vinegar sushi rice, every bite giving bursts of umami and flavours. Made with seasonal fish, the Chirashi Zushi is only available from now till 31 May.

If you're in the mood for some soup, RENNthai has just launched their Tom Yum Thai Suki hot Pot for two. Coming with two Meat Suki and Seafood option, the set comes with two bowls of rice, Thai fish cakes and the quintessential Thai starter of green mango salad. The fragrant tom yum soup is full of spice without being too overpowering on the heat, with plenty of ingredients. And when you've savored all the soup, slurp up the tang hoon which would have been soaking in the broth for a delicious, chewy finish. You also get the option to make it a full-blown Thai meal by topping up an additional $5.90 for two glasses of Thai milk tea.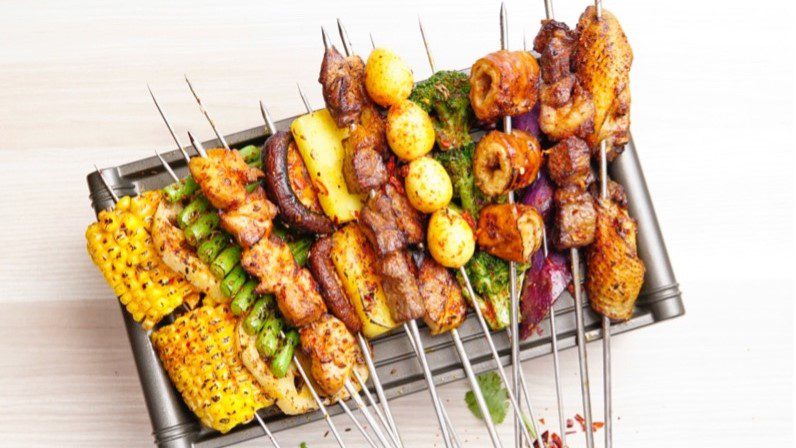 Another popular drinking snack in China is skewers, and Hutong's skewers are marinated in their special in-house blend of pepper, cumin, spicy flakes, and cooking wine. Just be careful as their spice really packs a kick! Our favourite skewers were the prawns, fried meat balls, broccoli and chicken wings. For the Singaporean version of skewers, dig into the Juicy Sate Madura from Bayang, which is similar to the satay served up in hawker centers. Glazed in sweet marinade and grilled, the beef satay is full of smoky, charred flavour. Dip into the crunchy peanut sauce for maximum yum!

Muchos has plenty of tapas to share with your friends and family to munch on as a starter or simply to pair with your drinks. The Muchos Platter is packed with bites like skewered prawns, calamari, potato wedges, hot wings, corn chips, quesadillas, and salsa roja, and comes in two portion sizes. For a heartier option, share the Fajitas that come with a trio of chicken, beef, and prawns. The DIY experience of making your own wrap lets you customize what goes into your dish, filling it with as much salsa and meat as you want.


You can also switch up the locations for a different hangout experience and still enjoy the same menu. For a relaxed indoor drinking experience, head to Tomo Izakaya, which sports a chic yet zen ambience with their moody lightings and wooden décor. They even have a Sakura tree made from sake bottles! If the weather permits, enjoy the cooling night breeze at the alfresco dining area at Hutong, Muchos, and RENNthai.

The menu is available at all Katrina Group outlets in Clarke Quay.

Tomo Izakaya
Address: 3D River Valley Rd, #01-14, Singapore 179023
Opening hours: Tue – Sun; 5pm to 11pm (Mon Closed)
Reservation: +65 6336 0110

Bayang
Address: 3D River Valley Rd, #01-05, Singapore 179020
Opening hours: Tue – Sun; 5pm to 11pm (Mon Closed)
Reservation: +65 6337 0144

Hutong
Address: 3D River Valley Rd, #01-07 Block D, Singapore 179023
Operating hours: Tue – Sun; 5pm to 11pm (Mon Closed)
Reservation: +65 6336 0212

Muchos
Address: 3D River Valley Rd, #01-04, Singapore 179023
Opening hours: Tue – Sun; 5pm to 11pm (Mon Closed)
Reservation: +65 6338 4748

RENNthai
Address: 3D River Valley Rd, #01-05, Singapore 179023
Opening hours: Tue – Sun; 5pm to 11pm (Mon Closed)
Reservation: +65 6338 7200