Experience an Elegant Oriental Dining Experience at Wan Chun Ting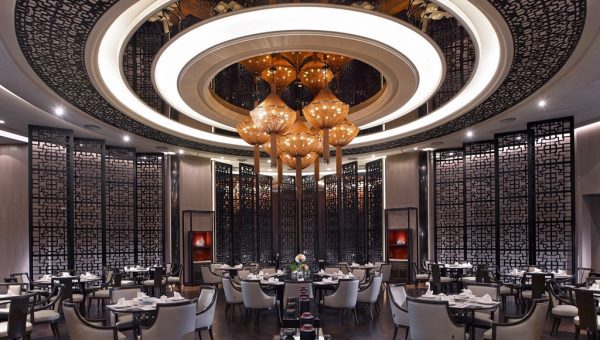 CONTENT: Yiew Kai Jie
IMAGE: Nicholas Lau for Luxe Multimedia
Located in the Sofitel Kuala Lumpur Damansara Hotel, the Wan Chun Ting restaurant is the ultimate location for sophisticated Cantonese and Imperial dining in Kuala Lumpur! The restaurant name which literally translates to "A Pavilion of Ten Thousand Springs " is aptly named due to the elegantly designed shape of the restaurant to reflect the ancient times in imperial China- where only the highest echelons of the Imperial government and The Emperor gets to dine at.
The main dining area clearly reflects the marriage of both the East and West with its rich dark timber walls while being complimented with elements of Chinese-inspired silhouettes and luxurious textures with accents of traditional Oriental setpieces that further elevates one's dining experience. Even the staff's uniforms took inspiration from the rich and traditional furnishings of the restaurant, predominant colours of red, gold and black were used in the design of the Ambassador's uniform that combines practicality and style that reflects the essence of Sofitel Kuala Lumpur Damansara.
Guests will be able to savour exquisite and contemporary Cantonese dishes that are handcrafted by Chinese Head Chef Lee Siew Hong. The dishes demonstrate a myriad of culinary techniques that adheres to tradition while being balanced with thoughtful innovation.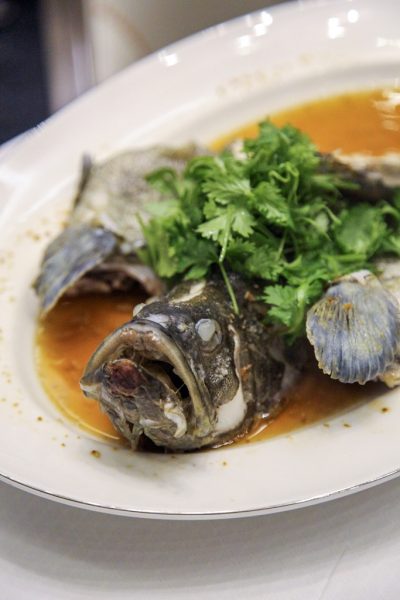 Wan Chun Ting's highlights include Tiger Grouper With Minced Ginger, Wok-Fried Scallops with Asparagus, Braised Sun Dried Oysters with Mushrooms, Double Boiled Chicken with Crab Meat Soup, Wok-fried Fresh Scallop with Macadamia Nuts, Wok-fried Venison with Ginger, Spring Onion and more.
The restaurant is also famous for its traditionally prepared wood-fired Peking Duck dish that had made a name for itself since the age of the Imperial Dynasties. The renowned speciality is prepared in a specially handcrafted oven that cooks the duck evenly while ensuring that the protein retains its moisture. The centuries-old favourite is then smoked using lychee wood imported from China to produce a delicate, glossy and crispy skin that glazes over its sweet tender flesh. Afterwards, the duck is then served on a traditional hawker-styled pushcart that pays homage to Malaysia's hawker scene.
In addition to the exquisite Oriental fare, Wan Chun Ting offers a wide selection of incredible handcrafted steamed, fried and baked dim sum. They include quintessential classics such Steamed Shrimp dumplings or "Har Kao", Baked Egg Tarts, Seafood Congee, Pan-fried Radish Cake, Chicken Siew Mai with Red Ebikko and a traditional Rice Roll with Barbecued Chicken- just to name a few.
To enhance the dim sum experience, the restaurant offers guests a vast selection of Chinese tea that goes along well with the delectable pastries and savoury dishes on the menu. Before one starts assuming that the tea is going to be some run-of-the-mill oolong or chrysanthemum tea, the restaurant uses special tea leaves that are imported straight from China that are extremely aromatic and packs a much stronger flavour then what guests might be used to in their previous experiences at mundane Chinese restaurants. (The dim sum is available on weekdays for lunch and on Sundays as a brunch session.)
In addition to the 120-seater main dining area, Wan Chun Ting has four elegant private dining rooms, the largest of which can accommodate up to 18 guests, perfect for social gatherings or business meetings.
Wan Chun Ting is located at 6, Jalan Damanlela, Bukit Damansara, 50490 Kuala Lumpur, Wilayah Persekutuan Kuala Lumpur, Malaysia.
Wan Chun Ting is open every Tuesday to Saturday from 12:00pm to 2:30pm for lunch and 6:00pm to 10:00pm and every Sunday from 10:00am to 3:30pm.
For enquiries and reservations, please email HA123-FB4@SOFITEL.COM or call (03) 2272 6688.