Fann Wong Launches Online Pastry Shop, Fanntasy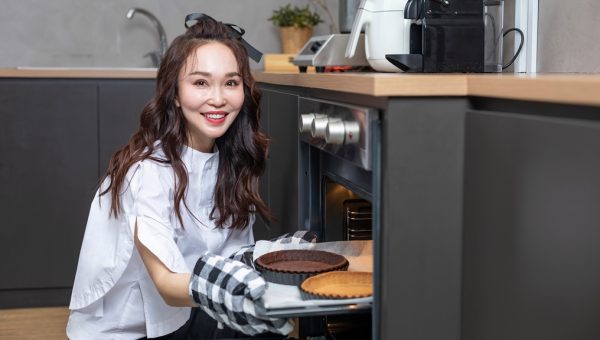 Fann Wong has launched her new online pastry brand called Fanntasy. The thespian began baking during the circuit-breaker period last year. Craving for old-school bakes, she created her own versions of what she missed eating such as the rainbow bread. Her growing passion for baking soon opened up new opportunities in her already illustrious career: she took on the role of host and judge on Channel 8's variety show titled Crème De La Crème.

Dessert lovers can expect two offerings for now: Signature Valrhona Chocolate Tart (700g) and Musang King Gula Melaka Tart (750g). Both tarts measure 7 inches, which can be cut into six standard or eight smaller slices. Chocolate is both Christopher's and her son's favourite; Christopher is also a huge fan of durians. Being the loving wife and mother, Fann decides to come up with creations that are inspired by the two ingredients.


For the Signature Valrhona Chocolate Tart (S$58), chocolate sable serves as the base. The enticing chocolate cremeux is made with Valrhona 70% dark chocolate, which lends a richness and intense flavour without the cloying sweetness. Beneath the cremeux is a layer of delicate almond sponge, which balances out the overall flavour. Gold dust is then sprinkled atop the tart for a touch of sophistication.

Marrying two local favourites is the Musang King Gula Melaka Tart (S$68). Packing a potent punch, the filling is made with pure Musang King pulp and housemade gula melaka sauce. The snowing of desiccated coconut adds a subtle fragrance. All the ingredients are set in a gorgeous butter sable.

"I often tell my husband Christopher Lee that I have a second stomach specially for desserts. Even when I am full and cannot have another bite, I must still have my desserts before I leave the restaurant. After many months of painstaking trial and error experimenting with and developing the recipes, I am now ready to launch Fanntasy. I have chosen to partner a licensed baker to scale up production, and in turn allow more dessert lovers to enjoy my creations."

The tarts will arrive semi-frozen. To enjoy, just let them sit in the fridge for one to two hours. The tarts need to be chilled and are best consumed within three days.

Fann will be launching more creations in future. The above-mentioned offerings is now available Online