Ginett Restaurant and Wine Bar Launches New Brunch Menu with Free-Flow Mimosa and Exquisite Mussels from France!
CONTENT: Yiew Kai Jie
IMAGE: Luxe Multimedia/ Hotel G Singapore

Ginett Restaurant & Wine Bar has revamped their brunch menu and has brought back a seasonal favourite, the world-famous Bouchot mussels, only available on the menu until the end of September 2020.

Show Me 'Em Mussels
Flown in from the UNESCO-listed bay of Mont Saint-Michel, in north-western France, Bouchot Mussels were previously featured on Ginett's menu and turned out to be a big hit with their diners due to their succulent and creamy taste! Therefore due to popular demand, the plumpy delights are making a comeback in four different flavours at reasonable prices! The reason why these high quality mussels are only available until the end of September is due to their AOP ('appellation d'origine protégée') status, as they can only be harvested for a limited period of time and they tend to be slightly bigger and taste best during the months of August and September.


The Bouchot mussels (S$32++ for 500g and S$58++ for 1kg) are prepared in four different flavours and comes with a small side of french fries:
For diners who prefer to adhere to traditions, the Classic Marinière style features a simple but hearty mix of white wine, garlic, shallots and butter.
The intensely flavoured Creamy White Wine style is made up of a rich concoction of white wine, onion, garlic, leek, celery, and cream.
The Tomato & Chorizo style is suitable for diners who want that extra burst of flavour with their mussels. The tantalising sauce is made with Roma tomatoes, chorizo, white wine, onion, garlic and fresh basil.
Lastly, for diners who want an oriental spin on a traditionally French classic dish, the Sichuan-inspired Spicy Asian style features the shellfish being wok-fried in a vibrant mix of Chinese aromatics that imparts that unmistakable "wok-hei" flavour into the mussels!
For food connoisseurs who are unable to travel to satisfy their need to feast, they should not miss out on a rare opportunity to sample some of the finest mussels that France has to offer! Although the mussels were a tad smaller than usual, they made up for it in their flavour! The little molluscs tasted really fresh and blended well with the sauces as they helped to enhance the creamy textures and natural sweetness of the mussels! Furthermore, the 500g worth of mussels is more than enough for a table to three to share, so remember to share the love and don't be shell-fish!


New Brunch Menu
Apart from the mussels, Ginett has added new additions to their brunch spread such as a rotisserie menu as well as a brand new Parisian Breakfast Set (S$26++) that includes a selection of freshly baked French pastries, a choice of Eggs Florentine or Ginett's classic breakfast or an omelette, a cup of coffee or tea, a glass of freshly squeezed orange juice and a delectable Ginett Sundae – a generous serving of vanilla ice cream served with mini choux puffs and almond brittle, drizzled with chocolate and caramel sauce.

For the more health-focused brunch diner, the rotisserie selection comes with either a half or full portion of Free Range Organic Chicken (S$12++ for half, $22 for whole) that comes with a serving of salad of roasted potatoes on the side- a perfect dish to share on the table.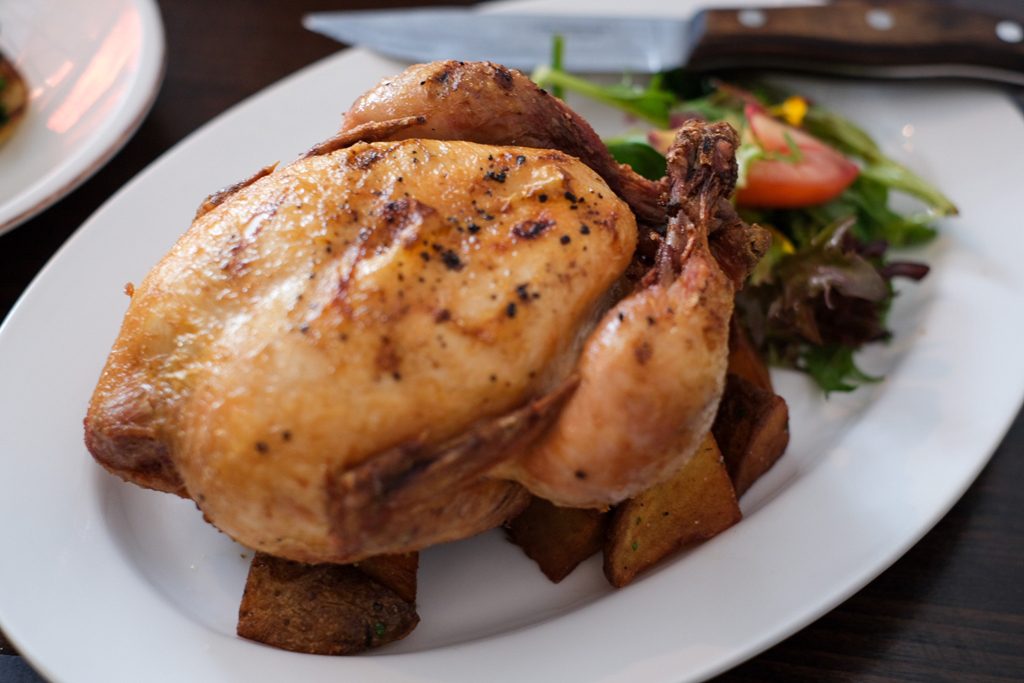 Not forgetting the vegans and vegetarians diners out there, Ginett's new brunch menu is more inclusive and wholesome with four different meatless dishes to choose from!! From the slightly peppery Shakshuka (S$12++) to the wholesome Vegan Burger (S$16++) made with a homemade tofu patty or the Wild Mushroom Risotto (S$18++) with grilled seasonal vegetables. The Roasted Eggplant (S$16++) served with Greek yogurt and pomegranate is a perfect choice for diners who are looking to take it easy on their stomachs.

No brunch experience is complete without a boozy tipple to accompany the gourmet food on the table! Diners can enjoy two hours of free flow mimosa at only an additional S$15 per person!

Ginett Restaurant and Wine Bar's weekend brunch is available every Saturday and Sunday from 11.30am – 4pm.

Ginett Restaurant & Wine Bar
200 Middle Rd, Singapore 188980