Iconic New England Seaside Resort, Ocean House, Rhode Island to Launch One-of-a-Kind Culinary Pop-Up Concept, The Fondue Village
Following the popularity of last year's exclusive 'Fondue Express', the first in-gondola dining experience in North America, Ocean House, Watch Hill is expanding the successful concept in collaboration with Veuve Clicquot with the launch of the new 'Fondue Village'.
The iconic resort will unveil the next chapter of its one-of-a-kind winter culinary pop-up experience, bringing fine food and whimsy to New England from 2 December 2019. On top of a bluff of the scenic Atlantic Coast, adjacent to the Ocean House and amidst sparkling Christmas trees, twinkling pines and ski lodge décor, the Fondue Village includes three thoughtfully-designed ski gondolas in gleaming Veuve Clicquot yellow lacquer.
Stationed around a crackling fire pit, each vintage gondola has been impressively restored, and outfitted with heated custom wood floors, fine Alpine textiles, chandeliers, and plush seating, imported traditional Swiss and Austrian glassware and china, and an authentic cuckoo clock, providing a luxury dining experience à deux, or a warm gathering of friends. Guests can indulge in an exclusive Alpine-themed four-course menu with select champagne pairings from Veuve Clicquot.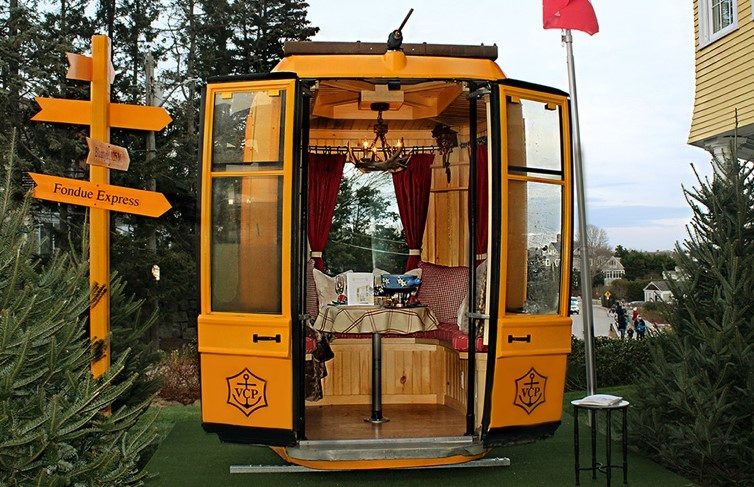 To further elevate the experience, guests of the Fondue Village will be provided with stylish white Titanium outerwear from Columbia's Extreme Eco down jacket line. Both sustainable and chic, each coat is made from 100% recycled fabric from 27 plastic bottles.
Lunch or dinner guests will arrive to the Ocean House's North Lawn and enjoy a glass of Veuve Clicquot Rich Champagne, before being led by their personal server to the Fondue Village. Ocean House's culinary team has created a delicious four-course, prix-fixed menu with optional Veuve Clicquot champagne pairings.
Highlights include a traditional Swiss Raclette; a meat plate of Bresaola, Black Forest ham, cornichons and pickled vegetables; cheese fondue, and Swiss plum tart with cinnamon ice cream and assorted Christmas cookies. Guests will also receive a collection of Swiss chocolates as a departure gift. The Fondue Express can accommodate groups of up to 16, and a portion of all proceeds will benefit the Ocean House Fund for Charitable Giving, to help children and families in need.
The Fondue Express is available from 2 December 2019 to 31 March 2020.
With Veuve Clicquot Champagne pairings, the gondola dining experience is available for $560 for up to four people (plus gratuity and tax) and $840 for up to six (plus gratuity and tax). For guests who prefer not to have pairings, the cost is $400 for up to four people and $600 for up to six people (plus gratuity and tax).
Ocean House Watch Hill Rhode Island is located at: 1 Bluff Ave, Westerly, RI 02891, United States
Reservations are required by visiting: oceanhouseri.com/culinary/fonduevillage