Indulge In Asian Flavours With A Luxurious Twist At Hilton Singapore Orchard
CONTENT: Michelle Ng
Hotel buffets are synonymous with indulgent affairs, whether it's a breakfast spread or a dinner celebration. And it's no surprise that Singapore as a foodie nation has a plethora of buffets to choose from. Today, we head over to Estate for a taste of their revamped menu which features new epicurean offerings.
Estate is Hilton Singapore Orchard's all-day dining buffet restaurant, with buffet spreads for breakfast, lunch and dinner. Describing their buffet as 'elevated gourmet specialties', Estate's dinner buffet defines itself with exciting regional flavours and premium ingredients that recreate familiar yet authentic dishes with a twist.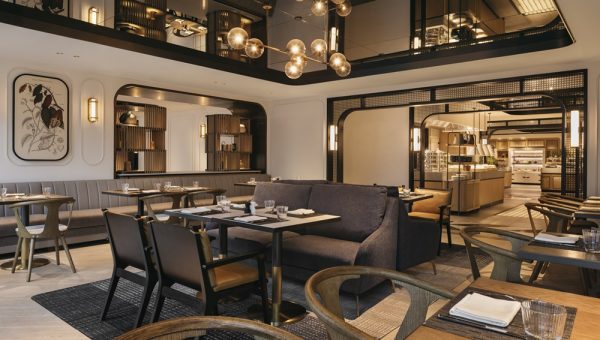 The restaurant is inspired by the traditional colonial style of Orchard Road's plantation days, with wooden furniture and sleek black accents that are reminiscent of the black and white bungalows. The buffet experience is designed with an open-kitchen concept, where you can wander around the kitchen to take a peek at the noodle and skewer stations, or put together a plate of mains and desserts at your leisure.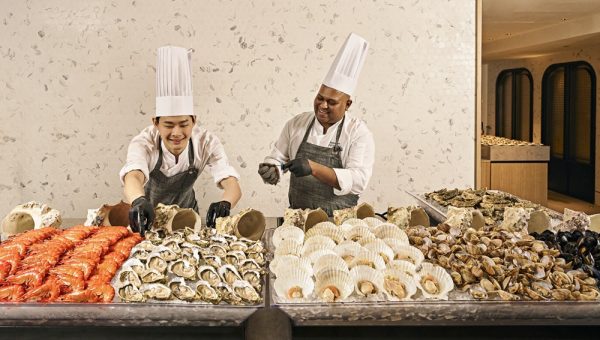 New to the table is the raw and seafood bar, with a small but curated selection of freshly shucked oysters, Tiger prawns, black mussels, scallops, yabbies, and thick chunks of sashimi. There is also a cheese selection and freshly baked bread next to the salad bar, which showcases various styles of salad all over region from Thai Beef Salad to Mediterranean-Style Chickpea Salad.
The highlight of the highlights is the Estate Black Truffle Roasted Duck. The tender slices of duck with its striking black, crispy skin is drizzled in a sweet Truffle plum sauce and served with fried tofu in a peanut crust – we came back for another portion just to enjoy the dish again! The Whole Roasted Lamb comes wrapped in tortilla and spicy mint sauce as a flavourful wrap, and the Whole Barramundi steamed in chilli and green pepper is fresh and flakey. The Grill Kitchen also has a skewer situation going on, with Chicken Shish Taouk, Beef Kofta, and Black Curry Pork skewers.
Awake your tastebuds at the Asian Kitchen, with exciting fusion dishes like the Cantonese-style Wagyu Beef Handmade Noodles that comes with chewy beef tendon and melt-in-your moth wagyu beef, Chee Cheung Fun steamed in an oyster ginger broth, and Gluten-free Octopus Curry Puff that masquerades as a spicy gnocchi shaped into a crescent puffs.
Classics are sometimes left best alone, as evident by the Dim Sum and Indian Cuisine sections. The Chicken Feet in Homemade Spicy Sauce, Portugese Custard Tart, Traditional Baked Char Siew Pau, Crispy Seafood Bean Curd, Szechwan-Style Spicy Chicken 'La Zi Ji', Vegetable Biryani, Prawn Masala, Kadai Paneer and Mystore Mutton are just as good as Estate's signature mains.
The desserts is as exciting as the mains, with Estate's signature Desserts in Jars. The Strawberry Crème Panna Cotta is a fruity and light pudding, and the Carrot Cake is soft and crumbly to the bite. Keep some room for the Hilton Cheesecake, a light and fluffy favourite for many, and the Charcoal Waffle paired with creamy vanilla and chocolate gelato. Also included in the buffet price is homemade punch and fragrant iced tea, as well as soft drinks, coffee, and tea.
Aside from the Dinner Buffet, Estate also hosts a Grand Sunday Champagne Brunch with free flow bubblies and a cheese bar with over 32 varieties, and a Lobster, Crab & Seafood Delights Buffet on Thursdays with an epicurean spread of lobsters and crab delights cooked in every style imaginable.
The Estate Dinner Buffet at Hilton Singapore Orchard is available daily from 6.30pm – 10pm, starting from $88++ per adult (Sundays to Wednesdays), $108++ per adult (Fridays, Saturdays, Public Holidays & Eves of Public Holidays), and $158++ for the Lobster, Crab and Seafood Buffet (Thursdays). Reservations are recommended; book online or by calling +65 6831 6270.