Little Farms Bistro Embraces The Plant-based Trend with a Five-Course Meatless Menu
CONTENT: Michelle Ng

Whether it's to reduce your red meat intake or to do your part in sustainability, plant-based diets have started to become increasingly popular. We have all heard of other plant-based brands which is often used in burgers and other dishes, but there are many other ways to incorporate vegan dishes into your everyday meals.

Little Farms has partnered up with Country Foods to launch Meaty Meatless Monday, a tasty degustation of five courses that is absent of meat, yet still captures the delectable and appetising flavours of a plant based diet. The menu uses plant-based ingredients from regional brands Fable, HAPPIEE, and v2 to create dishes that would hopefully inspire more people to look more favourably on plant-based foods.

To whet our appetites, the Fable Slider Smash & Olive Oil Bruschetta was a stir-fried onions and mushrooms to recreate the minced meat of a burger patty. The cherry truss tomatoes – lightly tossed in olive oil – was the real highlight in this dish as the juicy spheres burst with sweet and sour flavours in our mouth.
The HAPPIEE Squidee was the game changer, with a konjac jelly that tastes and feels like deep fried calamari. Fried to a crisp outside, yet it had the chewy and smooth texture of squid. It took the whole plate and I was doubting my own senses that it was actually squid and not a plant-based food! The squid was paired with an aromatic sesame coriander dukkah and vegan sriracha mayo for a spicy kick. Aside from its sustainable aspect, the seafood range of plant-based food is a feasible option for those with shellfish allergies, especially those who develop their allergies later on in life and would still like to enjoy prawn and crab dishes.

Indulge in a homey stew with the Burgundy Braised Fable Ragout. Simmering for over 5 hours, the ragout falls apart in our months exactly like how pulled pork does, with aromatic truffle jus for the earthy and musky umami.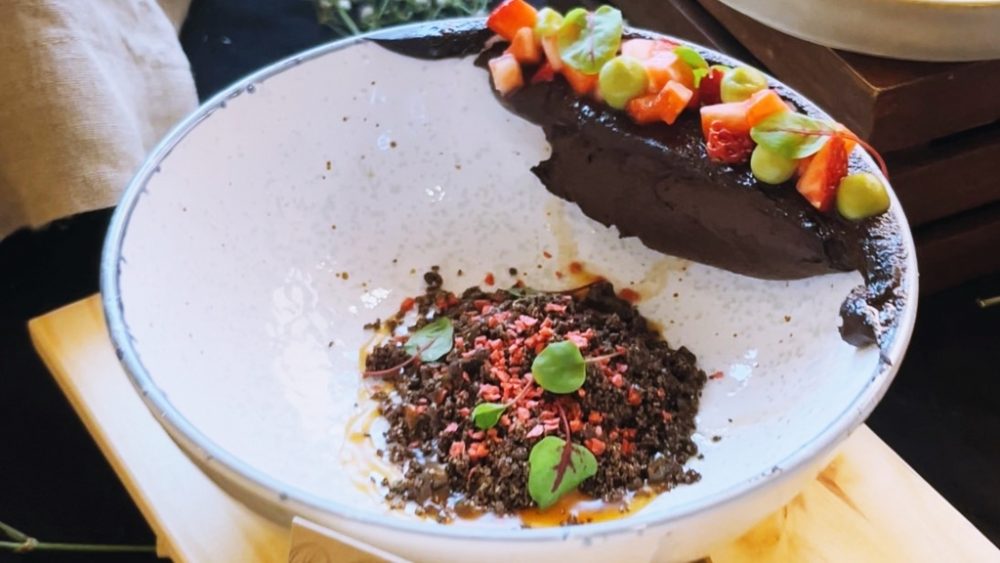 Dessert comes in the form of a Chocolate Avocado Mousse that is designed to look like chocolate soil. The bittersweet chocolate is thick and creamy, balancing well with the sweet strawberries and the salty caramel sauce with a savoury hint of miso – it was like a melting pot of all the different flavours!

The five-course plant-based menu is priced at S$48++/person, with the option to include our Tepache Twist Cocktail for S$15++, and is only available on every Monday throughout the month of September at the Little Farms Bistro, Katong Point.

If you're visiting the Little Farms Bistro at Valley Point or the Katong Point outlet on other days, the bistro will be adding a vegan option to their ala carte menu – the Chickpea & Fable Mushroom Coconut Curry that comes with a side of cauliflower rice. The flagship outlet at Tanglin will have an exclusive Fable "Real Meaty" Massaman, which comes with smoky charred cauliflower and pomegranate yoghurt served with sourdough flatbread.