Lo-Hei To Prosperity This Spring With These Top 5 Best Yusheng for 2021
CONTENT: Andrew Kho

We are days away to the Lunar New Year, 8 more days to be exact, as we continue to practice social distancing measures, we have rounded up the top 5 Best Yusheng for this year. We do hope that this will help you in deciding the Yusheng that you and your family will enjoy either dine-in or takeaway to enjoy in the comfort of your own homes.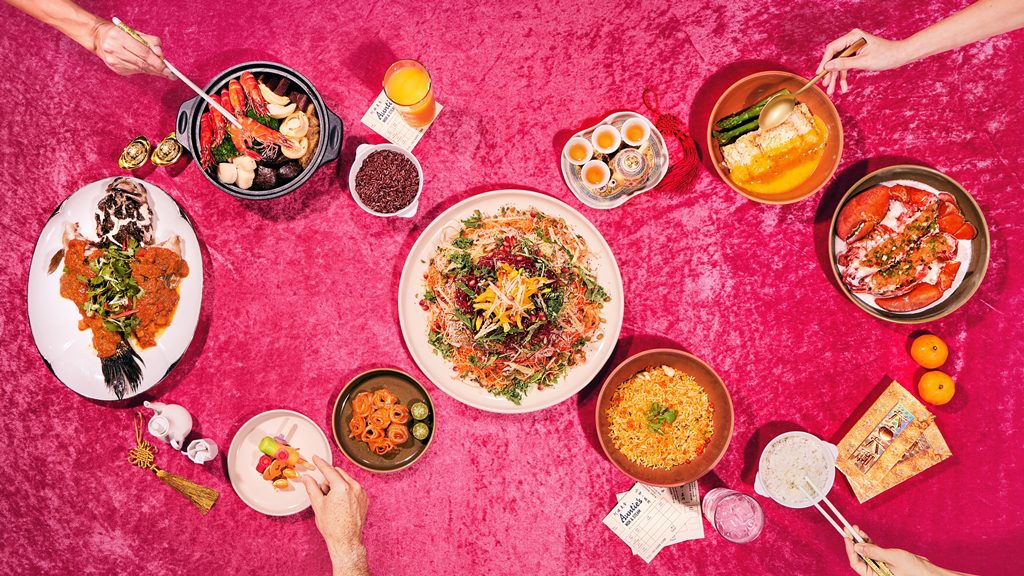 Auntie's Wok and Steam, Andaz Singapore
Toss to a good year with the popular Andaz Healthy Yu Sheng (S$68), comprising sliced Scottish smoked salmon and a medley of superfood fruits, vegetables and seeds including kale, beetroot, sunflower seeds, flaxseeds and chia seeds.
Auntie's Wok and Steam Healthy Yu Sheng is available in their Lunar New Year Set Menus and as well as Ala-Carte Menu from 25 January to 26 February 2021, you may view the menus here 
For more information, please visit andazsingapore.com or call +65 6408 1288.
Auntie's Wok and Steam, 25/F Andaz Singapore, 5 Fraser Street, Singapore 189354, +65 6408 1288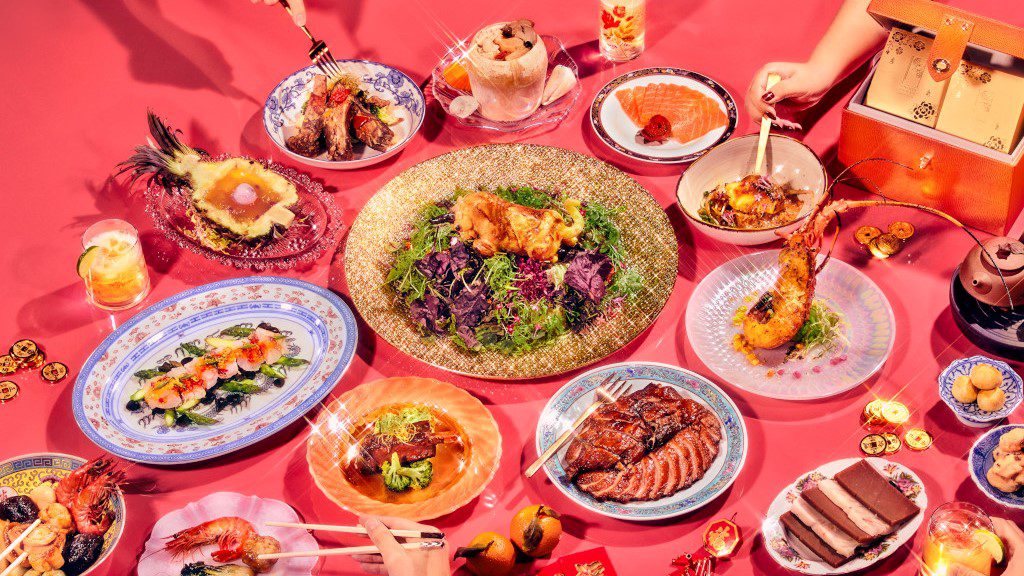 Golden Peony, Conrad Centennial Singapore
Toss to new heights with Golden Peony's Fortune Ox Yu Sheng (S$168) that feature tender strips of pan fried Wagyu Beef served with seasonal greens and complimented with their homemade sour plum sauce. The Yusheng is one of our favourites! Not that sweet with balanced taste and flavour.

Golden Peony's Prosperity Fortune Ox Yu Sheng is available in their Lunar New Year Set Menus from 18 January to 26 February 2021. You may view the dining menus here https://www.connoisseur.sg/auspicious-and-delicious/.

For more information please email sinci.festive@conradhotels.com or call make your reservations online 

Golden Peony , 3/F Conrad Centennial Singapore, 2 Temasek Boulevard, Singapore 038982, +65 6334 8888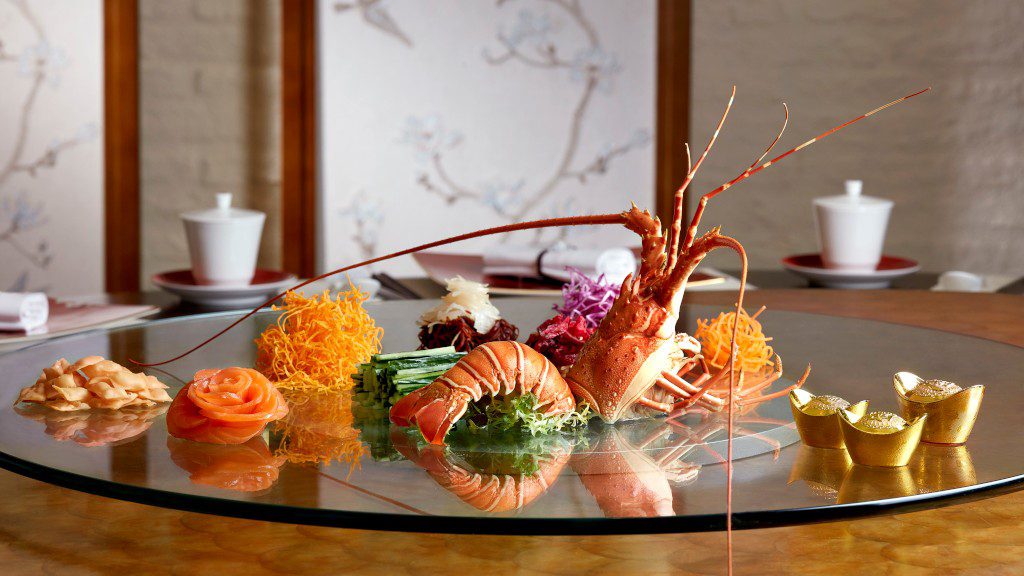 Cherry Garden, Mandarin Oriental Singapore
Gather your loved ones for a joyous reunion at Cherry Garden and indulge in their specially curated Lunar New Year feasts and their five auspicious Yu Sheng platters topped with homemade plum sauce, including the Triumph Yu Sheng (only available for Dine-In) packed with premium ingredients such as black truffle and black caviar along with a selection of Yu Sheng platters, the Prosperity Yu Sheng with salmon (S$88 Small / S$168 Large), Bountiful Yu Sheng with abalone (S$138 Small. S$276 Large), or the Harmonious Yu Sheng with lobster, abalone and salmon (S$158 Small, S$258 Large). Perfect to toss to a sweet year of good fortune and success either for Dine-In or Takeaway.

Cherry Garden's Luxurious Yu Sheng is available in their Lunar New Year Set Menus from 8 January to 26 February 2021. You may view the dining menus here Takeaway is also available at the festive counter at the hotel lobby from 25 January to 26 February 2021, 11am till 8pm. You may view the takeaway menus here 

For more information, please email mosin-dining@mohg.com or call +65 6885 3500.

Cherry Garden , 4/F Mandarin Oriental Singapore, 5 Raffles Avenue, Marina Square, Singapore 039797, +65 6885 3500


Hua Ting, Orchard Hotel Singapore
Delight in Hua Ting's prosperous Lunar New Year Set Menus or Opt to Takeaway Master Chef Lap Fai lavish selection of six "Lo Hei" Yu Sheng – from the impressive Ox-picious Yu Sheng – Whole Abalone 'Lo Hei' (S$188 1-day advance order) and Whole Abalone 'Lo Hei' Yu Sheng (small S$78, large S$138), to Fresh Hamachi 'Lo Hei' Yu Sheng (S$78) and Fresh Toro 'Lo Hei' Yu Sheng (small S$198, large S$388). Health-conscious diners can enjoy the Healthy Organic Seasonal Green 'Lo Hei' – France Ice Lettuce and Truffle (small S$78, large S$138). For an extravaganza experience, feast on the Live Australian Lobster, Salmon Roe, Whole Abalone 'Lo He' Yu Sheng (S$628, 10 pax)

Hua Ting Restaurant's Takeaway Goodies and Prosperity Set Menus are available from 11 January to 26 February 2021. Prosperity Set Menus are priced from S$108 to S$188 per person (minimum 2 diners) and lunch S$788 for 8 persons and dinner from S$988 to S$2888 for 8 persons. Reunion Lunch is served from 11:30am to 2:30pm on Mondays to Fridays and 11:00am to 2:30pm on Saturdays, Sundays, Eve of and Public Holidays, while Reunion Dinner is from 5:00pm to 7:00pm (1st Seating) and 8.00pm to 10.00pm (2nd Seating).

For more information, please email huating.ohs@millenniumhotels.com or call +65 6739 6666.

Hua Ting Restaurant  2/F Orchard Hotel Singapore, 442 Orchard Road, Singapore 238879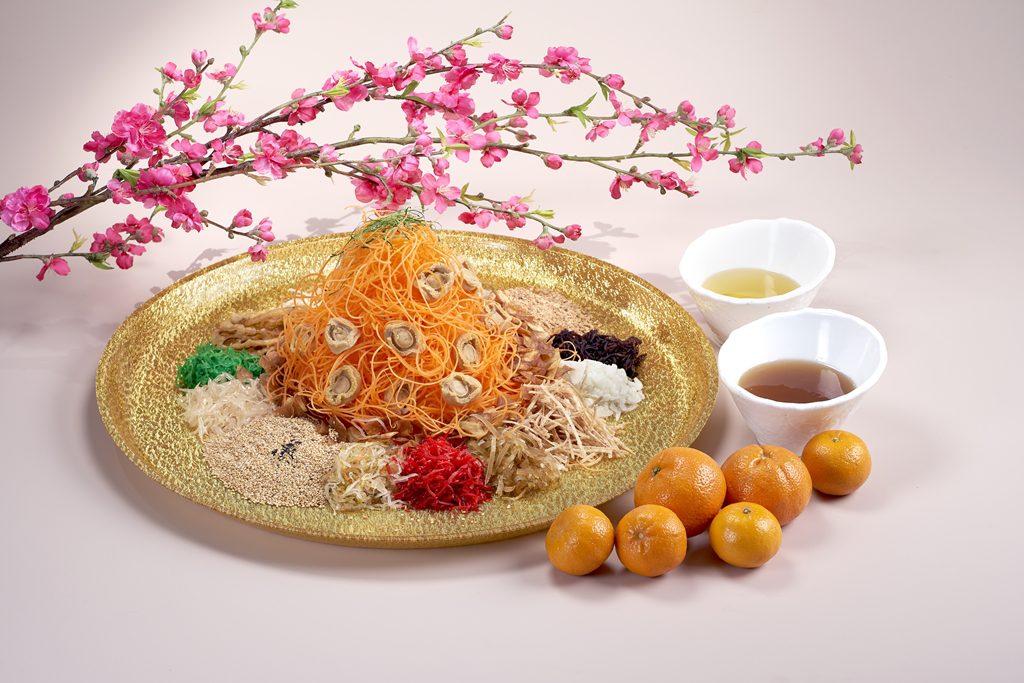 Peach Garden
Peach Garden introduces a new Yusheng this year – The Heng Heng" Million Dollar Yu Sheng, featuring a crispy cracker golden dome which is smashed open to reveal a bed of premium Yu Sheng ingredients such as Lobster, Baby Abalone, Wagyu Beef, Salmon and topped off with an auspicious surprise when you smash the dome open with a mini hammer and the cracker shatters to reveal the colourful array of fresh ingredients as well as big sweep tickets for a chance to get lucky in the new year.

Only available for dine-in, this Yu Sheng centrepiece comes in two sizes: Small (S$168, which serves four pax) and Large (S$268, which serves eight pax). There is a non-beef alternative with Australian scallops in place of Wagyu Beef.

For a classic lo hei experience, choose from best sellers such as the Smoked Salmon Yu Sheng and Golden Abalone Yu Sheng.

Peach Garden's 'Heng Heng" Million Dollar Yu Sheng is available in all their outlets throughout Lunar New Year, including the first and second day of Lunar New Year (12 and 13 Feb). Make your reservations online . Enjoy the Yusheng at home with free delivery with a minimum spend of $80 via their E-Shop. Online orders have to be placed at least one day in advance. For local delivery or collection between 11- 14 February 2021, orders must be placed by 9 February. 2021. Dine-in, Lunar New Year Ala Carte Menu and Set Menu are available here 

Peach Garden (All Outlets)