Magnum Invites you to Travel the World with its Three New Limited-Edition Destinations Range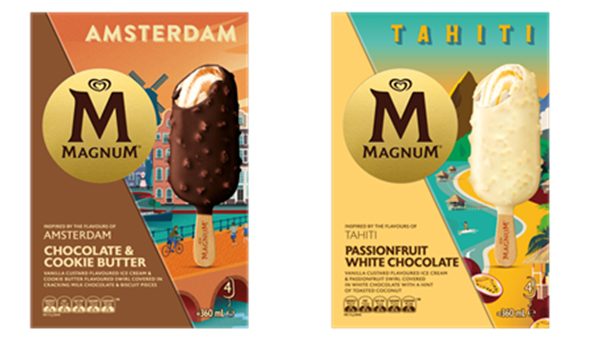 CONTENT: Andrew Kho

Do you have the urge to travel but you are too busy with work or occupied with your family matters? Fret not as Magnum brings you the top three most desired travel destinations Amsterdam, Tahiti and Las Vegas to Singapore with its new limited-edition Destinations Range, each showcasing the unique tastes of some of the world's most iconic and well-loved destinations.

Embark on a multi-sensory journey with Magnum's three limited edition flavours  starting with the vibrant and historic streets of Amsterdam with the Chocolate & Cookie Butter, a velvety vanilla custard ice cream along with cookie butter swirls that's coated in Magnum's delectable milk chocolate and crumbly biscuit pieces inspired by Speculaas.

Magnum further takes you to the bright tropical island of Tahiti with its Passionfruit White Chocolate, passionfruit swirled in creamy vanilla custard ice cream that's coated in a cracking layer of white Magnum chocolate and a hint of toasted coconut.

Last but not the least, visit the Sin City Las Vegas and dig in to the Caramelised Chocolate & Cookie, an exquisite white chocolate ice cream with luscious caramel swirls that's encased in a decadent caramelised chocolate speckled with vanilla biscuit pieces.


In conjunction with the launch, Magnum is partnering with local scent extraordinaire, Oo La Lab to bring you an immersive experience with an Oo La Lab Mixologist for Magnum x Oo La Lab Destinations Perfume Workshop.

Featuring three custom fragrance notes inspired by Amsterdam, Tahiti and Las Vegas, and its respective flavours, Chocolate & Cookie Butter, Passionfruit White Chocolate and Caramelised Chocolate & Cookie, customise your very own Magnum Destinations-inspired fragrance for S$88 and have a taste of the new limited-edition ice creams.

Each 90- minute session runs from 14 November to 13 December 2022. Limited slots are available.

For more details, visit the Oo La Lab website

The limited-edition Magnum Destinations are now available island-wide in a multipack of four at S$11.90 and impulse at S$4.20 ( Amsterdam), multipack of four at S$11.90 Tahiti) and in impulse at S$4.20, retailing exclusively at 7-Eleven( Las Vegas).

For more details visit Magnum Singapore Website